Maneater, Unnatural (2015)
Directed by: Hank Braxtan
Written by: Arch Stanton, Ron Carlson
Starring: Graham Greene, Gregory Cruz, Ivana Korab, James Remar, Q'orianka Kilcher, Ray Wise, Ron Carlson, Sherilyn Fenn, Stephanie Hodes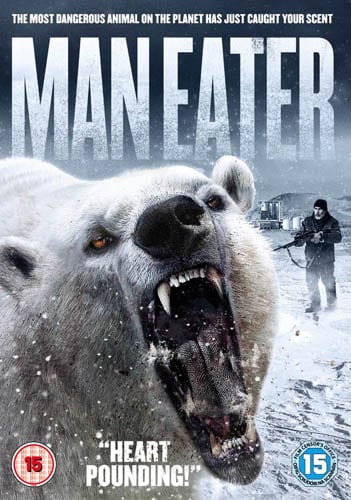 MANEATER (2015)
aka UNNATURAL
Directed by Hank Braxtan
Arrogant photographer Brooking, his put-upon assistant and two models travel to Alaska in the dead of Winter for a themed photoshoot. They stay at a local lodge owned by experienced hunter Martin who is accompanied by native Alaskans Nate and Lily. Martin and Nate scare the guests with tales of flesh hungry bear Maneater who's said to roam the woods. Brooking and the girls laugh off the tales of Maneater but the truth is closer than they think when a genetically altered polar bear escapes Clobirch Industries research facility leaving a trail of blood and guts in its wake. Stuck in the wilderness of Alaska with only four hours of sunlight, the group must do everything they can to survive the night and escape the evolved polar bear's hunting ground.
UNNATURAL, also known in the UK as MANEATER, is a 'creature feature' shocker that mixes in the kind of mainstream horror humour we're used to seeing from Cabin Fever, Cabin in the Woods and Zombeavers with the idea of a mutated killer animal on the loose. Into The Grizzly Maze  is a fine example of a 'nature-strikes-back' movie but MANEATER appears to be aiming for entertainment rather than being a straight-laced thriller, though the idea of genetically altering species so they may adapt better to their changing environments is without a doubt an interesting one.
Brooking and his girls, apart from poor assistant DeLana, are an annoying bunch of self-centred beings that you prey from act one will be the first to be torn to shreds. Whilst this may be true in one respect, the film does a great job of surprising the viewer by allowing any member of the group to succumb to the razor-sharp teeth and claws of the escaped polar bear. Like in reality, the popular people won't conveniently be immune to a vicious beastie such as this and thus all humans are fair game. Let's just hope The Warriors star James Remar, who plays hunter Martin, has enough experience up his sleeve to protect the lodge and his friends from harm.
During the initial scenes, we don't really see much of the fearsome polar bear, instead relying on the use of the viewer's imagination fueled by crunching sounds, snarls and blood running from underneath the facility doors. I quite liked this approach as I had to envision what the polar bear would look like. However, a decision must've been made to show the bear, not just from a distance but also close-up. As much as I commend people who make the effort with costumes and practical FX, I'm afraid the bear in this particular movie looks like a stuffed puppet close-up, maybe one that was discarded from a children's toy box. It looks cheap and corny which shatters the illusion and fear established in the early scenes at the research facility.
Overall, MANEATER comes off as a B-movie beastie horror but unfortunately not one of those "so bad it's good" ones. It falls more into the mediocre category as it struggles with very few laughs and not nearly enough bloodshed for the kind of vibe it's going for. In this type of film, you've got to go all out to keep it entertaining in an over-the-top shlocky way but MANEATER is unable to do just that.
Rating: