House of Bad, Sinister House (2013)
Directed by: Jim Towns
Written by: Jim Towns, Scott Frazelle
Starring: Cheryl Bonty, Heather L. Tyler, Sadie Katz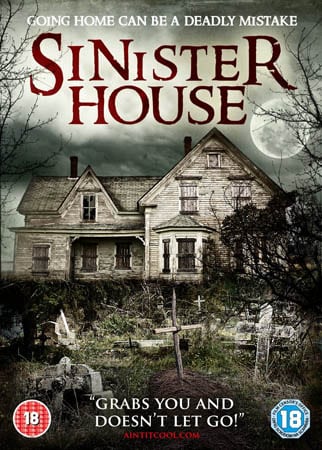 SINISTER HOUSE (2013)
aka HOUSE OF BAD
Directed by Jim Towns
Three sisters make off with a drug dealer's stash in order to save themselves from a lifetime of drug addiction and prostitution under the hands of powerful men. Intending to sell the stash and use the money to create a new life for themselves, they hide out in an abandoned home where two of the sisters used to live as children. The third sister suspects secrets are being kept from her, especially as she's half-sister to the other two, sharing the same father. Keeping under the radar of the no-doubt irrate Tommy who's drugs were taken, the sisters mustn't leave the house but something tells youngest sister Lily that they're not quite alone in their hideout.
SINISTER HOUSE, also known as HOUSE OF BAD, is an incredibly slow paced thriller with supernatural elements. Focusing on three sisters and the traumatic upbringing of the elder two, the film exploits the strain between the siblings as eldest sister Teig (Heather L. Tyler) acts as guardian and leader of the trio, making sure that the other two don't blow their cover and that Lily stays off the drugs she has become dependent on.
As hours become days, youngest sister Lily (Cheryl Bonty) struggles to cope with being cooped up with no entertainment or TV except for property trading game Monopoly, and her unpredictability causes her and Teig to clash as Teig tries to protect them all from being caught. Sirah (Sadie Katz) finds herself in the middle of the two, agreeing with Teig but also sympathetic to her younger half-sibling who's finding each day increasingly difficult. It doesn't help matters when Lily begins to see visions of a bloodied pregnant woman around the house and it seems that she isn't the only one seeing visions of the past…
SINISTER HOUSE is a struggle to watch from the very beginning. It never really goes anywhere and even when the girls are hiding out at the house, there's nothing to keep the viewer interested or engaged. The characters seem to go over the same ground again and again to the point where its monotonous tone becomes painful to endure. Even the ghost element of the film falls flat as it serves only to display the mental torture of the house's inhabitants with the odd possession of unstable spirits who aren't at peace.
A weak script, lack of pacing and poor screenplay makes SINISTER HOUSE one to avoid.
Rating: