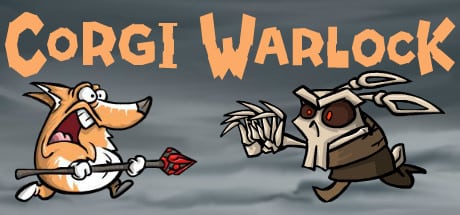 Corgi Warlock is an addictive, one-man made, side-scrolling, fantasy action platformer videogame for the PC.
After the Bunny King is defeated in battle, his soul is brought back to life to wreak havoc on Earth. The only one who can save us all from the wicked onslaught is Maia the corgi warlock! Armed with a magical staff and helped by advisor Pig-J, Maia must defeat the skeleton army of the Bunny King and save the furry critters from evil.
Downright lovable Corgi Warlock is a simple yet challenging game which is split into various zones dedicated to a specific enemy. Each zone has many levels containing a variety of hazardous enemies and minor bosses Maia must tackle before coming face-to-face with the big boss of each zone who she must defeat before she can move onto the next location. The enemies Maia encounters vary from simple running skeleton rabbits and spear-wielding sheep to giant blobs, Death bunnies and angry axe-throwing vikings, just to name a few. Using fireballs, electric bolts, laser beams, healing energy and her jumping skills, Maia must navigate safely towards the end of each zone and defeat the boss that has brought evil to the respected lands.
One of the main draws of Corgi Warlock is the stunning artwork which is no surprise when you discover that the man behind the game is a former PIXAR, Dreamworks, and Sony animator. Based on his corgi dog of the same name, our hero Maia has a constant look of fright sketched onto her little face though she does have a few other expressions to show off depending on what happens to her in-game. The captivating artwork extends to the various enemies she encounters and the backdrops of the levels to create such a beautiful, heart-warming videogame. The cute, and sometimes nightmarish, design goes hand-in-hand with the old-school platformer style of gameplay which relies upon timing and precision to beat Maia's enemies.
As you progress through the levels of each zone, such as the Castle of the Blob King, the game becomes increasingly difficult with the volume of enemies far exceeding my ability to dodge or blast them with a fireball which is why it's taken me almost two hours to get through two zones. Though I can easily see people rage-quitting at the game, the urgent necessity to just have "one more go" at attempting to defeat a boss or get past the onslaught of enemies in a level is rather compelling. It's this style of gameplay which harks back to my childhood gaming sessions during the 90's where I just simply had to have another crack at the boss or level, just to see if I could get any further.
Its simple gaming mechanics, wonderful art design and inspired choice of lead character puts Corgi Warlock into my all-time favourite videogames list. If platform games are your thing then you simply must check this game out!
Corgi Warlock is available on Steam and can be played using Xbox Controller for Windows and also has the option of local co-op multiplayer.