Deathgasm (2015)
Directed by: Jason Lei Howden
Written by: Jason Lei Howden
Starring: Daniel Cresswell, James Blake, Kimberley Crossman, Milo Cawthorne, Sam Berkley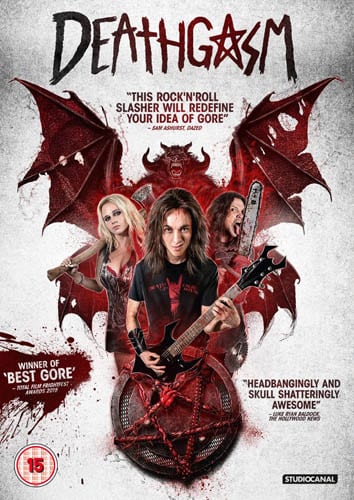 DEATHGASM (2015)
Written and Directed by Jason Lei Howden
Screened at Grimmfest 2015

Metalhead Brodie is forced to live with his aunt and uncle after his mother is arrested and sent to jail. Finding himself in the small neighbourhood of Greypoint, New Zealand, Brodie's dark interests alienate him from the crowd and make him a target for the local jocks, his cousin included. Fortunately, he finds friendship with fellow headbanger Zakk and together with role-playing nerd Dion and drummer Giles they form a metal band of their own called Deathgasm.
After getting their hands on a supposedly rare vinyl, Brodie and Zakk find a collection of old music sheets inside the album sleeve. With the potential to bestow great power and fortune upon those who play it, Brodie decides to unleash the music's power, unbeknownst to his bandmates, releasing an entity so evil that it could destroy life as they know it. Realising what they've done, Brodie, Zakk and their pals must take on the demonic possessed townsfolk and stop the ancient evil once and for all.
With a modified title and cover art in the U.S. ahead of its UK release, hard-rockin horror DEATHGASM's reputation has definitely preceded it. With pentagrams and images of a demonic figure sporting a giant phallus, it's easy to expect a certain type of movie especially with a title like it has. Does it live up to it's rock n roll name though, that is the question?
DEATHGASM's tale of a loner who finds himself down on his luck isn't that unusual. However, drench it in everything 'metal' related and it instantly becomes a blast of a story, complete with warlock guitar, white face paint and all the spikes, studs, leather and black clothing you can throw at it. You don't need to be a metal fan to enjoy this movie but as a fan myself, I think metal enthusiasts will enjoy it that much more as the movie takes the piss out of its own music genre whilst still being deadly loyal to it.
Milo Cawthorne stars as Brodie, a quiet, gentle metal lover who's finding himself short on friends. Being forced to play role playing game board games with pals Dion and Giles during lunch breaks at school is about as much fun as he gets. However, his luck changes meeting the wild child that is Zakk (James Blake). You name it, he's probably inhaled, snorted, consumed or stole it. He's a badass who's also into metal music and so Brodie finally finds someone he can hang out with, someone who he actually looks up to. After starting their own band and growing in confidence, Brodie begins to think he might have a chance with the school's hottie, Medina (Kimberley Crossman), but just as things start to warm up between them, Brodie foolishly unleashes the power of Aeloth the Blind One!
Fans of gore, eat your heart out! This film is literally oozing the red stuff from every orifice and if it's not gushing out it's projecting out of someone with their entrails not far behind. Head-splitting, decapitations and death by rampant rabbit dildo are just some of the joyous executions performed in the movie and if you're a fan of the latter then you'll be glad to know there's plenty more sex toy carnage that lies ahead. There's not a single real gun to be seen here, just a paintball gun (despite the U.S. cover suggesting differently), and the rest of the metallers' arsenal consists of tools you'd find in your shed combined with instruments of rock – a drill attached to the widow headstock, anyone?
DEATHGASM is one hell of a ride. It's got the ass-kicking action you'd expect to find in a zombie survival movie whilst its filthy comic moments, from visual spoofs to witty dialogue, will make you laugh your guts up. I mean, where else, besides porn of course, can you see demons being smacked around the head with a double ended dildo? Priceless! If your humour is immature as a teen metal head who's obsessed with babes, music and the dark side, then DEATHGASM is simply a must!
Rating: