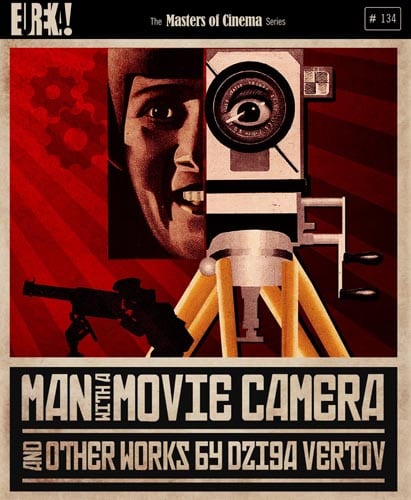 Eureka Entertainment to release MAN WITH A MOVIE CAMERA, the experimental 1929 silent documentary film by Soviet director Dziga Vertov, in a limited-edition 4-Disc Dual-Format edition as part of the Masters of Cinema Series on 18th April 2016.
 Voted one of the ten best films ever made in the Sight & Sound 2012 poll, and the best documentary ever in a subsequent poll in 2014, Man With A Movie Camera (Chelovek s kinoapparatom) stands as one of cinema's most essential documents – a dazzling exploration of the possibilities of image-making as related to the everyday world around us.
The culmination of a decade of experiments to render "the chaos of visual phenomena filling the universe", Dziga Vertov's masterwork uses a staggering array of cinematic devices to capture the city at work and at play, as well as the machines that power it.
Presented in a definitive new restoration from EYE Film Institute in Amsterdam and Lobster Films, the film is also presented with other works by Vertov, both before and after his masterpiece – Kino-Eye (1924), Kino-Pravda #21 (1925), Enthusiasm: Symphony of the Donbass (1931) and Three Songs About Lenin (1934) – in this limited-edition 4-Disc Dual-Format edition.
SPECIAL FEATURES including:
Limited-edition 4-Disc Dual-Format
New high-definition restored transfers of all five films
Uncompressed PCM audio on all films
Scores by The Alloy Orchestra for Man With A Movie Cameraand Robert Israel for Kino-Eye
New audio commentary on Man With A Movie Cameraby film scholar Adrian Martin
The Life and Times of Dziga Vertov, an exclusive, lengthy video interview with film scholar Ian Christie on Vertov's career and the films in this set
100-page limited edition book featuring the words of Dziga Vertov, archival imagery and more!