Nekromantik 2 (1991)
Directed by: Jörg Buttgereit
Written by: Franz Rodenkirchen, Jörg Buttgereit
Starring: Mark Reeder, Monika M.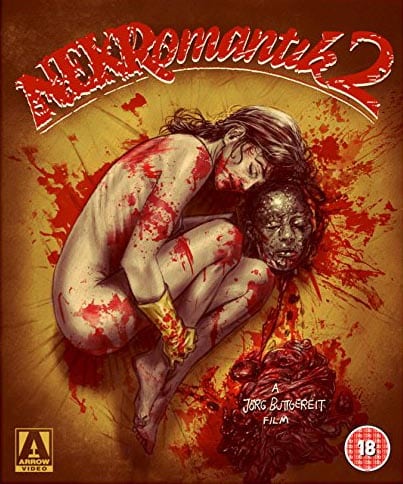 NEKROMANTIK 2 (1991)
Directed by Jörg Buttgereit
After reading about the suicide of Rob in the local newspaper, morbidly fascinated Monika decides to dig up his corpse and take it home to sexually satisfy her. When she begins to date a living man, porn dubber Mark, she starts to spend more time with Mark than with Rob's corpse but her morbid appetite begins to spill into her living relationship with fatal consequences.
Jörg Buttgereit returns with another dose of necro-loving. Following on directly from perverse Nekromantik, NEKROMANTIK 2 stars a new leading lady, nurse Monika. It would seem that necrophilism is popular in this particular part of Germany as this is our third necrophiliac in the series and as the film later shows, Monika has friends who are into similar disturbing subjects too. Apart from her ususual sexual appetite, we don't know very much about Monika nor do we find out but what we do learn is that she's very much a self-centred, selfish person who's only interested in making herself happy at other people's expenses.
The opening scene of NEKROMANTIK 2 shows Rob lying on his bed, stabbing himself in the stomach repeatedly whilst ejaculating. This disturbing visual sets the tone for the rest of the movie and it isn't long before he's dug up from the ground to be used all over again. Rob's disgruntled ex-girlfriend makes a re-appearance too and she's none too pleased to find his grave has already been robbed. It would seem the corpse she ran off with in the first movie, which was lovingly acquired by Robert, must've decomposed too much and in Robert she thought she'd had a replacement. Too late, missy, Monika beat you to it! It's quite tragic for the character of Rob. He was never wanted or cared about in real life but in death, his rotting corpse is hot property.
There's not a terrible lot of dialogue in NEKROMANTIK 2 which fits in with its wonderful, if warped, style. The score, similar if not the same as from the first film, conjures up romantic emotions and the visuals played out on screen are mesmerising amidst the morbidity of the situation. This works suprisingly well as the love affair unfolds on-screen though when Monika embarks on a living relationship, the style switches to include dialogue between herself and suitor Mark. My first real recollection of dialogue in the movie is the sound of breathless gasps and sighs as Mark is hard at work, dubbing porn movies for a living. At first he's lacklustre with his sound engineer displeased with his work but as he begins a relationship with Monika, his work output improves. Everything about his life changes for the better that is until the honeymoon period of their relationship is over and he begins to get a flavour of Monika's sexual tastes.
Like the first movie, NEKROMANTIK 2 also features animal slaughter which I had to fast-forward through. This time it involves seals and whilst at first it seems like an innocent video about the cuteness of seals in the wild, it soon turns sour when humans get involved. I must admit I had to fast-forward these scenes as I can handle faux human cruelty but animal cruelty, real or fake, is not something I can stomach nor witness.
For a little while, the film meanders along before it picks up the pace in the final minutes of the movie that both shocks and takes the subject over the line and beyond. It's these particular moments that German cinema seems to surpass its American counterparts. They're not afraid of taking you over the edge but when they do it, there's a stylistic element to it that makes it admirable and not just grotesque or gratuitous. There's definitely an art to it, which is validated here, even if the subject matter is more than a bit grotesque.
The Arrow Video release of NEKROMANTIK 2 is a splendid one with 2.0 German language audio with English subtitles, a crisp transfer and a disc chock full of special features to get your teeth into with an introduction from cast and crew, audio commentary, a documentary on the film, location tour, score featurette and much more. The limited edition release also comes with a soundtrack CD and a 100 page booklet. If you're a fan of Buttgereit's work then this is one release not to miss.
An intriguing, explorative piece of cinema, very much in the vein of the first film, but not one you can particularly enjoy as such.
Rating: