Dr. No (1962)
Directed by: Terence Young
Written by: Berkely Mather, Ian Fleming, Johanna Harwood, Richard Maibaum
Starring: Jack Lord, Joseph Wiseman, Sean Connery, Ursula Andress

UK
AVAILABLE ON BLU-RAY AND DVD
RUNNING TIME: 110 min
REVIEWED BY: Dr Lenera, Official HCF Critic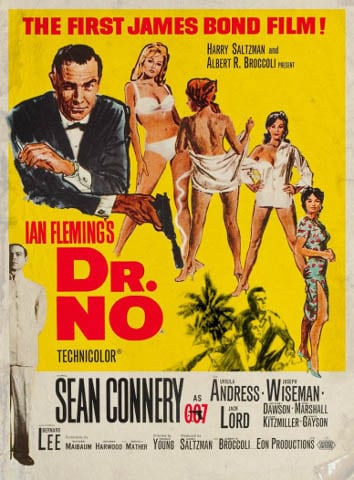 Strangways, the M16 Station Chief in Jamaica, and his secretary are murdered by a trio of assassins. In response, agent James Bond is instructed by his superior, M, to investigate Strangways' disappearance and to determine whether it is related to his co-operation with the CIA on a case involving the disruption of rocket launches from Cape Canaveral by radio jamming. In Jamaica, Bond meets CIA agent Felix Leiter, who tells him that the CIA has traced the jamming to the vicinity of Jamaica, but aerial photography cannot determine the exact location of its origin. Leiter's friend Quarrel had been guiding Strangways around the islands collecting mineral samples, but had been forbidden to go to the heavily guarded Crab Key, which is ruled by a reclusive Chinese gentleman. During a search of Strangways' house, Bond finds a receipt, signed by Professor R. J. Dent, concerning rock samples, but it later disappears….
Watching Dr. No is probably a slightly odd experience the first time for a modern viewer, and was extremely strange to me when I first saw it, me being used to the more elaborate successive movies. The film seems very straightforward, even simple. While the template for the 007 movies is already in place, with scenes and situations that would be repeated over and over again – 'M' telling Bond his mission, Bond's banter with lovelorn Miss Moneypenny, a bad girl who tries to kill Bond and a good one who doesn't and instead gets to kiss him in an amusing final scene, an inscrutable villain with wads of cash and a dangerous plot, chases, fights, one-liners etc. – this film is a bit different from what the series soon became, with actually a stronger narrative drive coming from the lack of a desire to incorporate a big ten minute action sequence every now and again or lengthy dialogue scenes. Saying that, there's still an exciting sense of trying things out for the first time, and knowing exactly what to try out and how to do it, though fine tuning would occur in successive films. Its slightly rough and raw quality is actually quite appealing, though I do feel that overall Dr. No is a good example of the argument that the first instalment of a series is not always the best. Is it, though, fascinating to watch, and it's easy to see how it caused such a stir.
Producers Harry Saltzman and Albert R. "Cubby" Broccoli, whose proposed Bond series was turned down by most of the Hollywood studios, wanted to film a script by producer Kevin McClory, screenwriter Jack Whittingham and Ian Fleming called James Bond, Secret Agent, but Fleming caused legal problems by writing and publishing what he thought of as the book to the movie as Thunderball without consulting the others, resulting in legal action by McClory, so Dr. No, which Fleming adapted from a screenplay he'd written in 1956 intending to be the pilot for a American TV series called James Gunn – Secret Agent, was chosen instead. Writers Wolf Mankowitz and Richard Maibaum wrote a treatment about a shipping magnate called Buchwald attempting to blow up the Panama Canal, with Dr. No a monkey[!], but the horrified producers got Maibaum, aided by Johanna Harwood and Berkeley Mather, to rewrite it more in line with the novel, which it follows quite closely, though adding the villainous Professor Dent and Miss Taro, plus Felix Leiter from other books, and altering certain details, like No's hands from hooks to metal gauntlets. The role of Bond was offered to Cary Grant, who would only commit to one film, and James Mason, who would only commit to two. Patrick McGoohan turned it down on moral grounds, and even Roger Moore was considered before Sean Connery, one of six finalists in a competition to find Bond, got the job. United Artists only put up $1million to make Dr. No, which was shot at Pinewood and Jamaica [partly near Fleming's house there], and almost pulled the plug, not liking what they saw. But, after some BBFC-requested trims to Bond being beaten up by No's men and Bond shooting Dent in the back [six times to two!], it was released to great success, not to mention controversy, coming out in the UK the same week as the Beatles' first single Love Me Do and the anarchic TV comedy series That Was The Week That Was in a truly historic few days for pop culture.
One can still see how Dr. No would have been a breath of fresh air amongst all the realistic 'interior' dramas and 'worthy' prestige pictures which had dominated British cinema for some time. Of course the Hammer horror films had been a sensation, though they were 'adult only' films and the excitement surrounding them had died down a bit by 1962. But Dr. No must have been simply astounding to viewers with its supposed 'family friendly' sex and violence, its melding of serial-like pulp with modern verve and swagger. The first James Bond film already has the 'gun barrel' opening as Bond, though not Connery in the first few films but his stunt double Bob Simmons, shoots into the camera, and we hear a bit of musique concrete before the James Bond theme blares out amidst patterns of colourful circles before everything randomly turns Carribean as dancing torsos are seen with a calypso variant on Three Blind Mice playing over them. It's not the best title sequence but still works okay. The film proper begins with two shootings, then gives us a simply brilliant introduction to its hero which is still so totally and utterly cool, the best introduction to James Bond the cinema we could have wished for, as we only see his hands and the back of his face, plus people's reaction to it, for some time before we hear Connery utter those magic words, but only after an arrogant pause, in response to Sylvia Trench's request for his name: "Bond, James Bond".
Dr. No is rather awkwardly divided into two halves. The first is really an exotic detective story as 007 tries to piece together a mystery while surviving various attempts on his life. The fun of having the viewer work things out alongside the hero is negated when we see Dent travelling to Crab Key to be grilled by No, but at least we get our first Ken Adam set, a simple but highly ominous affair consisting of a large room with a large window grill, the beams reflecting on the wall. After Bond has 'used' Miss Taro for a couple of hours [check how he subtly checks his watch whilst kissing her] before packing her off into a police car, and shot Dent in the back in what really was shocking for the time [at least for good guys], Bond and Quarrel journey to Crab Key and we get the famous screen entrance for Honey Ryder, a true Venus coming out of the sea. The film then becomes more of a science fiction-tinged action/adventure story. There's plenty of increasing suspense as our trio get closer and closer to discovering what is going on on this island while their lives are becoming more and more at risk, but having both Honey and Quarrel [whose depiction gets goofier as the film goes on, and let's just ignore Bond's: "Fetch my shoes" order to him] believe that a dragon is around is hard to swallow, and why is there a torrent of water and a scalding surface where Bond escapes through pipes [it's because they are holdovers from the book's much more elaborate sequence – which does make sense when read in context – that's why]? And is it really possible to scrub radioactive waste off someone with a broom?
The climax is a bit rushed [though Bond here doesn't require help from anybody], and, while Dr. No is not a film heavily reliant on action, perhaps its most disappointing aspect is how brief and weak the fights are, despite editor Peter Hunt already experimenting with faster cutting, missing frames and speeded up shots to make things more exciting. A car chase only has a few shots of back projection which don't stick out too much anyway because of all the dust partly concealing it, and ends in Bond's first memorable [though not quite his first] quip: "I think that they were on their way to a funeral". The most exciting scene is probably the tarantula in Bond's bed which is still uncomfortably tense. Some say that they can see the glass separating Connery and the spider, but I couldn't see it [though maybe the tarantula seems a bit too big] even on the Blu-ray. Close-up shots were inserted of the spider on stuntman Bob Simmons' arm, and Simmons afterwards said he had never been so terrified in his life. Generally Dr. No is quite low on stunts, spectacle and spoofery – in fact it's really quite a serious, gritty affair and Bond looks like he's really been 'through it' in the final scenes – but it still has verve and an almost naïve [despite its supposedly sophisticated gloss] conviction that carry it through.
Connery is Bond right from his first scene, though he's slightly rough-hewn and far less smooth then he would become, delivering most of his lines in a very curt fashion. His performance as Bond would subsequently evolve. Dubbed Ursula Andress isn't the most interesting of Bond girls and the also-dubbed Joseph Wiseman, who isn't even seen until near the end, is saddled with so-so make-up to make him look Chinese. At least we have a Leiter who looks and acts similar to Bond, though that will change. The score by Monty Norman, who also wrote some songs including the heard-several-times [Bond even sings it] Undeneath The Mango Tree, is solid, dramatic stuff but slightly uninspired, while the James Bond theme is inserted rather haphazardly here and there. Who actually wrote the theme has been a source of controversy for decades. It seems to be generally agreed now that Norman wrote most of it, then gave it to John Barry who added bits and arranged it in the style of his pop instrumental band The John Barry Seven. This will explain why Norman's score often quotes from the first part of the theme but not the second. Quite low key but still exuding confidence, Dr. No shows signs of clumsiness here and there, and for me does have a few notable flaws such as its mostly mediocre action and its odd structure, but it's still amazing how fresh it feels even today, screaming "This is a new kind of film and a new kind of hero". After seeing it, Fleming said it was: "Dreadful, simply dreadful", but, with all due respect, he was just plain wrong.
Rating: