Gangster VIP 2 (1968)
Directed by: Keiichi Ozawa
Written by: Goro Fujita, Kaneo Ikegami, Keiji Kubota
Starring: Chieko Matsubara, Hideaki Nitani, Kayo Matsuo, Meiko Kaji, Tetsuya Watari

GANGSTER VIP 2 (1968)
Directed by Keiichi Ozawa
Part of Arrow Video Outlaw Gangster VIP Boxset
Following almost directly on from GANGSTER VIP, sequel GANGSTER VIP 2 sees Goro start a new, honest life with his woman Yukiko by doing manual labour to provide for both her and Sugiyama's sick widow, Yumeko. After he is made redundant by his debt-ridden employer, Goro reluctantly finds himself accepting a job with the Kiuchi yakuza clan, the boss of whom has long been an acquaintance of his.
With a secure future for the two women in his life, Goro accepts leading a life of crime once again which requires him to put his life on the line for another. However, when he discovers that his yakuza boss hasn't been entirely honest and trustworthy with him, Goro realises it's once again time to severe all ties with the yakuza, which he knows full well is easier said than done.
In many ways, GANGSTER VIP 2 retells the same story we witnessed in the first movie. Goro joins the Yakuza and, after a while, he seeks to escape. He also puts his life on the line once again for a junior Kiuchi yakuza member,  this time Wakabayashi, who's in love with Keiko, the sister of Asami, Goro's former chief and now member of enemy Izumi yukuza clan. Despite Asami and Goro's allegiances to their own clans, their past relationship means more to them which shows that not all yakuza are hellbent on killing someone just because they're not of the same clan. There is, in fact, humanity there but unfortunately those who have a heart or seek to find love quickly become targets in a world where suspicion and paranoia rages high. One minute you can be a loyal yakuza member but the minute you don't show up when expected, it can be assumed you're a traitor and it's very much guilty til proven innocent, that is if you have chance to prove your innocence before fellow yakuza get a hold of you.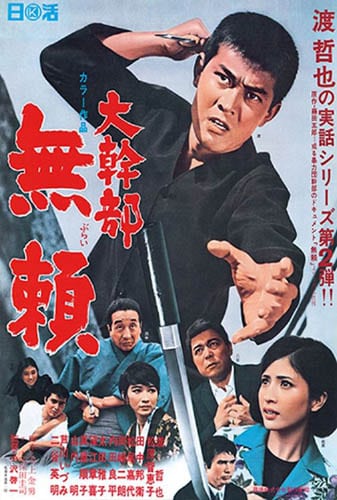 The fantastic Tetsuya Watari returns as lovable anti-hero Goro Fujikawa along with his trademark leather jacket that he's rarely seen without. Much like the previous film, Goro comes to the rescue of another young lady and her colleagues who are being threatened by the Hirosaki clan into becoming working girls at the hot spring. Goro's skilled defence and warning sends the yakuza running and captures the heart of the young woman. Like nectar to bees, Goro's bad boy attitude and fondness for sticking up for the underdog makes him a desirable hottie to the local women. Even when he rebuffs compliments and tells his admirer to do one, she still sticks about. The same can be said for Goro's girlfriend Yukiko. She never wants to leave Goro alone and even after Goro warns her he'll thrash her if she doesn't cooperate, she still loves and adores him. Of course, Goro says these things for the benefit of the women as he knows no good can come from dating yakuza. His tough love approach to protect them simply makes him irresistable. His hard approach during turf wars gains the admiration of the younger yakuza clan members too which makes him beloved by both the males and females in society.
The comparisons to the first movie are, without doubt, many but GANGSTER VIP 2 seems a more straight-forward affair after GANGSTER VIP which established a good portion of the characters we see in the sequel. Regardless of the similarities, GANGSTER VIP 2 is a fantastic drama to watch, both in the way the characters interact with one another and also during the action scenes where the men get handy with their fists and knives. If I had a pound every time someone was thrown over a table or other piece of furniture or fixture in this movie, I'd be very rich indeed!
Arrow Video once again shine with their superb, slick transfer of the movie that is incredibly smooth, clear and detailed. The audio, both background and dialogue, and English subtitles are top notch, providing a high quality viewing experience on Blu-Ray. The movie shares the same disc as Gangster VIP and has special features that include a trailer and gallery.
Rating:
Save