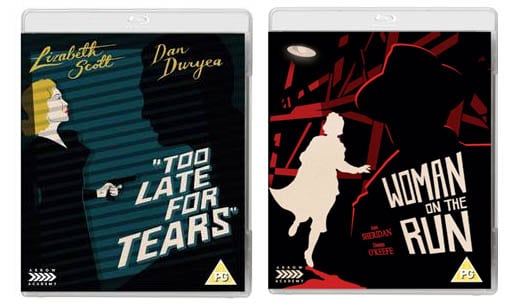 Arrow Academy have announced the world-premiere Blu-ray/DVD dual-format editions of Too Late For Tears and Woman on the Run, restored by UCLA Film & Television Archive, and passionately championed by the Film Noir Foundation, with special thanks to the Hollywood Foreign Press Association. Both films arrive on DVD and Blu-ray on 13th June 2016.
One of the great missing films of the classic noir era has now been restored. Rescued and preserved after a five year crusade by the Film Noir Foundation, this 1949 classic is at long last available in a clean digital version, transferred from a 35mm print painstakingly restored by UCLA Film & Television Archive.
When a pair of film noir icons like Lizabeth Scott and Dan Duryea collide, sparks are sure to fly. Jane Palmer (Scott) and her husband Alan (Arthur Kennedy) mysteriously have $60,000 literally dropped in their laps. The circumstances seem mighty suspicious to Alan, who wants to turn the money over to the police. But in a materialistic rapture, Jane won't let it go. She doesn't care where it came from, or what danger might ensue—not if it will bring her the luxury she craves. Enter shady Danny Fuller (Duryea, as cocky and menacing as ever), who claims the money belongs to him. Let the games begin! Roy Huggins' snappy script (adapted from his novel) is a complex, breezy and black-hearted homage to James M. Cain and Raymond Chandler. Rapacious housewife Jane Palmer is one of the juiciest female villains in Hollywood history.
A lost gem rediscovered! Thanks to the efforts of the Film Noir Foundation, this terrific 1950 film noir, the only American print of which was burned in a 2008 fire, has been rescued and restored to its original luster. Join the wild chase around San Francisco as a man goes into hiding after witnessing a gangland execution. Police bird-dog his wife Eleanor (Ann Sheridan), certain she'll lead them to her husband, whose testimony against the killer could bring down a crime kingpin. But Eleanor and her hubbie are Splitsville—she never wants to see him again. When roguish newspaperman Danny Legget (Dennis O'Keefe) charms Eleanor into helping him track down the hidden husband—there are unexpected, stunning, and poignant results. This nervy, shot-on-location thriller is a witty and wise look at the travails of romance and marriage, and perhaps the best cinematic depiction ever of mid-20th century San Francisco.
Too Late for Tears – Special Features
Brand new restoration of original 35mm vault elements by UCLA Film & Television Archive
Presented in High Definition Blu-ray (1080p) and Standard Definition DVD
Original mono audio (uncompressed PCM on the Blu-ray)
Optional English subtitles for the deaf and hard of hearing
Audio Commentary by writer, historian, and film programmer Alan K. Rode
Chance Of A Lifetime: The Making of Too Late For Tears – a new behind-the-scenes examination of the film's original production produced by Steven Smith and the Film Noir Foundation and featuring noir experts Eddie Muller, Kim Morgan, and Julie Kirgo
Tiger Hunt: Restoring Too Late For Tears – a chronicle of the multi-year mission to rescue this "lost" noir classic produced by Steven Smith and the Film Noir Foundation
Gallery featuring rare photographs, poster art and original lobby cards
Reversible sleeve featuring original and newly commissioned artwork by Matt Griffin
Booklet featuring new writing by writer and noir expert Brian Light
Woman on the Run – Special Features
Brand new restoration of original 35mm vault elements by UCLA Film & Television Archive
Presented in High Definition Blu-ray (1080p) and Standard Definition DVD
Original mono audio (uncompressed PCM on the Blu-ray)
Optional English subtitles for the deaf and hard of hearing
Audio Commentary by author, historian, and "noirchaeologist" Eddie Muller
Love is a Rollercoaster: Woman on the Run Revisited – a new featurette on the making of the film, from script to noir classic, produced by Steven Smith and the Film Noir Foundation
A Wild Ride: Restoring Woman on the Run – a stranger-than-fiction document of the film's restoration, produced by Steven Smith and the Film Noir Foundation
Noir City – a short documentary directed by Joe Talbot about the annual Noir City Film Festival presented by the Film Noir Foundation at San Francisco's historic Castro Theatre
Gallery featuring rare photographs, poster art and original lobby cards
Reversible sleeve featuring original and newly commissioned artwork by Matt Griffin
Booklet featuring new writing by Eddie Muller