Gomorrah (2016)
Directed by: Stefano Sollima
Written by: Roberto Saviano
Starring: Antonio Folletto, Cristiana Dell'Anna, Domenico Balsamo, Fabio De Caro, Fortunato Cerlino, Lino Musella, Marco D'Amore, Marco Palvetti, Salvatore Esposito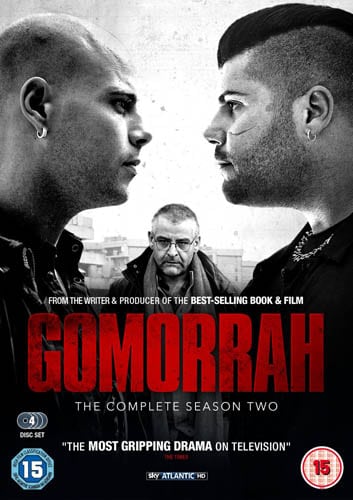 GOMORRAH (2014)
Season Two
Italian language with English subtitles
Available on DVD, Blu-Ray and Season 1 & 2 DVD and Blu-Ray boxset
After Ciro di Marzio's betrayal leaves Gennaro Savastano in a bloodied heap on the floor of a local school hall and his men executed in a hail of bullets, a new hope arrives on the horizon of Secondigliano, Naples. Aligning with various leaders of the community including the relatives of those executed in the war against the Savastano's, Ciro forges an alliance which will share the power over Naples, including profits from their drug trade.
With each clan leader heading up their own territory, life after the dominant reign of the Savastano's is looking on the up. However, with the return of drug lord Don Salvatore Conte and the revelation that Don Pietro Savastano has broken out of police transit in an attempt to reclaim his former throne, how long will this new alliance last?
If Season One wasn't bloody enough, the red stuff continues to spill in Season Two of hit Italian Sky Atlantic television series, Gomorrah. Bad boy Ciro 'Immortal' di Marzio looks set to get what he always wanted – dominance over his own life rather than serving that of another. Partnering other power-hungry heads such as Annalisa Magliocca (murdered Savastano clan member Zecchinetta's sister) sees their alliance pay off but Ciro still wants to ensure he's on top of the game by defeating any known enemies and that includes Conte who decides to return to the scene after it appears their intended slaying of Genny Savastano doesn't go entirely to plan. Back on his feet and healed after last season's confrontation, Genny has other things to worry about as his father seeks shelter off the grid in Europe to avoid capture. Though Genny is keen to work with him it seems that Pietro has other ideas, plans that don't involve his son which leaves Genny to forge a new life for himself with the beautiful daughter of a crime boss in Rome. Will his new life satisfy him or will the desire to restore his family's control over Secondigliano be too hard to resist?
After the non-stop action of Season One, Season Two of Gomorrah slows down the pace to let everything sink in and for a natural order to build up after Ciro's betrayal and destruction of the Savastano's. We see how this new alliance builds up and how the other Dons including Conte, Pietro and Genny react to this new arrangement. It isn't long before unease begins to grow as jealousy over earnings causes trigger-happy reactions, tipping the balance of the group, kickstarting more scenes of backstabbing, betrayal and murder. If the first season taught us anything it is that anyone is fair game when it comes to facing the reaper, especially in Secondigliano.
What's interesting about this season is how the various leaders build up their own gameplan. Each of the clans have their own issues which they have to deal with from a holed-up Don Pietro needing a messenger to be his eyes and ears in the community to the alley kids Little Bird, Bomber and Trak who are looking to make a sweet deal for their efforts. There's plenty of players here, not just Ciro, which makes the viewer invest into every single life on screen – lives that have an impact when they are suddenly taken away from us. Of course this is, once again, Ciro's story but despite the cover suggesting this is a Ciro vs Genny affair, it is in fact more Ciro vs Pietro with the latter looking to destroy Ciro after the slaughter of his wife Imma and to reclaim his crown as the king of Naples. Genny hardly features in the series when you compare his screentime to last season though his presence is necessary in a few key moments throughout the series such as the first face-to-face meeting between him and Ciro since their bullet exchange in the Season One finale. We also see the relationship between father and son develop further, for better or worse, as they decide how to move forward with their plans for Naples.
Tight writing, particularly of the characters, as well as strong performances from the cast, a few of whom we met last season, is what makes Gomorrah such a fantastic series. It's gritty, intense and often a gruelling watch with its realistic portrayal of life in the Camorra. Never do you get the impression that these gangsters are living comfortably. Yes, they may be surrounded by luxurious furniture and expensive motors but they're almost always flanked by bodyguards watching their back as when they're at the criminal level of these men, they're basically a walking target with plenty of hungry predators looking to slaughter and take their place in the food chain.
An emotional rollercoaster of a watch, Gomorrah continues to prove it's one of the finest TV shows out there. A raw, merciless crime drama which will have you on the edge of your seat.
Rating:
Save