Consumption, Live-In Fear (2016)
Directed by: Brandon Scullion
Written by: Brandon Scullion
Starring: Arielle Brachfeld, Chris Dorman, David Lautman, Maria Olsen, Sarah Greyson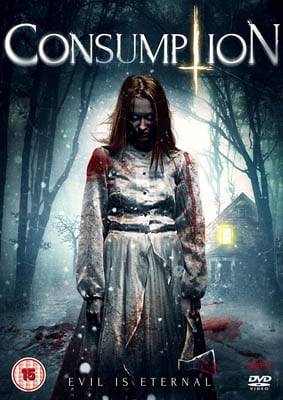 CONSUMPTION (2016)
aka LIVE-IN FEAR
Written and Directed by Brandon Scullion
Four friends arrive at a woodland cabin in the snowy mountains of Utah but their vacation will be anything but pleasant as dark secrets come back to haunt them.
Horror film CONSUMPTION attempts to blend ghost story, a cult following, possession and murder together to create a terrifying teen horror tale but instead falls flat on its face from the very beginning. With a group of unlikables, bar for one female character Becca, including Seth, a bereaved son who treats his girlfriend like crap, and a couple, Mallory and Eric, who have self harming and drink problems respectively, the film wobbles along with incoherent mumbling and a lacklustre storyline about a dead mum coming back to life that it'll make you want to pull your hair out. With next to no structure, the film is just a series of scenes jumping to and fro before one of the characters goes all Jack Torrence on our arses and decides that the razor-blade his girlfriend uses to self-harm is clearly not big or sharp enough to do the job correctly.
Genre actress Maria Olsen makes a couple of brief appearances as lead character Seth's mother. He seems pretty cut up about her death (not as much as his mother) and her reappearance at the cabin only serves to make him even more paranoid. Thinking she's simply a vision come to haunt him, he's stumped when it becomes apparent that his friends can see her too. It seems there's more to the ice-capped mountains than they first thought…
The main issue with CONSUMPTION, other than the dialogue being pretty much unaudible, is that it suffers from a weak narrative or rather an abundance of them without one clear one. The film, much like the saying "Jack of all trades, master of none", seems to explore every horror plot going but is hardly effective at any of them. If they'd have focused on one simple narrative and gave it their all then I believe the film would actually be worth watching as an indie B-movie. Already having the benefit of the spooky, snowy setting for their cabin-in-the-woods chiller, a straight-forward narrative is all that is needed to raise this movie from the depths into something watchable. Unfortunately though, what we're presented with is too much of a mess to care about with characters who have little personality other than what is shown on their face.
Lacklustre from start to finish, CONSUMPTION fails to hit its mark.
Rating: