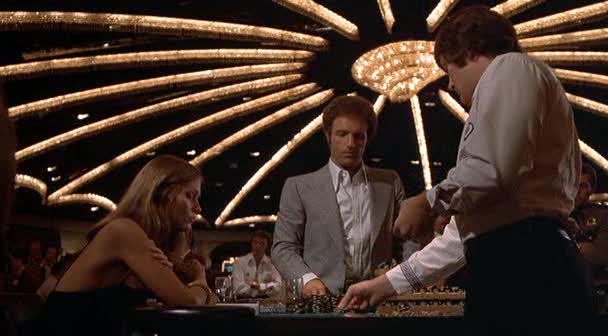 Sometimes the best films in Hollywood come from true stories, which is essentially the origin of 1974 movie The Gambler. James Toback was a graduate journalist from Harvard University working at the city college of New York where he was teaching creative writing. During this time he developed a problem a gambling and began to draw upon his own experiences as a semi-autobiographical novel and the seeds for The Gambler were planted. Halfway through his first manuscript he started to imagine the story working better as a film and started reworking the story as a screenplay instead.
The first draft of The Gambler was finished in 1972 and, with the help of a mutual friend, Toback shared the script with Robert De Niro who was very interested in playing the lead role of Axel Freed. De Niro forwarded the script to producer Mike Medavoy who attached Karel Reisz to direct. Reisz decided he's rather cast James Caan in the lead over De Niro and that was the birth of the magical partnership that many attribute to the success of The Gambler.
James Caan portrayed Axel Freed as a man addicted to risk, but even more felt that he had to take the risks to justify his own existence. In a conversation with his bookmaker Hips (played by Paul Sorvino), Freed admits that deep down he wants to lose but needs to cherish the illusion that he can control his own destiny when in truth his brief moments of success are down to luck. This is a false theory that is only strengthened every time he wins that inevitably leads him to taking even bigger risks such as provoking a knife-wielding pimp in the films climax.
While Axel Freed he isn't a good man, he isn't a bad man either. He is a character who has deeply tragic flaws, this is one the reasons that James Caan considers the Gambler to be one of his favourite movies he's starred in and states that "It's not easy to make people care about a guy who steals from his mother to pay gambling debts." From start to finish, The Gambler is a moral rollercoaster that makes it one of the greatest movies ever made about gambling and risk taking.
The Gambler has become so well loved that the original producers decided to remake the film 40 years later. This time around Rupert Wyatt was in the director's chair while Mark Wahlberg played a version of Axel Freed, this time named Jim Bennett. Wahlberg's portrayal of the reckless gambling antihero wasn't as deep or intriguing as Caan's and fell short in the eyes of many fans and critics.