We Are the Flesh (2016)
Directed by: Emiliano Rocha Minter
Written by: Emiliano Rocha Minter
Starring: Diego Gamaliel, Gabino Rodriguez, María Evoli, Noé Hernández

AKA TENOMOS LA CARNE
Mexico
ON BLU-RAY, DVD AND DOWNLOAD: NOW, from ARROW VIDEO
RUNNING TIME: 79 min
REVIEWED BY: Dr Lenera, Official HCF Critic
An unknown apocalypse has devastated the globe, forcing siblings Lucio and Fauna to forage for food and shelter in a hostile environment. They happen to come across Mariano, a man who offers them both of these things, but at a cost. They must help him turn the abandoned building he currently resides in into a cave-like structure. And they must also carry out his depraved orders no matter how perverted they are. With few other options, the two decide to comply and begin to sink into a world of forbidden behaviour….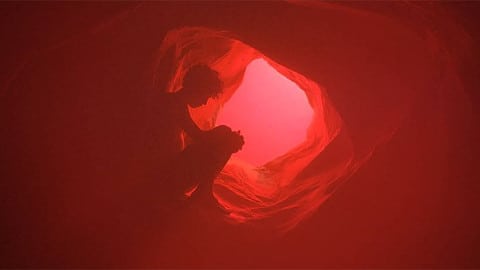 We Are The Flesh seems to have already proved to be a very divisive film, but there's one thing I'm sure of – you won't stop thinking about it afterwards. Self-consciously arty, blatantly transgressive, and deliberately vague, there were times where I wasn't sure if I liked it, especially in its first half, but I was very much drawn into the weird and warped vision of writer/director Emiliano Rocha Minter, a vision that, as the press release says, is influenced by Alejandro Jodorowsky, Gaspar Noe and the Mexican cannibal movie We Are What We Eat, but which to me also seems to draw its inspirations from further back, to the crazy theatre of the Panic Movement [which Jodorowsky was a member of] and the Theatre of Cruelty where the artists set out to assault the senses of the audience, and allow them to feel the unexpressed emotions of the subconscious, and even the writings of the Marquis De Sade. You may be baffled and irritated by We Are The Flesh, and may even find it to not have a point, but it is steeped in a worthy tradition of breaking taboos and asking us to take a long hard look at the desires we don't want to have but may well have felt – even for just a second – at some point in our lives.
So if you're reading this review you may probably already have decided if We Are The Flesh appeals or not, though it's so different to much of what else is out there at the moment that I'd hesitatingly recommend it to anyone who wants to see something different from the increasingly samey and even bland stuff that we see on our cinema screens every week, or who just wants to be shaken up a bit, though anyone going into it should be aware that there is some extreme content that may offend many. This is a film where [and if you have delicate sensibilities than I advise that you don't read on] – for example – a man demands that a brother and sister have sex with each other. The sister seems up for it, but the brother is unsure and certainly can't get 'excited' in any way, so the sister's told to fellate her brother until he's 'hard' enough [yay, return of the prosthetic cock – haven't seen one of those for a while in a movie!] to actually do the act – an act which takes place alongside the man who watches and then masturbates – and yes, we even see him ejaculate. If you are willing to see what I've just described, then you may get through this movie after all – after all, there's a lot of other ingredients to appreciate, such as the totally committed and convincing performances of the three leads in what is basically a three hander until towards the end of the film, and the striking visuals and cinematography which gives some scenes an almost hallucinatory feel.
We begin by witnessing Mariano going through the process of distilling alchohol [I think], after which he goes into a frenzy as he bangs on a drum, the camera mirroring his state by circling round him faster and faster. Lucio and Fauna come across him having seemingly passed out, though the next shot has him looking at them in  sinister manner while they sleep, and then they wake up to find that that they've been locked in. There are a few times during the film where it seems to jump ahead awkwardly, as if Minter didn't quite have enough money to shoot all the scenes he'd written. Anyway, the visual pallet is initially as drab snd unappealing as you can get, but that begins to change when the siblings start to carry out the work Mariano insists they do. It does seem that one minute they're not even close to finishing something that only vaguely looks like a cave from egg cartons, masking tape and masking tape, and the next minute it's done and much more yellow than the usual brown, but already reality is beginning to take a back seat. What they've been creating is a womb-like space where it is safe for Lucio and Fauna to begin their journey into depravity, free from disturbance or disapproval. I don't know if Minter is saying that women are more easily corruptible than men, or whether they're just closer to 'nature', but Fauna seems far more 'game' than her brother, even when Mariano talks to her like she's his mother [yes, it's all very Freudian]. The siblings are ordered to have sex, and their 'love' scene is shot with a thermal camera so it looks very psychedelic.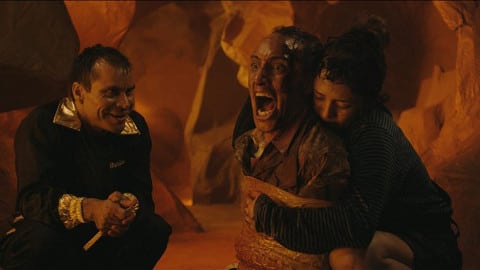 It's just a downward path after this with necrophilia, rape, murder, and cannibalism on the menu, though one unusual thing is that the gut munching is quite tame and may disappoint veterans of films like Cannibal Holocaust. Otherwise it's pretty shocking stuff while the film also gets odder and odder as it goes along, such as one character appearing to die but then magically coming back to life looking very different from his former dishevelled self. It patently refuses to explain quite a few things, such as a drug which appears to be able to both cause hallucinations and heal, or how come he has n inexhaustible supply of masking tape, and I still can't figure out why Mariano tells Lucio to stay out of a particular room or he'll kill him, though this kind of thing doesn't really matter too much in a film like this. Minter has apparently said that We Are The Flesh is a political film, but I must admit that I didn't really see any of that except for a bit [which is truly uncomfortable, partly because the guy just doesn't stop screaming] where a soldier is killed while Mariano sings him the Mexican national anthem, though I don't really see the point that's being made except for the absurdity – or not – of dying for your country. On the other hand that familiar target religion gets an obvious jab during one scene where the cannibalistic undertones of receiving the blood and the bread of Christ are made obvious. And the twist ending really will make you [as long as you've made it this far, of course!] re-access what you've just seen.
Despite mostly taking place in one setting, We Are The Flesh doesn't feel restricted and that's largely due to the striking cinematography of Yollótl Alvarado which often has the camera spinning around the characters at moments of intensity but uses a variety of different photographic styles throughout. The initially yellow caves are eventually transformed into a Mario Bava-esque paradise of yellow, red and blue hues. One extraordinary moment has the camera slowly spiralling around the interior of the cave, revealing where the characters are as it does so, while on the soundtrack we hear a strange crying sound over low ambient noise. It might just be over the top style for style's sake but it creates a really unusual feeling, both trance-like and disturbing at the same time. The aural design is hugely effective too. The main musical theme by Esteban Aldrete is just two repeated notes but gives an impression of a heartbeat and is a great example of how the simplest of devices can work so well in the right context. On the other hand some songs seem to threaten to break the film's spell a little bit for me even though they were obviously included for ironic purposes.
The three lead performers well and truly throw themselves into their roles. Perhaps Maria Evoli comes off the best which is perhaps just as well considering some of the things that she has to do in the movie, though I can't get Noé Hernández's grin – lustful, mischievous and oddly child-like – out of my mind. His character – prone to poetic ramblings, a kind of saviour but also somewhat demonic and even a bit of a charlatan – is a fascinating one though hard to get a real handle on – which of course may be the point. There were times when I found it hard to get a handle on the actual film, butby the time the end credits came up [which are of interest in themselves – make sure you read them!], I knew that I'd just watched something of considerable worth. These days, while horror films and films dealing with dark subject matter are as prevalent as ever, very few pictures seem to be brave enough to really take a look at things that we don't want to look at, to really probe, to really make us look at ourselves and our subliminal desires and even needs. We Are The Flesh, if you're willing to put aside notions of 'normality' and 'decency' and go on its journey, can be very rewarding. I still can't decide whether it seems to be in favour of or against what it depicts. But that's probably for the viewer to decide.
Rating:
We Are The Flesh's vivid colour schemes truly shine in Arrow Video's release which does look a little soft in places but that was probably intentional on the part of the filmmakers. The special features may not look it but are quite extensive for a release of a new film. If you found the film totally bewildering, then I recommend that you go straight to the extensive video essay by Virginie Sélavy. It's very enlightening, and I have to admit that I was rather chuffed when my thoughts on what inspired the film are virtually the same as hers – I can sometimes be way off with these things. Whether you enjoy the two short films by Minter will probably depend on whether you enjoy the feature. The black and white Dentro has two young men constructing some kind of building from cut trees [some very similar imagery to We Are The Flesh here] and digging a put in a somewhat comical tale of existential despair. The more far 'extreme' Videohome is in colour and has two men commit a load of strange acts in a house, ranging from banging a table so objects move and make a sound, to screwing a chair [honestly]. You may not share Minter's obvious interest in penises but you won't have seen one that's so stretchy. It's hard to understand but kind of funny.
The interviews with the director and three stars, seemingly done in Mexico, are quite extensive and probing. The 26 year old Minter is full of enthusiam and energy and keeps mentioning the word "magical" as he tells of how the film virtually made itself with no hiccups. Extensive rehearsals apparently involved cast and director getting naked and doing strange things in the streets. I'm hardly surprised. Evoli's audition had her have to pretend to rape Minter. Hernández, Eboli and Diego Gamaliel  reiterate some of what Minter says but add their own perspectives. Hernández and Eboli seem very confident, Gamaliel rather awkward and shy. Neither Eboli nor Gamaleil have seen the film yet, which is odd though I guess these interviews were done some time ago. The extras are all well worth checking out and do add to one's appreciation [or not] of a film which will continue to split people, though on balance I would probably say: why not be brave, put aside your conceptions of 'normality' and give it a go?
SPECIAL EDITION CONTENTS:
*High Definition Blu-ray (1080p) presentation
*5.1 surround and uncompressed stereo 2.0 audio options
*Optional English subtitles
*A new video essay by critic Virginie Sélavy
*New interviews with director Emiliano Rocha Minter and cast members Noé Hernández, María Evoli and Diego Gamaliel
*Two short films by Emiliano Rocha Minter; Dentro and Videohome
*Original theatrical trailer
*Stills gallery
*Reversible sleeve featuring original and newly commissioned artwork
FIRST PRESSING ONLY: Illustrated collector's booklet featuring new writing on the film by critic Anton Bitel, and a note from the producer on the film.