Mil Gritos Tiene La Noche, Pieces (1982)
Directed by: Juan Piquer Simón
Written by: Dick Randall, Roberto Loyola
Starring: Christopher George, Edmund Purdom, Frank Braña, Ian Sera, Jack Taylor, Lynda Day George, Paul L. Smith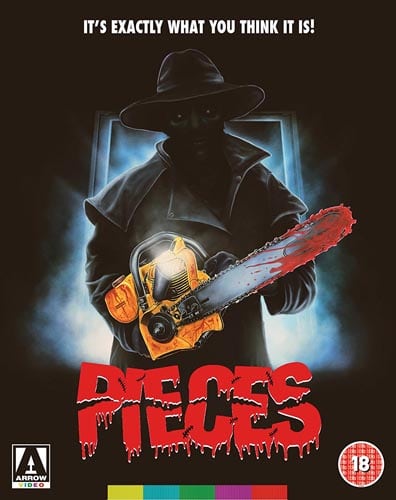 PIECES (1982)
Directed by Juan Piquer Simón
Young women at a Boston college campus become targets for a chainsaw-wielding serial killer on the loose. With the body count rising and without any real suspects, the police must find a lead quickly to stop the grisly carnage. once and for all.
Spanish director Jean Piquer Simon's PIECES is a cult horror film I've heard of many times but have never had the fortune of watching – that is until now.
Oozing that 80's charm, despite being initially set in the 1940's, the opening of the film firmly sets the stage for our serial killer.
A young boy putting together his dirty jigsaw, picturing a naked lady, is rudely interrupted by his disgusted mother who doesn't seem to hold her son with such high esteem. After slapping and berating the youngster, comparing him to his absent father, the boy decides to get his own back by planting an axe into her head! Fast-forward forty years later and it seems that the same boy (now man) has developed the taste for blood once again as various student beauties around the Boston college campus are found brutally dismembered. With the police quick on the scene, they suspect that the culprit is a member of the faculty but, with no leads to go on, their search is going nowhere fast. When popular male student Kendall's girlfriend is found butchered near the poolside, they decide to recruit him to help with their investigation, using him as their eyes and ears on campus, especially once they send in one of their female cops to help trap the killer. However, will the killer be caught or will undercover cop Mary just be another one of the killer's victims?
For fans of horror cinema, PIECES is everything you could wish for. A nod to the films of Dario Argento with its cloaked and gloved villain, accompanied by POV shots of the killer's gloved hands firmly gripping his weapon of choice and putting together his favourite blood-stained, titillating jigsaw puzzle, the film has all the trademarks of a good giallo movie. Piquer Simón even uses a bit of colour to really make his wonderfully shot stalk-and-slash scenes pop. However, the real pièce de résistance is the gruesome murders themselves. Using a bountiful supply of prosthetic effects, the viewer is treated to decapitations, arms being hacked off, bodies being chopped in half and even a butcher's knife being penetrated through and out of the mouth. So long it's been that I've seen a movie such as this, displaying such horrifying yet impressive carnage, that the gorehound in me couldn't contain myself! There's something quite satisfying about seeing body parts flying in the older movies, something that isn't quite captured well nowadays thanks to an abundance of CGI and the gratuitous nature of modern horror. Set-piece kills will always rule supreme and we have a good one in this film involving a waterbed (apparently you can't beat sex on a waterbed whilst smoking pot, according to one of the film's students!). The film's butchering isn't merely to please horror fans though. As its namesake, there's a reason the bodies have to be in pieces and it seems that the killer has a reason to chop up his victims into several parts, the motive behind which we discover towards the end of the movie.
Unlike a lot of giallo films that are quite serious in nature, PIECES takes on a comedic edge that seems to work well in its favour and is probably one of the reasons why it's been adored all these years. Whilst it seems the English dubbing has a lot to do with it (the Spanish dialogue is much more straight), the nature of its characters and the performances seem to help bring a bit of light humour to the scenes. Ian Sera's student Kendall, who seems to be getting more booty than he can shake a stick at, is likable as the film's lead who's tasked with looking after tennis pro turned police officer Mary Riggs (Lynda Day George). Euro sleaze star Jack Taylor stars as the suspicious anatomy teacher Professor Brown whilst Edmund Purdom plays the Dean of the college, both of whom are keen for the case to be solved. Paul Smith's hulking caretaker Willard seems to be the prime suspect in the case, being such an avid user of the chainsaw, but might it be one of the other staff members? Cigar smoking Lieutenant Bracken (Christopher George) and his unenthusiastic sidekick Sergeant Holden (Frank Braña) appear perplexed by the situation and so it's up to Kendall to save his fellow students from becoming another chopped up corpse lying in the corner of an elevator or changing room.
Arrow Video have released PIECES on limited edition 3-disc Blu-Ray, loaded with extras such as archival interviews with the director and the affable Paul Smith, both of whom talk about their careers, as well as a new interview with art director Gonzalo Gonzalo and a featurette starring various filmmaker fans sharing their appreciation for the film. The release itself features a 4k transfer from the original camera negative and contains both the US theatrical version and the original uncensored director's cut in Spanish language with the original score by Librado Pastor. The alternate score by Umberto is a special feature on the disc whilst a separate audio disc is included with the release featuring the original 16 track score. As with most of Arrow's releases, PIECES comes with audio commentary (by The Hysteria Continues), reversible sleeve art with original and newly commissioned artwork by Marc Schoenbach and a collector's booklet featuring new writing on the movie from critic Michael Gingold. This is an impressive release without a shadow of a doubt, and whilst the out-of-sync dubbing can be a bit jarring at times – a fault of the original material and not Arrow's might I add – the visual itself is a wonder to behold in every sense of the word. This is blood-splattered slaughter at its best!
Rating:
If you're a die-hard fan, you can bag yourself the Deluxe Limited Edition of Pieces, which includes a replica of the films' jigsaw plus a red vinyl, for £59.99 at piecesdeluxe.com
Save