The Team (2015)


Starring: Andreas Pietschmann, Carlos Leal, Filip Peeters, Hilde Van Mieghem, Ida Engvoll, Jasmin Gerat, Lars Mikkelsen, Miriam Stein, Nicholas Ofczarek, Sunnyi Melles, Veerle Baetens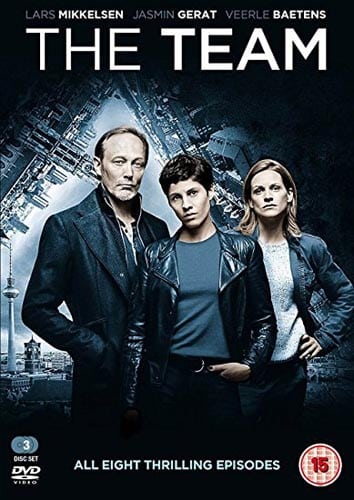 THE TEAM (2015)
8x 1 hour episodes
English, Flemish, German, Danish, Swedish and German language
English Subtitles
When three prostitutes are murdered in the same way in Belgium, Germany and Denmark, Europol organise a team consisting of Harald Bjorn (Denmark), Jackie Mueller (Germany) and Alicia Verbeek (Belgium) to lead the investigation. The crimes quickly point to one man in particular but it seems these murders are just the tip of a very deep iceberg…
International 8-part series THE TEAM is a crime thriller following three police departments who join forces to find the culprit of a set of murders, one of each which have taken place in their own country. Working together, the trio and their teams attempt to discover what links the three victims and as a result, discover the wide-reaching crime and corruption that goes with it.
One of the leading characters is Harald Bjorn, a keen mountain climber and father-to-be who's leading the Danish task force. When assigned to the Europol team, he discovers he'll be working with Germany's Jackie Mueller. From his immediate reaction, we realise there's history between these two. Mueller is a married mother of two who seems more interested in work than spending time with her family. Fiercely independent and brilliant at her job, it's interesting to discover what her and Harold's past relationship was like. The final member of the team is Alicia Verbeek of Belgium, a woman full of fight and though works well with others, is quite capable and happy working by herself. With an alcoholic mother and a sister on the game, her background has made her a tough human being who has to fight every opportunity, especially when it seems her boss Stephane Purnel might have other ideas about the direction her investigation is heading in.
Like most of the Nordic Noir series I've reviewed in recent times, THE TEAM is all about keeping you on your toes. Much like the Europol team experience, events lead in a certain direction before flipping on their head and sending us elsewhere as more information comes to light. There's nothing simple about this storyline as the plot thickens throughout the series. From journalist Jean-Louis Poquelin to Lithuanian businessman Marius Loukauskis and the colourful characters inbetween, the links, betrayals and backstabbing sees no end and the enjoyment comes from trying to piece together the puzzle before the end of the series.
Filled with decent performances, I don't think there's a single actor here that hits a bum note however, due to the abundance of characters there's often an inbalance of screentime where one deserves more time than another. For instance, too much time is spent brooding over Harald and Jackie after the cat is let out the bag. Once it's out in the open, there's nothing really much more to say but instead the focus is still on the pair. This comes at a cost as a domestic abuse storyline involving cyber forensic researcher Kit and her husband never reaches a conclusion and other characters storylines, which deserve expanding on, never do. Instead, it's the Harald and Jackie show but their characters are probably the least interesting of the bunch with my favourite of the three investigators very much the ballsy Alicia.
Visually, THE TEAM is very well presented with hi-tech conference screens used to share information between the three police forces and cyber forensics used to help the teams track down individuals in the case in addition to scene forensics. With plenty of body parts going splat in the programme, thanks to the killer's penchant for shooting their victims through the eye and chopping off a finger, means there's lots of bodily fluids and tissues to analyse and point the investigation in the right direction. It's the characters themselves who try to throw a spanner in the works as you really don't know whether certain elements of communication evidence that points to a particular person is indeed the killer or is someone being framed for the murder.
With plenty of neat ideas linked together to produce a dense web of crime, THE TEAM will keep you engrossed to the final episode. However, compared to other international productions of this genre, it doesn't have the passion nor characterisation that makes it a 5 star effort. With a few unaddressed plot threads, I'm curious as to whether we'll see a second series or if this is simply a one-off programme. If this series is an establishing one, then it would make a great basis for the team to work together again and focus more on the characters and plot threads that deserve more screentime than afforded here.
Rating:
Save