Der Mude Tod (1921)
Directed by: Fritz Lang
Written by: Fritz Lang, Thea Von Harbou
Starring: Bernhard Goetzke, Hans Sternberg, Lil Dagover, Walter Janssen

AKA WEARY DEATH, DESTINY, BEHIND THE WALL
Germany
IN SELECTED UK AND IRELAND CINEMAS and ON DIGITAL HD: 9th June
ON DUAL FORMAT BLU-RAY AND DVD: 17th July
RUNNING TIME: 96 mins
REVIEWED BY: Dr Lenera, Official HCF Critic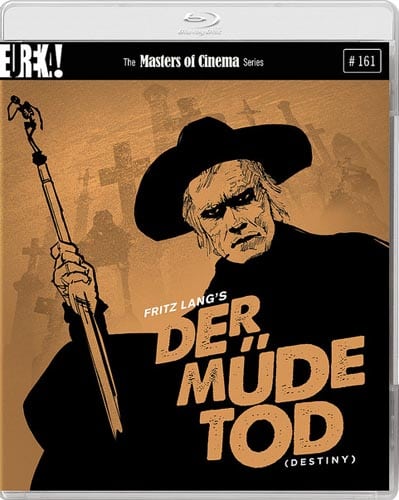 Death, taking the form of a gaunt man in black, arrives in a village and purchases a piece of land originaly intended to have a cemetery built on it. A young couple stops at the village to spend the night at the local inn, but the man is abducted by Death and is sequestered behind a huge door-less, windowless wall. The woman takes some poison but at the moment of ingestion is transported to Death's fortress where he shows her three candles which each represent a life, and promises to reunite her with her fiancée if she can keep just one of the candles from going out. Death then proceeds tells her three separate stories, all involving circumstances similar to hers….
I should probably begin this review with an apology to its UK distributors because Eureka Entertainment sent me an online screener for this film well over a month ago and I'd forgotten all about it [though I didn't go past the release date!], which is kind of ironic because I've been interested in seeing Der Mude Tod ever since I reviewed one of my favourite silent movies the wondrous fantasy adventure that is The Thief Of Bagdad for its UK Blu-ray release several years ago and during the course of my research discovered that star Douglas Fairbanks [not the director, but pretty much the guy in charge] bought the American rights to Der Mude Tod just so he could study the special effects, work out how they done, and try to improve on them. He didn't even release it, which was later done by other hands in 1924. The film that marked director Fritz Lang's shift into larger scale efforts peaking with the extraordinary Metropolis, Der Mude Tod is quite a remarkable work in its own right, an astonishingly  existentialist dream of a movie telling an allegorical story of love and death [two constantly intertwined subjects always in conflict in Lang's filmography] in a manner that really broke boundaries at the time – and is still hugely impressive now, especially when we seem to live in an age where computer graphics are used in virtually everything. Unsurprisingly considering its subject it's mostly quite a downbeat work, with the fatalism that served Lang so well when he went to the US to make films present throughout, though actually there is a light touch in some places, especially during the section which set in China.
The film's genesis begun with a vision of Death that Lang had when he was a child and suffering from a fever. Supposedly he saw a dark stranger in a wide-brimmed hat, and he lost sight of his mother and raised himself up to be led away by Death, but hands pushed him down and saved him. Small wonder that so much of Lang's work turned out the way it did. Der Mude Tod, who's full title is actually Der müde Tod: ein deutsches volkslied in 6 versen which translates as Weary Death: A German Folk Story in Six Verses, came on the heels of the death of Lang's mother. Entirely studio bound as was usually the case at the time, the production went over budget [though nowhere as much as Metropolis!] and wasn't well received in Germany until, bizzarely, it became a big hit in France. The US release was entitled Behind The Door and doesn't appear to have been cut for a change, though one odd feature of this film is that the new restoration, which has been pieced together from several sources to get the best possible version, is shorter than earlier credited running times, running at 96 mins as opposed to anything from 99 minutes to 114, though the latter has surely got to be a mistake. The film seemed to become quite obscure and the original inter-titles were lost for several decades. In 1954, Lang's ex-wife Thea von Harbour, who had collaborated with him on the screenplay to Der Mude Tod and others, slipped and fell over just as she was exiting a screening of this film, and she died several days later.
"Praise the Lord" says the first inter-title, which worried me somewhat, but luckily this film doesn't lay on the religion other than basing some of its concepts on Judaeo-Christian mythology. Death is shown in the very first shot materialising in a field before making his way to a village where he finds all the local dignitaries who are sarcastically introduced with titles like His Importance and His Learnedness. Death buys this bit of land from them, then sits at the table in a pub where a couple are drinking before disappearing with the man. I should warn that this first section is taken at quite a slow pace, and some may also find it positively depressing, but the bleak atmosphere is superbly conceived, and soon you get the first of many stunning images in the film, a parade of ghosts walking down a path before disappearing into the wall where the woman knows her fiancée is but which seems to have no door. Just imagine how 1920's audiences would have shivered! It struck me during that haunting and also rather sad scene how the basic cinematic technique for depicting ghosts never really changed until comparatively recently, and also how the modern CGI renditions aren't necessarily more convincing. The woman obtains some poision and takes it, but then suddenly finds herself in Death's abode, walking up endless stairs in an archway surrounded by black. Simple can often be best. Death shows her a room filled with candles which represent lives, and offers to return her fiancée to her if she can save three lives in three stories he tells – and suddenly we're in exotic fantasy.
First of all we find ourselves in Persia where a Caucasian man is in love with the Caliph's sister and sneakis into the palace to woo her, whereupon the Caliph sets a trap to catch him. Then we relocate to Renaissance Venice where one man is engaged to a woman who really loves another. She begins to plot her fiancee's murder. And then we're in China where a magician, his apprentice and his apprentice's girlfriend have to entertain the Emperor, who wants the girl and will not take no for an answer. The latter tale is probably the most consistently entertaining with its laughs and its special effects moments. The magician is introduced trying to roll up an exceedingly lengthy scroll before giving up and asking for his "Sunday wand, the one made out of Jade", which just causes the scroll to lift up into the air. Perhaps the most impressive moment is when an army of tiny soldiers marches out from under where the Emperor is sat. The staging and the matte work remain highly impressive. On the other hand a flying carpet is only partly shown flying, though we also get some memorable demonic heads with fiery hair. It probably won't come as a surprise that the stories all end sadly, but Death feels sorry for the heroine and decides to give her one more chance to save her beloved, though the nature of it is not something I'm going to reveal. There's a real feeling of mental, moral and spiritual anguish to the final stages of the film, and, if the ending can probably be predicted, most 1921 viewers probably wouldn't have seen a film ending like this and would have been profoundly moved.
The whole story that Lang and von Harbour thought up is obviously derived from the tale of Orpheus and Eurydice and others, but has the strength of an actual myth in its own right. The same performers appear in different roles in each section, but they're often roles that echo each other, as if the same basic story of a woman trying to save her beloved is being continually enacted throughout time and maybe we're witnessing a form of reincarnation [I thought of The Fountain several times whilst watching this movie]. Bernhard Goetzke's Death is always hanging around, while Walter Janssen turns up repeatedly as the ill-fated love of the heroine. This latter character is an easily identifiable character for most of the time, though Lang and von Harbour aren't afraid to make her a murderer in the Venice section. Characters are not always as straightforward as they seem. And perhaps the most rounded one is Death himself, a sad, lonely figure who finds his task very difficult and who would actually like to do something else, but who, just like the humans in the story, cannot escape his destiny. Bernhard Goetzke is truly fascinating in the role, and you feel for him almost as much as you do for the woman when he does the most he can to help her. And I like very much the way that Lang and von Harbour seem to be saying that love may not conquer death unlike in many later Hollywood movies, but it sure earns death's respect, plus also his envy, as it's something he's doomed to never experience for himself.
The sets often seem to be constructed from the imagination of a child, but that's okay in an expressionist fantasy such as this. I especially liked the way the Chinese emperor moved from room to room through circular doors. And look at the candle-like shapes everywhere, in some cases looking positively phallic. US censors after 1932 would have probably had a fit. There's attention to detail in nearly every shot. And Lang does some things that were really ahead of his time, like masking the top and the bottom of the frame for some shots, thereby virtually creating widescreen. There may be draggy moments, some of the acting may seem overly melodramatic [though not as much as as many American silent pictures of the time], and there may be some dated ethnic stereotyping [the Emperor is a walking Yellow Peril/ Fu Manchu-like cliché] that could make some modern viewers uncomfortable [I just tend to have a chuckle at this kind of thing and remember that it was a different time back then], but I personally find it very exciting watching a film of this nature from the silent days, because I'm seeing things that later became commonly used being virtually invented on-screen, and witnessing a cinematic master try to stretch the boundaries of cinema as much as he possibly could with the limited means [by modern standards] he had at his disposal. Der Mude Tod is well worth experiencing.
Rating:
This restoration of the film, which seems to be taken from the same source as Kino-Lorber's Region 'A' release, does sometimes vary in quality because of the differing quality of the prints that have been combined, but a great deal of it looks amazing for a film of its vintage, and the flaws in the lesser sections mainly consist of lines on the screen. The tinting perhaps veers back and forth between different colours a bit too often for my own personal liking, but I'm sure it's reasonably accurate. Cornelius Schwehr's score, sometimes sounding like the ones Carl Davis used to do for silent pictures but often employing more percussion, seems mostly appropriate for the imagery and the story, though a faster approach would have benefitted the bits of action like a lengthy chase around the Caliph's palace [is this the first of the many Lang films to have a manhunt?]
Der Mude Tod is in selected cinemas nationwide [UK & Ireland] and on Digital HD from 9th June 2017.
It will later be released as part of The Masters of Cinema Series in a definitive Dual Format Blu-ray
and DVD edition on 17 July 2017, which from the looks of it adds a new video essay to the Kino release.
SPECIAL FEATURES FOR THE DUAL FORMAT RELEASE
*High definition presentation from the superb 2K restoration
*Original German intertitles with optional English subtitles
*Score by Cornelius Schwehr, performed by the Berlin Radio Symphony Orchestra under the direction of conductor Frank Strobel
*Feature length audio commentary by film critic Tim Lucas
*A new video essay by David Cairns
*A booklet featuring a new essay by Philip Kemp and more!