Gifted (2017)
Directed by: Marc Webb
Written by: Tom Flynn
Starring: Chris Evans, Jenny Slate, Lindsay Duncan, McKenna Grace, Octavia Spencer

After Frank's (Chris Evans) sister takes her own life, he is left to bring up her child Mary (McKenna Grace). The two have an amazing bond and he has been home schooling her for most of her life, but Frank decides it's time for Mary to go to school and integrate with the other kids her age. Following a couple of incidents at school, Mary is offered a scholarship at a school for gifted children, as it turns out she is exceptionally talented at mathematics. Frank reluctantly turns the offer down, not wanting to burden Mary with the pressures that this sort of life may bring, wanting her to grow up in a 'normal' school environment. Following the rejection, the school get Mary's wealthy grandmother involved, despite her never having met after being disowned by the snobbish parents of of her Mother. Clearly Mary's grandmother wants to exploit her talents for her own gratification and a custody battle ensues.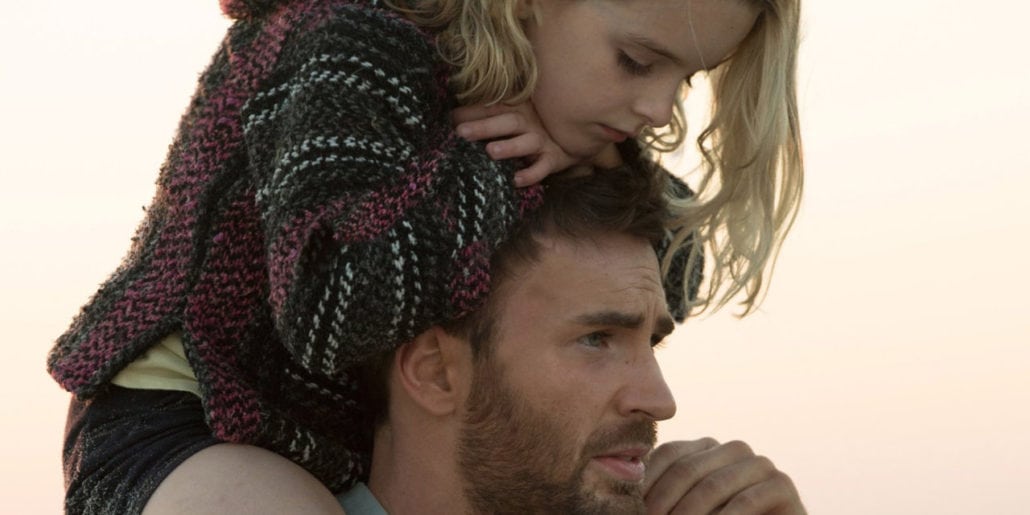 From the opening scene it's clear that Chris Evans and the young actor Mckenna Grace have an amazing rapport, and bounce off each other wonderfully. Evans does a great job of conveying the relationship between his father figure and young niece. The love a parent has for their child can never be truly understood until you experience it for yourself, and the way it is portrayed here is outstanding. Obviously this means there's going to be some hard moments, as the legal system and fame-hungry grandparent descend on this innocent child, but there's also some beautiful ones too. A film like this could quite easily fall in to emotionally manipulative territory, but luckily things don't get so crass and it seems pretty natural. Evans really puts on a great performance here, clearly struggling to keep his emotions in check as he just tries to do what's best for his niece, conveying the conflict between his own experiences with his mother and trying do what's best for Mary.
It's great to see Marc Webb return to this sort of film making after his foray in to the world of comic book blockbusters, and it near enough surpasses his excellent 500 Days of Summer. The direction did feel a tad invasive at first, with most of the shots focussed very close to the actors faces for a lot of the dialogue and the unsteady movement of the handheld camera took a little getting used to. But it's a minor grievance. There's also some wonderful shots and backdrops throughout the film, with one in particular standing out, as Frank and Mary are silhouettes against a huge setting sun, while she's using him as a climbing frame asking the usual inquisitive questions a child of that age normally does. It's wonderfully lit, and really sets the tone for their relationship. It may be melodramatic at times, and the plot may seem like Hallmark Channel's film of the week, but the heart, drive and direction comes together to make a gripping and moving film. It may get lost among the big summer blockbusters, but Chris Evans proves there's more to him than biceps and spandex, and McKenna Grace is an absolute delight to watch.
Rating: