Despicable Me 3 (2017)
Directed by: Kyle Balda, Pierre Coffin
Written by: Cinco Paul, Ken Daurio
Starring: Kristen Wiig, Miranda Cosgrove, Steve Carell, Trey Parker

USA
IN CINEMAS NOW
RUNNING TIME: 90 mina
REVIEWED BY: Dr Lenera, Official HCF Critic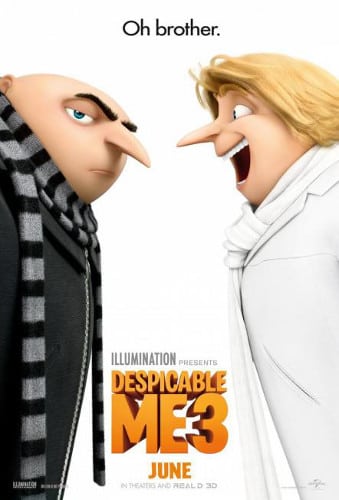 Gru, now an agent for the Anti-Villain League [AVL], fails to capture Balthazar Bratt, a former child actor who portrayed a young supervillain in a popular television series before the show was cancelled as a result of his puberty and his waning popularity led to him adopting his former persona to become an actual supervillain. He and his wife Lucy are fired from the AVL, and most of Gru's Minions leave Gru when he refuses to return to villainy despite losing his job. The next morning, the family is approached by the butler of Gru's long-lost twin brother Dru, who lives in a country named Freedonia and longs to meet him….
As something of a fan of the first two Despicable Me films [I still believe I was correct in naming it the best animated film of its year], I was looking forward to the third instalment, but it's really something of a disappointment. Despicable Me 2 was a notch or two down from the first one, but was still frequently hilarious, inventive, sweet and just a little bit subversive. Maybe I should have reminded myself that the Minions movie was just quite good rather than good. In any case, Despicable Me 3 fares perfectly well as a typical modern CGI animated effort, and seemed to be pleasing the kids at the screening I was at, which I guess is the main thing really, while they're obviously going for some chuckles from the adults too what with the villainous but stuck-in-the-80's Balthazar Brat and the songs that usually accompany him. But the gags are spread more thinly and too many of them fall flat. And perhaps, worse of all, the Minions are off screen for too long, and are separated too long from Gru whom they interact best with, though they still get some very funny moments, such as when they end up in a singing contest entitled, of course, Sing [the title of another Illumination hit].
Set partly in a place called Freedonia which seems to be an odd mixture of Latin American and Middle European culture, the plot has rather too much going on: Gru bonding with his twin brother Dru who wants to be a supervillain like Gru used to be, the Minions ending up in prison, Lucy trying to be a better Mum for the girls Margo, Edith and Agnes, Agnes and Edith trying to find a unicorn etc. Some of this is undoubtedly well done. The Gru and Dru storyline is genuinely sweet in places as well as being just slightly twisted as a little element of these films should be. Agnes being convinced that she's going to see a unicorn and then sure that she's found one even when it's actually – a goat, is also really cute, while some of the best laughs come from Lucy's sudden and sometimes unwarranted toughness. But there just isn't room for all of this in a 90 minute film and some of the threads end up being cut short or not concluded properly. At least Brat, voiced by Trey Parker, is a terrific villain and gets some great scenes such as him wrecking Hollywood with bubblegum, but you know that they're beginning to run out of ideas when an admittedly good dance-off fight between Gru and Brat is just repeated in the climax. Visually Despicable Me 3 is as colourful as the others and the animation probably slightly better though the picture seemed to me to be slightly blurry in places. The film is cleaning up at the box office and Illumination will no doubt keep on making these movies, but us older viewers who have more than a soft spot for this type of movie could do with better storytelling and more laughs.
Rating: