Kill Baby Kill (1966)
Directed by: Mario Bava
Written by: Roberto Natale, Romano Migliorini
Starring: Erika Blanc, Fabienne Dali, Piero Lulli, Roberto Natale

AKA OPERAZION PAURA [OPERATION FEAR], DIE TOTEN AUGEN DES DR. DRACULA  [THE DEAD EYES OF DR. DRACULA], CURSE OF THE DEAD, CURSE OF THE LIVING DEAD
Italy
AVAILABLE ON DUAL FORMAT BLU-RAY AND DVD: 11th September, from ARROW VIDEO
RUNNING TIME: 82 mins
REVIEWED BY: Dr Lenera, Official HCF Critic
In 1907, Dr. Paul Eswai is sent to a Carpathian village to perform an autopsy on a woman who died under mysterious circumstances in an abandoned church, and meets Monica Shuftan, a native of the town who has returned to visit her parents' graves. Upon performing the autopsy, he finds a silver coin embedded in the woman's heart. The local villagers are accustomed to medicinal practices and superstitions Dr. Eswai finds preposterous, and claim the village is haunted by the ghost of a young girl who curses those she visits. After Nadienne, the daughter of local innkeepers, is visited by the girl, the village witch Ruth performs a ritual to help reverse the curse. The following evening, Eswai goes to meet with a colleague, Inspector Kruger, at the manor of Baroness Graps. Upon arriving at the large, decrepit home, she informs him that she knows of no such Kruger….
If you've never yet had the pleasure of seeing a Mario Bava film [one third of the Holy Trinity of Italian horror that also comprises Dario Argento and Lucio Fulci], then Kill Baby, Kill would be a very good place to start. It shows the director at the peak of his powers in creating a creepy atmosphere, frightening set pieces, and gorgeous visuals despite a tiny budget, returning to Gothic horror in full force after two westerns and one science fiction/horror. In terms of plot – well, it's not bad but at times awkwardly presented and doesn't always make much sense, while the final act seems rather rushed, but there's some of the moral ambiguity you find in much other Bava and some of his favoured themes, and for the horror fan [and I mean the real horror fan who watches as many old movies as new ones] any flaws are atoned by this film having one of the most memorable spooks in cinema history. It's nothing more than a ghostly girl [who's actually played by a boy, not that you would know it from watching the film] in a white lace dress bouncing a dull white ball, but there's something so incredibly haunting yet innocent about it and the way it's presented, and it's easy to see why several other filmmakers, from William Malone [Feardotcom] to for goodness sake Federico Fellini [The Toby Dammit portion of Spirits Of The Dead], have borrowed the concept. This was always by some degree the worst looking of the Bava DVDs in my possession which is probably why up to now I neither regarded it that highly nor watched it very often, but Arrow's stunning new Blu-ray really brings its many qualities to the fore and certainly gave me a new appreciation for it.
Rather oddly, Kill Baby, Kill's script was only 30 pages long, obviously having been written in a rush. When filming begun, the cast were instructed to improvise many of their scenes. The main reason the girl ghost was not actually played by a girl was that Bava interviewed hundreds of young girls and none were suitable. Then he noticed that his concierge had a son who looked the right age. The film was shot in the town of Faleria and around Villa Grazioli, both in the Lazio region of Italy near Rome, as well as being one of the last films filmed at Lazio's Titanus Appia Studios. Shooting only took twelve days, but after ten the producers actually ran out of money, not it seems an uncommon thing for Italian movies of the time. Bava wanted to finish the film without pay and amazingly the entire cast and crew went along with him. Bava's films tended to do better box office abroad than in Italy, but Kill, Baby, Kill was a major hit in its native country. The 1967 UK theatrical release was retitled Curse Of The Dead, but in the USA it came out under its own title in 1968 and uncut [a rarity for a Bava film in the States], though a later version, shorn of ten minutes, as part of an Orgy Of The Living Dead triple bill that also comprised Revenge Of The Living Dead and Fangs Of The Living Dead which were re-titlings of Malenka and Murder Clinic [which was also partly shot at Villa Grazioli] respectively. The German title translates as The Dead Eyes Of Dr. Dracula!
The unnverving cries of a woman screaming: "No, help!" as she flees in terrror from something open the film, us then being treated to the sight of her throwing herself of a ledge on to some spikes. The titles even unfold over the shot of the gory death, but Bava, who'd pushed the boundaries of violent horror twice before in Black Sunday and then Blood And Black Lace, then doesn't give us anything else like this in the film except for the somewhat upsetting sight of a young girl being whipped and then wrapped in a leech vine [though it's supposedly for her own good], with all the subsequent deaths more suggested than shown. This may disappoint some, but then Bava was obviously going for a more subtle approach than normal. Something that I don't think I noticed before is that the second piece of music heard during the opening titles is a track from Bava's The Whip And The Body – in fact quite a bit of its score turns up here, no doubt because there was no money to pay for a full score, and even a portion of that film's unforgettably beautiful love theme turns up, albeit seeming rather over the top considering that our hero and heroine don't seem to actually fall in love in this movie. Considering that The Whip And The Body is probably my favourite Bava and I watch it often, I found this a bit distracting in places but it won't bother most viewers who should soon get sucked into Kill Baby, Kill's astonishingly oppressive atmosphere – though this doesn't mean that they aren't any chuckles at all. One of the first things Dr. Paul Eswai does when he arrives in the village is to go in the local bar where all the patrons stare at him in silence – and this isn't the only instance where this film seems quite close to the world of Hammer, as if Bava was invited to Bray Studios to make a movie [what a thought!]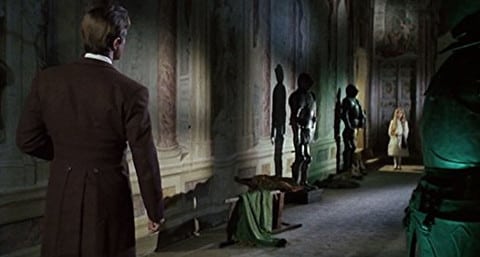 This village is haunted by the afore-mentioned ghost girl, who is either briefly spotted around street corners, down hallways, or on the outside of a window [could the late Tobe Hooper have remembered this when he shot Salem's Lot?] with sometimes just her arm being glimpsed. These moments may well have quite frightened audiences of the time and, while some modern horror fans may laugh, there's one simply fabulous shock appearance of the ghost in her room of dolls that I'd totally forgotten about and which worked wonders with me – though considering I have a wierd thing about dolls, this wasn't the only moment which unnerved. The story progresses quite leisurely, and it's soon pretty obvious that the mysterious Baroness Graps has something to do with the spooky events that are taking place, Bava even revealing much of what's going on by showing us a painting, though I could possibly have done with things being a bit ambiguous for a while. Eswai is accompanied by another cop Inspector Kruger in his investigations which seem to be hindered rather than helped by Karl the Burgomaster, and both policeman think that the villagers are talking rubbish until Eswai's interference in what seems on the face of it a barbaric practice to seemingly prevent death results in a young girl killing herself instead. Perhaps the local witch, ironically clad in black while the ghost is in white, could be on the side of 'good' afterall? Cue lots of spooky and quite inventive [notably Eswai repeatedly chasing himself through a room] sequences taking place in the Graps house which has some weird aspects of its own and is almost a dry run for the time-bending abode in Bava's masterpiece Lisa And The Devil. The film gets so damn good that it's a shame that the final confrontation is a little lame.
Bava's favourite themes of the destruction of the family and the deceptive nature of appearances are well in evidence, while, as photographed by Antonio Rinaldi but of course supervised by Bava himself, it looks as beautiful as any Bava film. Characters tend to be lit in a golden hue while gold seems to constantly do battle with a grayish kind of blue on the screen. The typical early Bava splodges of green are there, but generally a bit more subtle than before though they increase as things get wierder. While there's nothing taking place on his usual beach at Anzio, Bava seem to shoot quite a bit outside,turning some ancient ruins and some village streets into a decaying nightmare place, full of ramshackle buildings and dead trees. Then you have the fog-strewn graveyard which might be the most gorgeous of its kind ever. Bava didn't just make the most of small budgets – he seemed to relish using them [when given a fair bit of money to make his next film Danger: Diabolik he brought it in way under budget] and felt that it gave him more freedom. Here, he probably uses more stylised camerwork and camera tricks than in any other film, such as the bizarre distortions on the top of the Baroness's head during a dream sequence, a chase down some winding stairs which is turned into an almost kaleidoscopic marvel of movement, shape and colour, and the introduction of the ghost from her point of view on a swing in the graveyard. Bava's love affair with the zoom lens perhaps begins with this film, but there are also some wonderful prowling sequences.
Acting, as is sometimes [but certainly not always] with Bava, is just functionary but certainly not terrible. Giana Vivaldi probably fares best as the Baroness overall, though when Micaela Esdra's character is driven to doing something terrible by the ghost, the actress really plays it well and it adds immensely to what is perhaps the film's most intense scene. Interesting to see Erika Blanc in a more 'virginal' role than normal too. The cobbled together score features Carlo Rustichelli pieces along with a few by other composers. The main lullaby theme by Armando Travoliari is memorable, though at times the music is a bit unneccessary. Genuinely bloodcurdling though is a track comprised of wailing voices and distorted sounds that appears some times. It's not the only thing about this film which I feel may have influenced Suspiria, while I really think that the J-Horror movement is heavily indepted to this movie. Perhaps Kill Baby, Kill doesn't quite hang together as well as it could, but then neither do many of our dreams or nightmares. There are many occasions where it truly is Gothic horror cinema at its very best.
Rating:
Arrow's Blu-ray of Kill, Baby, Kill, possibly based on the German release from Koch Media, is beautifully filmlike and full of detail. I felt like I was seeing the film for the first time. I watched it in its Italian language track which wasn't on the old DVD. As usual, it flows better than the English language track and doesn't have the tinniness that often comes with examples of the latter. The translated subtitles are slightly different to the English dub, so are probably more authentic. Overall the English dub isn't bad as far as these things go, and some cast members do seem to be speaking English [as usual, the film was shot silent], but in my opinion the Italian track is the way to go. You have the option of watching the film with a short introduction by Erika Blanc.
First up in terms of special features is another one of those great Tim Lucas commentaries. It was on the Koch Blu-ray, but this is actually one he did for a older DVD release for Dark Sky which for some reason, possibly rights issues, was cancelled though some copies made their way into collector's hands. It's possibly that he's amended parts of his talk track for this release, I'm not sure, but one thing I am sure of is that this is one of the very best of his commentaries: warm, informative and observant [he points out a twinning motive that I didn't notice] without being dry. He even tells us where all the different music cues came from.
With such a detailed commentary you'd think that would be enough, but there's more stuff to delve into. Next up is Arrow's own contribution, a 21 minute look at children in Gothic literature and cinema, plus the influences on and of Kill, Baby, Kill, by Kat Ellinger. She makes some connections I certainly hadn't thought of in a rather relaxing video essay, and like Lucas [and me, not that I'd place myself with those two], feels that Bava and his influence have been terribly overlooked. This is followed by a 25 minute interview of Lamberto [Mario's son] Bava who provides some recollections of his father and shooting this film, and takes us on a tour of the locations which are fascinating to see. This feature was also on the Dark Sky release. And then we have a 20 minute interview with Blanc, taken from a German DVD which was also on the Koch Blu-ray, where she goes through various stills and comments. She seems like a fun lady to spend time with and finishes by singing part of a song. And then we have a 2006 five minute short film called Yellow which begins as if we're going to get a re-run of The Thomas Crown Affair's famous chess game but quickly turns nasty. The Bava look is really taken to extremes here. And the German opening credits are an interesting watch. I actually prefer the eerie shots of the town and the ghost's legs to what was released elsewhere.
The other interviews that were on the Koch aren't ported over, but I think that we certainly have enough here. I cannot find any flaws with this release of a film which every horror fan should own, and I give it my highest recommendation. If you're new to Bava, then dive in but be prepared to then want to see as much of his other stuff as possible.
SPECIAL EDITION CONTENTS
*Restored 2K high definition digital transfer
*High Definition Blu-ray (1080p) and Standard Definition DVD presentations
*Original mono Italian and English soundtracks (lossless on the Blu-ray Disc)
*English subtitles for the Italian soundtrack
*Optional English subtitles for the deaf and hard of hearing for the English soundtrack
*New audio commentary by Tim Lucas, author of Mario Bava All the Colors of the Dark
*The Devil s Daughter: Mario Bava and the Gothic Child, a new video essay by critic Kat Ellinger
*Kill, Bava, Kill!, an archive interview with assistant director Lamberto Bava
*Erica In Fear, an archive interview with star Erica Blanc
*Yellow, Semih Tareen's short film homage to the cinema of Mario Bava
*Alternate German opening credits
*Reversible sleeve featuring original and newly commissioned artwork by Graham Humphreys
*FIRST PRESSING ONLY: Collector s booklet featuring new writing by critic Travis Crawford