4/20 Massacre (2018)
Directed by: Dylan Reynolds
Written by: Dylan Reynolds
Starring: James Gregory, Jamie Bernadette, Jim Storm, Justine Wachsberger, Marissa Pistone, Stacey Danger, Vanessa Rose Parker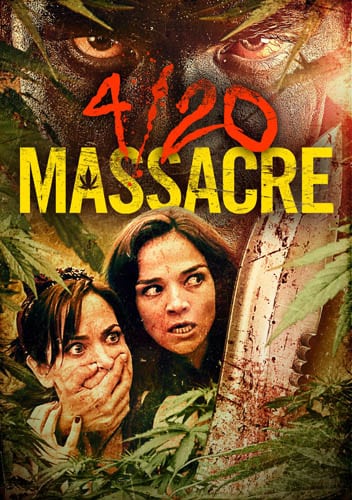 4/20 MASSACRE (2018)
Written and Directed by Dylan Reynolds
Five women decide to go camping in the woods for their friend's birthday during the 20th April weekend but when they accidentally come into receivership of some stolen marijuana grown illegally in the area, they become a target of the guerrilla growers intent on teaching them a lesson.
4/20 MASSACRE is a horror slasher comedy from Nipples and Palm Trees director Dylan Reynolds. The film focuses on the date of 4/20 (20th April for us Brits), a holiday adopted by stoners to chill the fuck out on a date that history has proven to be rather toxic (Hitler's birthday, date of Columbine massacre and others). In this movie, it's also the same day as Jess' birthday so she and her friends make their way to an old woodland haunt they used to frequent for a weekend of drinking, fun and frolics to celebrate. Jess is accompanied by childhood best friend Aubrey, lovable weed head Donna, straight talking Rachel and Rachel's colleague and love interest Michelle. They're your typical group of girl friends just enjoying each other's company and it's really easy to relate to them as characters and friends. It's quite refreshing too to have a group of female friends who actually seem to possess a brain as many horror movies often opt for bimbos (big tits optional) just to sell it to the male audience. Finally, we have 4/20 MASSACRE that brings us female characters we can believe in.
The biggest sell for a slasher is the baddie and the executions they commit. 4/20 MASSACRE doesn't disappoint. In this woodland mountain tale, the villain of the piece dons a ghillie suit in what must be a first for slasher cinema and has a taste of blood for anyone who may have stolen or come into contact with the illegally grown marijuana. Instead of a slow moving figure hiding in the trees, this one seems not to have sampled his own product as he's far from spaced out as he races through the woods, stalking and picking off his prey with increasingly inventive ways – my favourite involving a bong.
4/20 MASSACRE is lots of fun and the running time zooms by which is a sign of a good indie B-movie. The cast are spot on and provide many laughs, particularly Jim Storm as Ranger Rick who made me crack a smile or two throughout the movie. Its lighthearted approach to its dark subject, laced with giggles and gore, is just what the doctor ordered and is quite the remedy when you're looking for something a bit more upbeat to have a couple of beers and a bowl of popcorn with, or in this case, a joint.
Playful and engaging with the right amount of menace, 4/20 MASSACRE has plenty to satiate your movie munchies!
Rating: