Inherit the Wind (1960)
Directed by: Stanley Kramer
Written by: Harold Jacob Smith, Jerome Lawrence, Nedrick Young, Robert E. Lee
Starring: Dick York, Fredric March, Gene Kelly, Spencer Tracy

USA
AVAILABLE ON BLU-RAY AND DVD: NOW, from EUREKA ENTERTAINMENT
RUNNING TIME: 128 mins
REVIEWED BY: Dr Lenera, Official HCF Critic
In the small Southern town of Hillsboro in the USA, school teacher Bertram Cates is about to stand trial for violating a state law by introducing to his students the concept that man is descended from the lower life forms, a theory of the naturalist Charles Darwin. Appearing for the prosecution will be three-time presidential candidate and Biblical scholar Matthew Brady, while influential newspaperman, E.K. Hornbeck of the Baltimore Herald, has persuaded Henry Drummond, a long-standing acquaintance and adversary of Brady, to represent Cates, and ensures that his newspaper and a radio network will provide nationwide coverage of the event. The Rev. Jeremiah Brown publicly rallies the townspeople against Cates and Drummond, but his daughter Rachel is conflicted because she and Cates are engaged….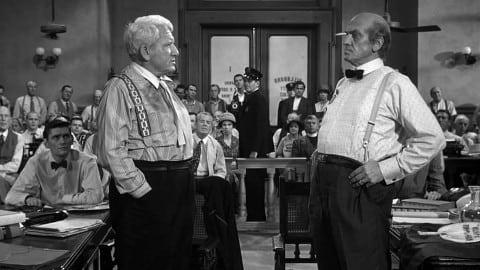 I must admit that, being a horror fan, and especially of the older kind, my interest in watching the Blu-ray screener disc of Inherit The Wind [a film that I shamefully hadn't even heard of even though I perhaps wrongfully consider myself to be fairly knowledgeable about movies of most kinds] that popped through my letterbox was chiefly prompted when I noticed that it starred two of the screen's best Dr. Jekylls [and Mr. Hydes] and had them verbally doing battle on screen! For the record, I believe that Spencer Tracy was the better Jekyll and Hyde despite Fredric March winning an Academy Award for the part[s] but that March was in the better film. But I was soon reminded that sometimes, despite all the cinematic artistry and special effects in the world, almost nothing is more exciting than a good old courtroom showdown despite my often professed preference for images over dialogue – and Inherit The Wind most definitely delivered the goods for me, so much so that I was tender hooks towards the end – though of course it helped that I didn't have any knowledge of the true life case upon which the play that inspired it was based upon. And it my also provide a lot of thought, especially if you're of a religious bent – and for the record I don't hate religion, just the way it's often used. As one of the many fine lines in the films says: "Religion is supposed to comfort people not frighten them".
The trail on which the 1955 play by Jerome Lawrence and Robert E. Lee was based upon took place in 1925, the Scopes "Monkey" Trial, which resulted in John T. Scopes's conviction for teaching Charles Darwin's theory of evolution to a high school science class, contrary to a Tennessee state law. Three of the characters in the film correspond to real historical figures, but Brown and Rachel were invented and some events were altered, such as there being no plea for empathy in the real case and the nature of a major character's death , though the play did have an introduction that admitted it wasn't intended as a truthful depiction of events and that its purpose was to criticise McCarthyism and defend intellectual freedom. Indeed producer and director Stanley Kramer were subject to much criticism for hiring the blacklisted Nedrick Young as one of the two writers. When the film's director Stanley Kramer offered the role of E.K. Hornbeck to Gene Kelly, Kelly initially turned it down. Kramer told him that his co-stars would be Fredric March and Spencer Tracy, and Kelly changed his mind – which was a risky move on Kramer's part, as he hadn't yet even asked March or Tracy to participate. The buzz about March's and Tracy's performances spread around the studio lot and Hollywood to the point that a lot of extras made their way to the set just to see the action. In one instance, the extras were applauding so much at one of March's dramatic speeches that they ruined the take by not waiting until the end. The film's distribution was limited by certain factions and some cinemas were picketed, while critical response was mixed. It was remade for TV in 1965, 1988 and 1999, starring Melvyn Douglas and Ed Begley, Jason Robards and Kirk Douglas, and Jack Lemmon and George C. Scott as respectively.
A very ominous opening scene has a nice lengthy pan out from the front of the Hillsboro courthouse to follow two men walking through the town over which people sing a hymn that will reoccur in different guises throughout the film, the words "give me that old-time religion" given occasional sinister backing chords, a nice touch by score composer Ernest Gold. The two are gradually joined by some others as they burst into the classroom where Bertram Cates is teaching Darwinism to students, something prohibited by country law. Cates is thrown into a cell, but the town elders seem unsure about how to proceed until one of their number says how a trial could make a lot of money for the town. As it was then as it is now, money rules. Cates has a fiancee Rachel, and when they have a romantic clinch it seemed to me to ruin the sober mood that had been set up, and the insertion of her character to be pointless, though her being under the control of her preacher father Rev. Jeremiah Brown soon becomes a major subplot. Indeed most of the town seems to be of the fire and brimstone kind, and renowned prosecutor Matthew Brady arrives to a right royal welcome. But on Cates's side is newspaperman, E.K. Hornbeck, and despite being something of a fan of Gene Kelly I wasn't sure how well he would pull off a "serious" part. In fact my fears were unfounded – his role as the cynical journalist allowed him to play a variant on his usual screen persona [he's even able to show off that wonderful grin at times]. He's the main provider of light relief and is certainly given a lot of funny and sometimes pointed lines. "Grandpa, welcome to Hilsboro" he says to a poor cigarette-smoking chimpanzee exhibited to show how apes have supposedly devolved from man rather than the opposite.
By this time the town has become the focus of a full-on media circus, and defender Henry Drummond isn't received nearly as well as Brady when he arrives – though there's a lovely gag where several teenagers approach him intimidatingly and one of them tries to wrestle Drummond's case from him – and they turn out to be some of Cates's students who most definitely are on his side. In fact one of the things that I think may surprise some viewers about this film is that, despite it largely centering on two elderly men arguing increasingly lofty issues, it's not dry or dour, much effort having been made to make it entertaining – and yet when Brady and Drummond are doing battle in the courtroom [which is largely prejudiced against Drummond] it's hard do argue that, on occasion, nothing's better than watching two great performers going at it. Both March and Tracy [whose craggy, weather-beaten visage in his later films was surely one of the best faces in Hollywood at the time] are brilliant and you can't take your eyes off them during their debates and speeches as they often try to deliberately upstage each other. In a way March has the harder role, at least to modern eyes – a strict Christian who will not waver whatsoever in his beliefs even when presented with evidence that, for example, God can't have begun work on creating the world in the first day because he supposedly hadn't made the sun yet and therefore there wouldn't have been a day. The script allows us to begrudgingly give Brady a bit of respect despite his often devious courtroom tactics, its anti-creationist viewpoint reserving even more of its disdain for Brown – though even he's eventually given a whiff of sympathy. Less successful are the two final scenes, possibly written so extreme fundamentalists wouldn't get too annoyed, the first of which tries to tell us who the real villain of the piece is. It jars with things said and viewpoints adopted earlier on. And I had to look up what "chautauqua" was – it's mentioned several times in the film yet I have a feeling that most Brits won't understand the reference. In fact it was an education movement for adults in the US highly popular at the end of the 19th and in the early 20th centuries.
It's hard not to want to cheer when Tracy as Drummond is railing about things like the right to be different or personal freedom – and his climactic summation to the jury, filmed in one take, really is clap-worthy – and yet even in the courtroom there's some levity, such as Drummond's insecurity at his opponent being a Colonel in the military leading to his being also made a Colonel just for the duration of the trial, or many of the people present including Brady waving fans which have "Compliments of Mason's funeral parlour" printed on them. A few melodramatic moments are hard to swallow, such as Brady tearing apart Rachel which any decent judge ought to have stopped much earlier, but frankly I was enjoying it all so much I didn't really care. And there are some nice quiet moments too, like when Drummond and Brady are sitting in rocking chairs and Drummond talks of a rocking horse from his childhood – while all the while the two actors are both rocking their chairs but are never in sync with each other to emphasize their differences of opinion.
Producer/director Stanley Kramer [Guess Who's Coming To Dinner, On The Beach] liked to make self-important movies with messages, and going by that sounds like a filmmaker I should avoid, but at least based on Inherit The Wind he did have a visual sense, he and cinematographer Laszlo Kovacs often providing an illusion of depth by placing one character in the forefront and others in the background. Sometimes a large head will suddenly enter into the frame much like early John Frankenheimer. Undeniably dialogue-based yet considerably more fun then it probably sounds, Inherit The Wind is thought provoking and really rather rousing cinema of a particular kind that you rarely see on our screens these days – though whether you consider it to be about McCarthyism or Darwinism its central themes still remain with us and always will.
Rating:
Eureka Entertainment bring Inherit The Wind to Blu-ray with a fine looking restoration of the film, in which you can see usually make out the sweat on people's faces in the courtroom! The release is not full of special features and Eureka were obviously unable to port over the audio commentary from the Region 'A' release by Kino Lorber, but Neil Sinyard offers a solid 24 minute appraisal of the film, pointing out many of the changes from the real events, providing a few extra facts, calling it Kramer's best film, and defending the two ending scenes that I and apparently many others aren't too hot on but which he makes a good argument for.
Inherit The Wind comes thoroughly recommended by the Doc.
DETAILS
*1080p presentation of the film on Blu-ray, with a progressive encode on the DVD
*Uncompressed LPCM audio (on the Blu-ray)
*Optional English subtitles for the deaf and hard-of-hearing
*A new video interview with film scholar Neil Sinyard
*Original theatrical trailer
*First Print Run Only: A collectors booklet featuring the words of Stanley Kramer