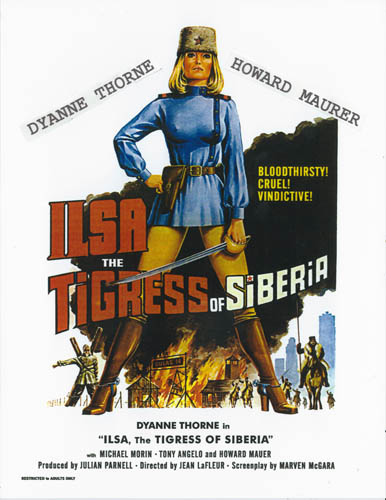 Fans of Dyanne Thorne and Howard Maurer will be pleased to hear that the cult favourite acting duo will be attending Sitges International Film Festival this year to introduce the festival's screening of the third Ilsa film, ILSA: THE TIGRESS OF SIBERIA, in which Dyanne reprised her role as the sadistic, sexy soldier of fortune whilst Howard played one of her henchmen lovers.
Set in 1953, ILSA: THE TIGRESS OF SIBERIA sees everyone's favourite female villain Ilsa in charge of Gulag 14 camp, under the orders of Stalin. which she runs with an iron fist. After Stalin's execution, the camp is burned to the ground to ensure no-one survives to tell the tale of their mistreatment. Unfortunately for Ilsa and her comrades, a prisoner manages to survive the mass execution and is hellbent on revenge against his captor.
The film will be screening on the 12th October 2018 at the festival and you can get your tickets here.