Bohemian Rhapsody (2018)
Directed by: Bryan Singer, Dexter Fletcher
Written by: Anthony McCarten, Peter Morgan
Starring: Aiden Gillen, Allen Leech, Ben Hardy, Gwilym Lee, Joseph Mazzello, Lucy Boynton, Mike Myers, Rami Malek, Tom Hollander

The legacy of Freddie Mercury (Rami Malek) and Queen was always going to be a tough job to capture on screen. They're a band who have always been there, and to this day are still as popular as they have ever been. Anyone who is a fan will likely already know the story, and even though I was only young when Freddie died, it was still a massive deal. Bohemian Rhapsody mainly focuses on the flamboyant front man, and his lifestyle in the early to mid 80's. The band's genesis and them making it big feels far too concise for a decent music biopic, and before we know it, we're at the cliche falling out stage, with people taking advantage of Freddie as he discovers his sexuality. The problem is, it's all covered in the most 12A, safest way possible and is as hard hitting as a pillow fight. Mostly montages over recording sessions cover Freddie's lifestyle, and when we get to his AIDS diagnosis, it almost seems as if it's swept under the rug, in favour of a more feel good ending to the film.
Yet despite the concise nature of the story, you still get swept up in the showmanship, the power and the majesty of Queen's music. From the minute Freddie and John Deacon (Joseph Mazzello), join Roger Taylor (Ban Hardy) and Brian May's (Gwilym Lee) band Smile, you can genuinely see that something special was happening, and you weren't watching just another rock band. The only insights we get in to the other three is their contribution to the music, and while obviously it's incredible, as they are all as talented as each other, Freddie remains the sole focus while the others are either band mates or sparring partners, depending on the mood. Considering the cited reason Sacha Baron Cohen left the role of Freddie in the first place, was because May and Taylor wanted the film to be as much an insight in to Queen post Freddie, it seems to have been compromised in favour of a more Freddie focused tale, meaning he technically left for nothing. However, Ramek does an incredible job as Freddie.
The cast are fantastic. As great as it would have been had Sacha Baron Cohen remained, Rami Malek carries the look for the most part, and recreates that incredible showmanship Freddie is famous for. The rest of the band however, you would be forgiven for thinking they were actual clones. Brian, Roger and John could very well have been playing themselves. Tom Hollander is wonderfully understated as the bands lawyer cum manager, Jim Beach, and has a few moments that allow his character to shine. When we first meet him he has the British stiff upper lip about him, but gradually comes out of his shell. Mike Myers also makes an appearance as a record label boss, and is probably the funniest he's been since Wayne's World. Mary Austin (Lucy Boynton), Freddie's life long friend and one time fiance prior to him coming out, is a recurring character throughout, and at his lowest, takes a lot of crap off Freddie, yet still looks out for him as she's more than aware of the company he keep taking advantage.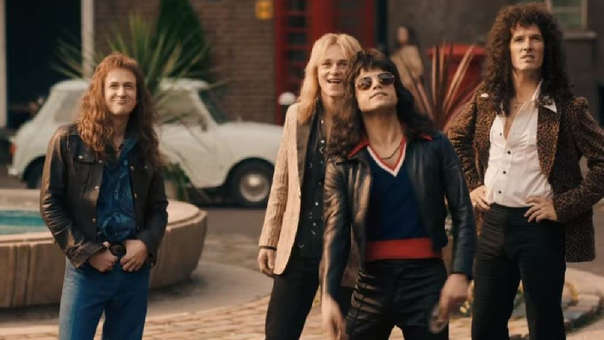 The films incredible finale is all about the music though, and worth the ticket price alone. Almost 35 years later, it's still talked about how amazing Queen were at Live Aid, and how the event had a profound effect on the group. You never hear anyone talk about Phil Collins' set after all this time, do you? The film ends with an incredible recreation of that magnificent moment at Wembley Stadium, and it was electric. The sound was ear splitting, the crowd mesmerised and the band in awe of what was going on. And to see the reaction during Radio Gaga, would have the hairs on the back of your neck stand on end. And you genuinely feel like joining in with that iconic clap.
It's a bit of an oddity, Bohemian Rhapsody. Much like the song, there's changes in tempo and style throughout, yet you come through the other side knowing you've just experienced something incredible. It perhaps takes a few liberties with the story it's telling, and doesn't really seem to care for chronology, but since when has a movie sacrificed drama over fact? It does occasionally feel like it's not sure whether to focus on the drama or the music, even if the former feels somewhat watered down. And when you factor in the stories about Bryan Singer's attitude on set and that the director had to be replaced with only a few weeks left of filming, it's a miracle (sorry) that this ended up anywhere near as good as it did.
Rating: