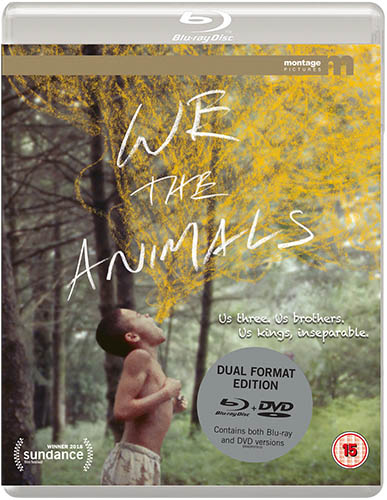 Eureka Entertainment are set to release WE THE ANIMALS, director Jeremiah Zagar's mesmerising and dream-like first narrative feature, as part of the MONTAGE PICTURES range in a Dual Format (Blu-ray & DVD) edition on 16th September 2019.
Based on the celebrated Justin Torres novel, and winner of the 2018 Sundance Film Festival Innovator Award, We the Animals is a visceral coming-of age story propelled by layered performances from its astounding cast – including three talented, young first-time actors – and stunning animated sequences which bring Jonah's torn inner world to life. Drawing from his documentary background, director Jeremiah Zagar creates an immersive portrait of working-class family life and brotherhood.
In upstate New York, three boys tear through their childhood, in the midst of their young parents' volatile love that makes and unmakes the family many times over. While Manny and Joel grow into versions of their loving and unpredictable father (Raul Castillo), Ma (Sheila Vand) seeks to shelter her youngest, Jonah (Evan Rosado), in the cocoon of home. More sensitive and conscious than his older siblings, Jonah increasingly embraces an imagined world all his own.
Framed with a unique visual style, We The Animals taps into a childlike nostalgia whilst seamlessly integrating a range of complex issues such as sexuality, social class division, broken families and racial inequality through a mesmerising and dream-like narrative.
DUAL FORMAT SPECIAL FEATURES
1080p presentation on Blu-ray (with a progressive encode on DVD)
Optional English subtitles
Animationism – a short film by Jason Banville and starring Mark Samsonovich, the artist behind We The Animals powerful animated sequences
We The Animals: Meet Evan, Isaiah and Josiah – Introductions to the trio of young cast members
Making of We The Animals – A short behind the scenes look at the making of the film
We The Animals, from book to film – Justin Torres talks about the process of his book become a film | How To Make We The Animals in 60 Seconds
VFX breakdown
Theatrical Trailer
PLUS: A booklet featuring new writing on the film by film critic Wendy Ide