Schramm (1993)
Directed by: Jörg Buttgereit
Written by: Franz Rodenkirchen, Jörg Buttgereit
Starring: Florian Koerner von Gustorf, Monika M.

Hungry gore-hounds, Arrow Video have got some prime meat for ya: the new, limited edition, Bluray and CD set of the German cult classic Schramm is out today! Writer/ director Jörg Buttgereit is maybe best known for his shocking debut Nekromantik. It's a nasty little ditty about, you guessed it, necrophilia. Yet given its sordid subject matter, it almost didn't have to try to make audiences wince. This movie from 1993, that references its predecessor, is still his most recent feature film and a far more challenging offering. Buttgereit's take on the serial killer subgenre takes us into the worst recesses of the titular Lothar Schramm's mind, as he lays dying. On his back, in a mix of his own blood and white paint, the recent events of his harrowing flash before his eyes.
The result is a non-linear nightmare, watching less like a movie than a series of loosely linked vignettes. Some of them are presumably meant to be real, whilst the rest are ugly as they come fantasies of dismemberment, body mutilation and sexual dysfunction. But something they all have in common is Buttgerit's uncompromising knack for horrific imagery. Holding it all together is an impressively physical performance from Florian Koerner von Gustorf who sweats, grunts and bawls his way through the film. It's an impressive feat: there's no scene where he doesn't look like he's putting his all into it. Given the things he does, I wouldn't go as far as saying can empathise with him. Though there's something almost tragic about knowing he hates himself as much as we do. And that if this is his headspace, it's maybe a miracle he didn't hurt even more people.
Because it seems like an awful place for him to be 24/7! We see throats being slit, monster vaginas with teeth and a deeply unpleasant scene I won't spoil involving nails. Needless to say, this isn't for everyone. Look, I write for a horror website, so you can bet I've seen my share of grisly movies. Among others,  I've seen the August Undergrounds, the uncut version of A Serbian Film and all the major New French Extremity flicks. And though this isn't the goriest, or most disturbing, it's one of few films that's had me look away from the screen. There's a bit early on, involving Lothar's amputee fantasies, that made me close my eyes. What's surprising is it wasn't just the once though. Shortly after, a super invasive sequence with an imaginary dentist had me squirm in my seat. This isn't to say it's one-note. As stark and grotesque as it can get, there's an undeniable beauty to Schramm. Buttgereit has a great eye, and among all the ugliness there are a plethora of imaginative camera angles that elevate it above its peers. Still, if you're coming for the mise en scène, you better have a strong stomach.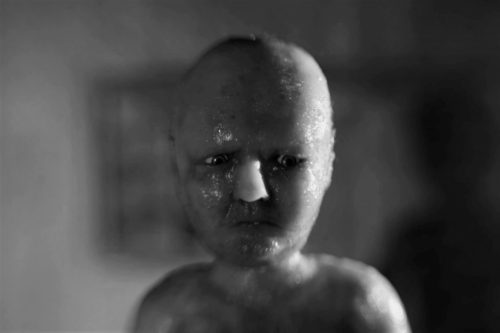 Thankfully it's a fairly short film, clocking in at just over an hour. This may sound backhanded, but given he's a very violent, very paranoid and very damaged man, there's only so long we can stay with Schramm. Though if you want more, a short-film sequel Tomorrow I Will Be Dirt is also included in this set. It's a queasy piece of surreal stop-motion claymation, by veteran animator Robert Morgan in conjunction with Buttgereit, and sticks to the iconography of the original. Elsewhere on this editions, we've got a very impressive HD transfer. Obviously, there's only so much that can be done with a low-budget movie from 20 years ago. But if there's anyone you can trust with this kind of release it's Arrow Video. Schramm now looks and sounds better than it ever has in the UK, and comes with a huge amount of extras, listed below.
Bluray features and extras:
HD transfer overseen by the filmmakers
High Definition Blu-ray (1080p) presentation
Original uncompressed Stereo 2.0 audio
Optional English subtitles
Limited edition digipak packaging featuring new artwork by Gilles Vranckx
Limited edition certificate
Set of 5 exclusive Schramm "polaroid" postcards
Soundtrack CD
Limited edition 60-page book
DISC 1 [BLU-RAY] – 'SCHRAMM'
Archival audio commentary with director/co-writer Jörg Buttgereit and co-writer Franz Rodenkirchen
Archival audio commentary with actors Florian Von Gustorf and Monika M
Tomorrow I Will Be Dirt: Scenes from the Afterlife of Lothar Schramm (2019) – brand new animated short film sequel to Schramm made by award-winning filmmaker and stop-motion artist Robert Morgan, produced exclusively for this release
Take My Body: The Journey of a Blow-up Doll – writer Kier-La Janisse on how she came to be the owner of a particularly interesting piece of Schramm memorabilia
Jörg Buttgereit in conversation with Arrow Video's Ewan Cant at the 2019 Offscreen Film Festival
The Making of Schramm – archival behind-the-scenes documentary
Mein Papi – Jörg Buttgereit short film available in HD for the first time ever and with optional director audio commentary
Jesus – Der Film (1995) – short film segment directed by Jörg Buttgereit
Two short films by Schramm producer Manfred Jelinski: Orpheus in der Oberwelt (1970) and Ein Ku'ze' Film übe' Hambu'g (1990)
Extensive image gallery
Jörg Buttgereit Trailer Gallery
DISC 2 [CD] – 'SCHRAMM' SOUNDTRACK – LIMITED EDITION EXCLUSIVE
CD featuring the complete Schramm score
60-PAGE BOOK – LIMITED EDITION EXCLUSIVE
An exclusive perfect-bound book featuring new writing from Virginie Selavy and Graham Rae, all illustrated with new artwork and original archival stills
The limited edition Bluray and CD of Schramm is out now, and can be got from Arrow's website while stocks last.