The Gentlemen (2020)
Directed by: Guy Ritchie
Written by: Guy Ritchie, Ivan Atkinson, Marn Davies
Starring: Charlie Hunnam, Colin Farrell, Henry Golding, Hugh Grant, Matthew McConaughey, Michelle Dockery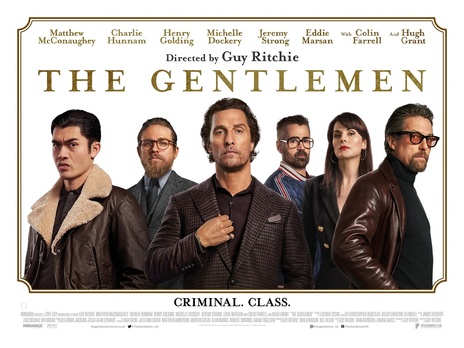 It may be awards season, with the multiplexes getting their annual peppering of prestige pictures, but between the grandeur and solemnity sits The Gentlemen. Guy Ritchie returns to doing what he does best, cockney gangster Shakespeare. A film chock full of colourful dialogue and even more colourful characters, it's a twisty-turny tale that only Ritchie can do. Headed up by a stellar ensemble, including an absolutely on form Matthew McConaughey, Charlie Hunnam, Colin Farrell and a scene stealing Hugh Grant, who seems to utterly relish his role as the conniving and flamboyant Fraser. His recent turns as ne'er do well's after years of rom com type-casting have been a breath of fresh air, and it seems he's let loose here as the skeevy investigative journalist, and in a roundabout sort of way, master of ceremony.
Focussing on the journalist side of things for a moment, it's clear that Richie has no love for the UK's tabloid gutter rags (which anyone shouldn't, really), but he seems to take great joy in making Eddie Marsan's news paper editor look like an idiot, especially in one the films closing scenes, which had the whole cinema screen in hysterical laughter. The main plot however, sees McConaughey's Michael Pearson, a revered and feared drug lord (specialising in marijuana, of course), who gets dragged into a gang war with Henry Golding's Dry Eye, and it takes us through often violent and hilarious repercussions. Golding seems to have burst onto the movie scene over the last year or so and Dry Eye is undoubtedly his best role to date, coming across quite menacing, but plays with that wonderful script as well as anyone else. Once again, Guy Ritchie comes across as a cockney Shakespeare, playing around with the language, turning swearing into an art form, and the profane poetry is delivered so brilliantly by such an outstanding ensemble it's hard not get swept up in the filth.
Another of the films players that makes Ritchie's script sing, is Colin Farrell. His no nonsense turn as The Coach is almost sublime. Absurdity is normality for this character and he's oozing that charm we've seldom seen since the likes of In Bruges. The Coach runs a boxing gym, with an amusing array of young lads that try to do right by Coach, yet can't help getting themselves into trouble. This is a film full of characters all trying to steal the show, and these guys almost pull it off. It's just a shame that The Coach doesn't get introduced until around half way. And another character that gets criminally under used is Rosalind Pearce, in this man's world, holding her own. Played by the magnificent Michelle Dockery, she's Michael's better half, as sharp tongued and witty as anyone else in the cast, and as much of a scene stealer as Grant. Even during the film's more violent and sinister moments, it never stops being fun and entertaining. It's a return to what Guy Ritchie does best and is as good as anything he's done up to this point.
Rating: