Code 404 (2020)
Directed by: Al Campbell
Written by: Daniel Peak, Sam Myer, Tom Miller
Starring: Amanda Payton, Anna Maxwell Martin, Daniel Mays, Emily Lloyd-Saini, Michelle Greenidge, Richard Gadd, Rosie Cavaliero, Stephen Graham, Steve Oram, Tracy Ann Oberman

CODE 404 – Series 1 (2020)
A Sky Original
DI John Major is gunned down during an investigation titled Operation Bluefinch, leaving behind his wife, Kelly, and best friend and policing partner, DI Roy Carver. Unknowingly to both of them, the police commission his corpse to be reanimated, powered by new AI technology.
A year after his death, the new and improved DI John Major is raring to catch his killer and solve Operation Bluefinch but, as his policing partner Roy discovers, John's not quite the same man as before. Roy will have to do everything in his power to keep John out of trouble with the police chief and the panel overseeing his AI existence whilst also keeping his and Kelly's relationship a secret from John who has every intention to get his marriage back on track after his unexpected 'death'.
Six-part, half-hour episode, cop comedy drama CODE 404 stars Daniel Mays (Ashes To Ashes, Good Omens) as DI John Major and Stephen Graham (This Is England, Snatch) as DI Roy Carver. Our initial introduction to the pair shows that their relationship is a tad frosty following Major's discovery at home but with Major in the middle of an undercover job, now's not the time to discuss such matters. Major appears confident and in control, ready to apprehend the criminals but all turns awry at the last minute, resulting in his death. His appearance, a year later, showcases a different kind of Major, one that Carver definitely doesn't recognise as being the man he was in a former life. It also turns out that Major is unable to remember some details before his death which is just as well for Carver who's relationship with Major's wife Kelly has now hit the skids with Major's return. Major, who was once a crack Detective Inspector, appears to have turned into a bumbling fool thanks to the experimental AI he's been subjected to and, with the doctors needing time to fine-tune his system to iron out some bugs, Carver is forced to carry his partner through the cases they're assigned and take the rap for any unfortunate incidents Major gets himself into, of which there are many!
Daniel Mays does a great job at switching from serious detective to playing the goofy re-animated Major, who's brushes with cocaine and ideas on how to secure juicy crime cases has Carver holding onto his job and sanity with a shoe-string. Stephen Graham's Carver is the sensible one, the voice of reason in this crazy life he's found himself in. Whilst he loves his best friend, he's also angry that Major's reappearance has jeopardised his relationship with Kelly and, though he feels an element of guilt, tries to keep his involvement in the affair under wraps. Most of the screen running time is spent with Carver who's either attempting to save his own skin from one of Major's hair-raising episodes, protect his friend from making a blinding error that would get himself decommissioned or hiding the fact he is the mystery man in Kelly's life. Cue lots of bumbling, comedic moments involving the pair, with a little help from Major's Silicon Valley tech doctor, Dr Parfit (Amanda Payton), and police chief, DCS Dennitt (Rosie Cavaliero), who seems as off her rocker as Major.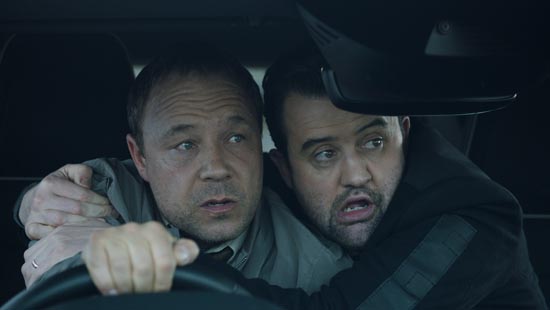 Behind all the comical scenes is a plot thread involving the crime in which Major and Carver were investigating at the time of Major's death; Operation Bluefinch. Major's keen to reignite the case and ultimately find out who killed him which leads to a genuinely interesting slice of crime drama, however, it's unfortunately not as deep or fulfilling as I had hoped. The series instead focuses more on the relationship between Major and Carver and the attempts at comedy that may make the sides of your lips curl upwards but is never funny enough to make you laugh out loud. Lighthearted comedy is the only way I can describe it and, after a while, Major's incompetence and Carver's strained love-life become a little aggravating like a joke that has been re-run that many times it's become unfunny.
With Graham and Mays known more for their serious roles, it's great to see them let loose here but it just doesn't have the kick I was hoping for. It feels like a watered-down version of what they were trying to achieve, or at least something that was made to screen at 7pm on TV instead of something gritty and genuinely funny. With the acting chops of two of the best in British TV, I feel these two can give that much more if the writing behind them had a solid base. Its wishy-washy approach comes across as dumb and daft when it could be that much more with better jokes and scene setups.
If IMDB is to be believed, then CODE 404 has been commissioned for a second series. If it heads down a more serious route and becomes a buddy cop show with sci-fi tech elements and a hint of wit, then it may make for a better series than the one we have here because if they continue to pursue the comedy route as the main focus, in the style we see here, I can see it wearing thin rather quickly.
If light comedy is your thing, then you may like what CODE 404 has to offer but for those who are more used to hard-hitting humour, this may leave your funny bone untickled.
Rating: