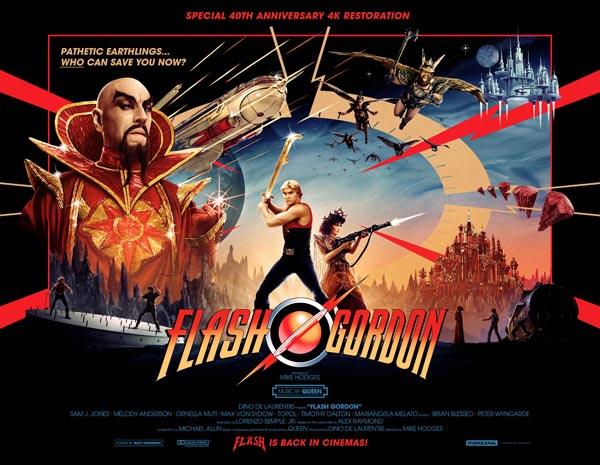 FLASH GORDON (1980)
Directed by Mike Hodges
Flash Gordon, an American football hero who plays for the New York Jets, and travel agent, Dale Arden, crash land into the lab of former-NASA scientist, Dr Hans Zarkov, after their plane hits unexpected turbulence. Zarkov suspects the strange weather and natural disasters they're experiencing, which caused the plane to crash, aren't down to mother nature at all but the doing of extraterrestrial beings who want to destroy Earth. Tricking his new visitors into his spaceship, Zarkov propels the three of them into orbit where they're captured by soldiers on the planet Mongo, run by fearsome dictator, Ming the Merciless, who controls his planet and the cities nearby with an iron fist. Ming reveals his plan to destroy all inhabitants on Earth and repopulate it with his own kind. Can Flash, Dale and Zarkov prevent the annihilation of Earth before it's too late?
FLASH GORDON is a campy space opera based on the comic strip that began in 1934 and which ran to 1992. A major inspiration for George Lucas' Star Wars saga, which Lucas wrote after having failed to gain the rights for Flash Gordon, the film tells the tale of an all-American hero who gives hope even in the face of the impossible.
Having never seen the film but heard lots about it, I was eager to see what the fuss is about the Queen-soundtracked, FLASH GORDON. The result is a cheese-fest with bare-bones story and a focus on over-the-top characters in ornate costume. The script, and to some degree the story, take a backseat in terms of depth with some interesting ideas floated but never really padded out. As a result, the film is pretty shallow and doesn't require you to engage your brain at any point. Just sit back and enjoy the on-screen action, whether it's Flash fighting his way out of a swampy tree world of Arboria or Brian Blessed and his hawkmen attacking Ming's military aboard a spacecraft. The plot follows a thread of boy meets girl, they get into trouble trying to save planet Earth, girl is kidnapped by the villain whilst boy is disposed of but he manages to survive in order to save the girl and the planet. That's essentially Flash Gordon in a nut shell and unfortunately it doesn't get much more exciting than that. Even some of the fight scenes that pit Flash again Prince Barin (played by Timothy Dalton), or against Ming's henchmen, fail to raise the adrenaline. Whilst the comic may have inspired George Lucas to make Star Wars, Star Wars is without a doubt the superior movie in every sense of the word.
For a movie like this, it's all about the villain and Max Von Sydow seems to take delight in his role as power-hungry despot, Emperor Ming. Aided by his scheming, manipulative daughter Aura, Ming gets what he wants otherwise someone has to pay, usually with their life. Without a doubt, it's Ming who steals the show and is the biggest draw of the movie though he still feels criminally underused as the action always seems to focus on the titular hero, even if he is a bit of a bore. Ming's plans are much more dark and entertaining, especially with his secret police who put prisoners through some awful tortures and re-education. I will say this though. Ming's operation can't have been as slick as I initially gave it credit for if the likes of Flash, Dale and Hans Zarkov can foil it. Needless to say, the play off between the two sets of characters is enough of a draw with the threat of Ming's plan a cause for real concern, not just for Flash and co. but planet Earth as a whole.
For what is essentially a kids film, there's some adult themes running through the movie. Princess Aura's attempted seduction of Flash, using her feminine wiles to gain what she wants; Dale having to get drunk to allow Ming to have his way with her; Ming's desire to marry and have kids with Dale to repopulate the planet at his will and Ming essentially being a dictator and executing anyone who stands in his way. It's dark stuff at its heart but there's not nearly enough meat on the bone for kids to get a real kick out of this film with a sense of understanding right from wrong. Flash is here, there and everywhere without any real thought or meaning. He comes across as a bit thick at times but because he's athletically built can get away with saving the universe. Establishing some real purpose in each of the places he visits would have provided depth to the story in what feels very fleeting and empty. Even Zarkov's re-education seems absolutely pointless in what should have been fleshed out more to have a better impact. Scenes appear too throwaway which lessen the impact they have.
So, as you've guessed, despite being a cult movie, FLASH GORDON leaves a lot to be desired, in my eyes. The ambition for the visual seems to have outweighed the story but perhaps Taika Watiti's rumoured animated reboot may be able to breathe new life into the film?
Rating: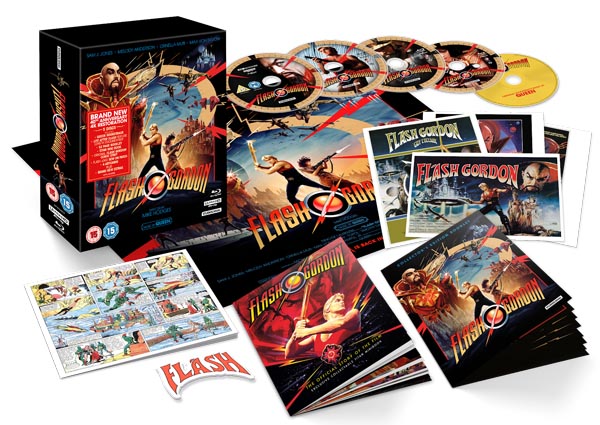 To celebrate FLASH GORDON's 40th anniversary, the film has been propelled to cinema screens across the UK in the new 4k, ultra high definition restoration whilst Studiocanal have released a variety of versions of the film including Blu-Ray, DVD, Steelbook, Digital and a seemingly, sold-out, 5-disc UHD limited edition boxset which includes a bonus blu-ray of documentary Life After Flash, booklet, artcards, soundtrack, comic strip and Flash patch.
The DVD version, which is also present on UHD and Blu-Ray disc 1, contains a special feature about Nicholas Roeg's vision for FLASH GORDON, having originally been attached to the project and developed a script with writer Michael Allin. Unfortunately, at some point down the line, Roeg and others were dropped from the project. Michael Allin, who was left to collaborate with someone else on the film, insists that whilst he may be credited as the writer on the film, it's not the film he envisioned with the resulting movie very camp compared to the comic book-adaptation he and Roeg had in mind. Being a huge fan of Roeg's work, I'd have loved to have seen his version of the movie and would expect a deeper, more meaningful movie for kids to enjoy. He subsequently went on to film kids film The Witches so, with that in mind, I think it would have been very fascinating indeed!
The DVD also contains audio commentary with Mike Hodges and Brian Blessed, albeit separate tracks; behind the scenes featurette of the making of the film; stills gallery; storyboards gallery; and theatrical trailer.
Blu-Ray disc 2 features an interview with director Mike Hodges; Episode 24 of Flash Gordon (The Survival Game/Gremlin's Finest Hour); Sam Jone's acting start, Entertainment Earth on Flash Gordon merchandise,; Bob Lindenmayer discussing deleted scenes and original endings; 35th Anniversary green room; 35th anniversary reunion featurette; Renato Casaro extended interview; Brian Blessed anecdotes; Melody's musings; Brian May and Howard Blake discussing the soundtrack; and Easter Eggs.