Breeder (2020)
Directed by: Jens Dahl
Written by: Sissel Dalsgaard Thomsen
Starring: Anders Heinrichsen, Eeva Putro, Jens Andersen, Morten Holst, Sara Hjort Ditlevsen, Signe Egholm Olsen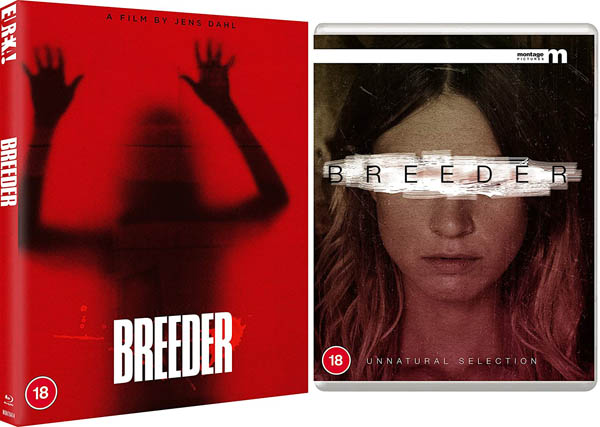 BREEDER (2020)
Directed by Jens Dahl
Danish Language with English Subtitles
Available on Blu-Ray
A ruthless, power-hungry scientist named Dr Isabel Ruben has invented a groundbreaking method to not only delay the onset of ageing but, in some cases, to actually turn the clock back. With the rich and elite queuing up for her unapproved anti-ageing solution, Ruben seeks fresh supplies which involves kidnapping women from the street. When Mia decides to investigate a factory co-owned by her husband and business partner, Ruben, she discovers what exactly goes on to achieve the miraculous results.
The price of staying youthful may not be more than your life's worth but it's definitely that of someone else's in Danish survival horror thriller, BREEDER.
Appearing to be set just a few years from now, the film starts out quite strong, focusing on a married couple who seem to be having some troubles in their relationship as husband Thomas' frigid demeanour leaves his wife Mia with little option but to pleasure herself through pain by sitting on her riding boots' spurs. Things go from bad to worse when their neighbour's au pair turns up at their doorstep, frantically requiring help and instead of going to the hospital as she asked, Mia discovers Thomas has delivered the au-pair to somewhere sinister. It's here the film enters what I like to call the Hostel stage. Gone are the clean, clinical, super modern lines of upmarket, urban living replaced with grungy factory walls, rooms and corridors of a dilapidated industrial building. The screams give a hint at what's going on behind closed doors but isn't afraid of giving the viewer an up-close look. Whilst it's not as gory or as torturous as Roth's output, BREEDER retains an element of brutality and imprisonment, with the kidnapped running on pure survival instincts in the facility they're being locked up in. With very little character building though, it's hard to feel for anyone in the film other than the unfortunate au pair.
If you buy into the conspiracy of the Hollywood elite feasting on the blood of babies to retain their youthful appearance then you'll more than likely be interested in BREEDER. You could even compare it to other films and horrors such as Countess Dracula, which was inspired by Countess Bathory who's said to bathe in blood to defer signs of ageing. So in that respect, nothing in BREEDER is particularly new but it is a familiar idea given a fresh interpretation.
The film is cast well with Signe Egholm Olsen a superb choice as the unhinged, determined scientist Ruben. Her icy demeanour and calculated approach to life makes Ruben a wonderful villain you love to hate. She's a strong lady and isn't afraid of backing down to any man. She even plays hardball with her clients, requesting a 50% increase in fee for one client who temporarily changed his mind on the treatment before returning back to continue it. Just a shame that her desire and goal in life involves extinguishing the lives of others around her. Morten Holst too is an excellent piece of casting as lead henchman The Dog who gets to live out his misogynistic fantasies under Ruben's employment. It's he who provides some of the more unsavoury scenes in the movie. On the flip side, whilst we spend a lot of time with Sara Hjort Ditlevsen's as Mia, it would have helped if her character was developed more, especially her relationship with husband Thomas, played by Anders Heinrichsen. The coldness of Thomas, a character we hardly know, doesn't exactly make him likeable and we're only invested in him on the strength of his marriage which is weak to begin with. I'd have liked to have seen more with these two characters before the story slips into the survival narrative.
Though stylishly shot with the initial glimmer of an intriguing idea, BREEDER ultimately slips into typical horror territory with a finale that is, I assume, meant to appeal to feminists everywhere but instead feels like it strong-arms the situation. My argument with this involves the minimal interaction with the other abductees; the film would have been more effective had more time been spent with them rather than scenes elsewhere. Despite this, the movie will no doubt get your adrenaline pumping as the women summon all their strength to fight their way out of the cruel and terrifying situation they find themselves in. However, is it enough to free them of their shackles?
Rating: