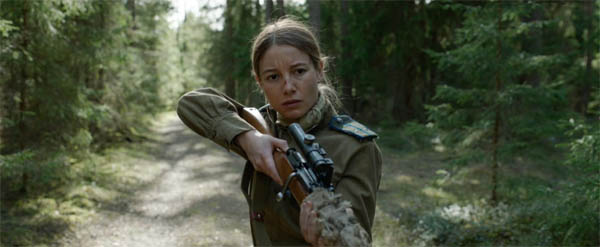 Principal photography has completed on BURIAL, the second feature from British writer/director Ben Parker (THE CHAMBER), produced by Matthew James Wilkinson (MUSCLE) for Stigma Films and backed by ALTITUDE MEDIA GROUP.
A fictional thriller, BURIAL follows a small group of Russian soldiers on a secret mission to transport Hitler's body out of enemy territory and back to Russia. It stars Charlotte Vega (WRONG TURN, WARRIOR NUN), Tom Felton (HARRY POTTER FRANCHISE, RISE OF THE PLANET OF THE APES), Harriet Walter ('KILLING EVE', 'THE CROWN'), Barry Ward (JIMMY'S HALL, MAZE), Bill Milner (iBOY, ANTHROPOID), Dan Skinner (THE GHOUL, HIGH-RISE), Niall Murphy (DEAD ALONG THE WAY, 'STANDING UP') and David Alexander (MY DINNER WITH HERVÉ, KILLERS ANONYMOUS).
BURIAL was shot on location near Tallinn in Estonia, where dense forests and abandoned buildings helped create the perfect post-war setting. The film is financed by; Headgear, ALTITUDE MEDIA GROUP and Ffilm Cymru Wales (with funding from the National Lottery), alongside equity partners Ali Cook, MBK IP Ltd and Fields Park. Also producing are Paul Higgins (RARE BEASTS, SUBMARINE) for Fields Park and Ivo Felt (TANGERINES, THE FENCER) of Allfilm. Executive produced by Hugh Spearing (THE CHAMBER). Film Estonia are the cash rebate provider.
Altitude Film Sales is handling International sales with IFC Midnight recently boarding the project for North America. Other confirmed distributors include Portugal (Nos), Baltics (Latvian Theatrical Distr), Indonesia (PT Prima), South Korea (Noori), Vietnam (Media Film International), Middle East (Phars).
Set in the last days of WWII, BURIAL tells the fictional story of a small band of Russian soldiers led by intelligence officer Brana Vasilyeva who is tasked with trafficking the remains of Hitler back to Stalin in Russia.
En route, the unit is attacked by German 'Werewolf' partisans and picked off one-by-one. Brana leads her surviving comrades in a last stand to ensure their 'cargo' doesn't fall into the hands of those who would see it buried in order to hide the truth forever.
Ben Parker is a British screenwriter and director based in North London. His debut feature THE CHAMBER starred Johannes Kuhnke (FORCE MAJEURE) as a submarine pilot trying to retrieve a US military drone from the seabed off the coast of North Korea and was released by STUDIOCANAL. Recently Parker was writer and exec-producer on Travis Steven's horror GIRL ON THE THIRD FLOOR and he currently has multiple projects for film and television in development.
Working alongside Ben Parker and producers are director of photography Rein Kotov E.S.C, production designer Jaagup Roomet, costume designer Pille Küngas and key hair & make-up Kaire Hendrikson.