Bill & Ted Face the Music (2020)
Directed by: Dean Parisot
Written by: Chris Matheson, Ed Solomon
Starring: Alex Winter, Amy Stoch, Brigette Lundy-Paine, Keanu Reeves, Kristen Schaal, Samara Weaving, William Sadler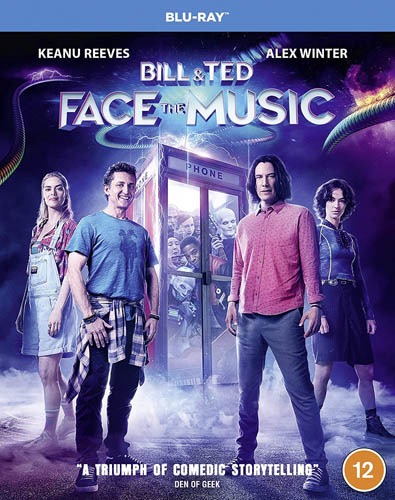 BILL & TED: FACE THE MUSIC (2020)
Directed by Dean Parisot
Having failed to fulfil their destiny of bringing the world together through their music,  Bill S. Preston Esq. and Ted 'Theodore' Logan have put the entire planet at risk and must supercharge their efforts to save the world from collapsing on itself.
For a long time, the idea of a third BILL & TED movie was quite appealing. What exactly the story would be, I wasn't so sure, but I love the original film so much it thought it'd just be cool to see Alex Winter and Keanu Reeves reprise their roles as San Dimas' unlikely hero guitarists again. As it would turn out, the third film BILL & TED: FACE THE MUSIC is pretty much that – it's a warm, fuzzy feeling of familiarity with a sprinkle of fresh faces giving nod to the characters of yesteryear and a slightly new angle that doesn't deviate much from the driving plot of the original films: the Wyld Stallyns must save time and space as we know it by uniting the world with their music. This time, little Bill and little Ted, who turn out to be daughters and not the sons as seen in Bogus Journey, must help their fathers save the planet by finding them a backing band whilst Bill and Ted travel to the future in order to discover the song that saves humanity.
If you haven't see the original films, then most of what you'll see in this movie will be lost on you. It references a lot of past events, plot and characters so watching it without any of this backstory will result in much confusion and ultimately a dull watch. The simplicity of its plot works best if you're familiar with what Bill and Ted are all about, which, at its heart, is people connecting with one another in harmony through music. However, part of the enjoyment is that our two heroes, although not the sharpest tools in the box, are bursting with enthusiasm, in particular for one another. However, in this story we see them encounter various versions of themselves and its not always pretty…
Though this film may be called Bill and Ted: Face The Music, it's their daughters who have the greatest adventures as they travel through time to pick the creme de la creme of artists to help their fathers save the world as they know it. This has always been one of the more fun aspects of the film for me where we get to hang out with different characters from different periods in time. Though some of these scenes are quite brief and their return to modern times feels short lived as they don't get up to much mischief, it's still nice to see the likes of Jimi Hendrix and Louis Armstrong, amongst others, interact. It's not as impactful as the first film, as this outing feels more of a box-ticking exercise rather than getting lost exploring different time-zones, but nevertheless it's a welcome, familiar aspect to these films which are easy to enjoy.
In addition to Winter and Reeves, it was so good to see the actors portraying Mr Logan and Missy returning albeit in a brief way. The opening wedding scene involving Missy had me snorting as her romantic history is relayed in front of guests. Missy is still the same character as she was when she was Bill's step-mum, albeit in a more mature body, and Amy Stoch plays her with absolutely comic brilliance. Death from Bogus Journey also makes a return in the movie and plays a more pivotal part than the other characters whilst the much-loved time-travelling guardian of Bill & Ted, Rufus, is referenced in a respectful way.
Whilst BILL & TED: FACE THE MUSIC might not be a patch on the most Excellent Adventure, there's just enough here to tickle the nostalgia of fans even if it doesn't leave a lasting impression that the former movie did. Winter's optimistic Bill and Reeves' awkward but likeable Ted retain the charm that made us fall in love with the duo decades ago with some humorous scenes and a whole host of costume change and disguises, whilst Brigette Lundy-Paine and Samara Weaving hold their own as their cool kids trying to support their dads anyway they can. Through their joint efforts, the film achieves its feel-good status but overall lacks the originality and pizzazz which made the first film such a hit.
Rating: