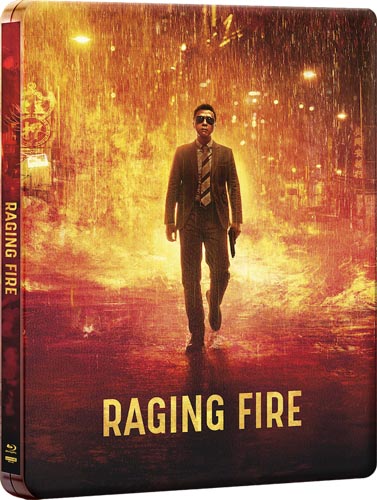 Trinity CineAsia has announced their first 4K Ultra HD release, exclusively from Zavvi, for action masterpiece Raging Fire starring international superstar Donnie Yen (Ip Man, Flash Point) and marking the final film of late director Benny Chan (Invisible Target, Call of Heroes).
Now showing in selected UK cinemas, it will be available as a Limited Edition 4K Ultra HD Steelbook, showcasing this modern action classic in all its cinematic glory. Available from 31st January 2021, it's now available for pre-order from Zavvi.
While conducting a raid to arrest a drug lord, police encounter a group of masked thugs. In a violent act of sabotage, the gang steals the drugs and murders the police officers on the scene. Arriving late, Inspector Cheung Shung-bong (Donnie Yen) is devastated to see the brutal aftermath, discovering the cop killers are led by Ngo (Nicholas Tse, New Police Story, Shaolin), his former protégé. Once a rising star in the police who was driven to a life of crime, he now bears a grudge. As their fates become entangled again, a score will be settled once and for all.
Packed full of exhilarating action and Yen's signature world class fight scenes, Raging Fire is one of the best Hong Kong movies of recent times and a throwback to the golden age of action cinema.
The 2 disc Raging Fire Steelbook (including 4K UHD disc + Blu-ray) includes:
2160p Ultra High Definition
DTS-HD Master Audio 7.1 & 2.0 with Cantonese audio and English subtitles
6 x "Making of" featurettes (UHD + Blu-ray)
3 x trailers (UHD + Blu-ray)
4 x Behind the scenes clips (UHD exclusive)
Collectable booklet featuring new writing on Benny Chan and the stars