Chhorii (2021)
Directed by: Vishal Furia
Written by: Vishal Furia, Vishal Kapoor
Starring: Mita Vashisht, Nushrratt Bharuccha, Pallavi Ajay, Rajesh Jais, Saurabh Goyal, Yaaneea Bharadwaj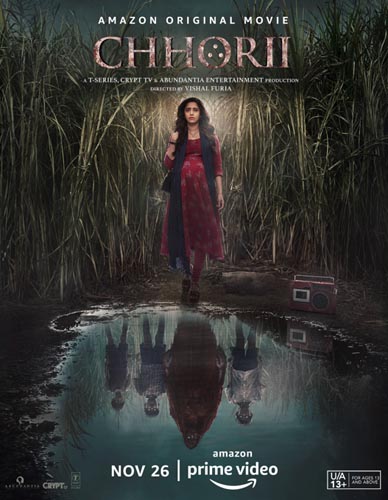 CHHORII (2021)
Directed by Vishal Furia
Available on Amazon Video
Hindi Language with English Subtitles
When Hemant is beaten up by a loan shark's goons, he disappears during the night with heavily pregnant wife Sakshi to the countryside to stay with a friend's family whilst he tries to settle his debts. Whilst the duo get accustomed to their temporary home in the sticks, Sakshi discovers a trio of children hanging about the house who host Bhanno Devi discourages her from talking to. Sensing that something is not right, in a household that's clearly suffered pain and sorrow over the years, what secrets are being kept at this remote homestead?
If Children of the Corn taught me anything, it's never to trust anyone who has fields of tall crops, so when a maze of sugarcane awaits in CHHORII, a Hindi, Amazon Original horror, I knew that trouble wouldn't be too far behind.
CHHORII follows pregnant couple Sashki and Hemant who are forced to flee their comfortable lifestyle to slum it in the middle of nowhere, but little does Sashki realise that her fortune has gone from bad to worse. Despite a warm welcome from their hosts, she realises something is a bit off at the isolated homestead even if Hemant doesn't see it. Before too long, she begins to realise that the life of her unborn child is at risk from a supernatural entity that walks the fields.
Though there are jump scares and creepy kids running about the place, most of the horror of CHHORII is the unknown, built up through the drama and conversations Sashki has with others in the film. It's tense at times and we're firmly on Sashki's side as she tries to uncover what is going on at the homestead and who these people actually are. Are they friends or foes?
What is strikingly apparent as Sashki visits the countryside is the difference in culture. Sakshi is a modern, urban woman with equally modern values. She sees herself and husband Hemant as equals in whatever they do. However, out in the sticks, sister Bhanno Devi is very old fashioned in her ways to the point where she reinforces the idea that women may only eat once the men have finished consuming their meal. Even when discussing her soon-to-be-born child, Bhanno refers to the baby as a boy/son, even though neither parent knows the sex of the unborn baby. It's as though sons are the preferable choice, women are an afterthought, and here this mature woman is encouraging the idea that men know best and women are subservient to them.
As the film goes on, it's clear this attitude is quite intentional, not only to drive the plot but also as a social commentary on the attitudes, culture and tradition in which a daughter is seen as a burden to have. So much so that a note at the end of the movie highlights this issue, stating that over 100 babies or fetuses would have been killed in the time it took to watch the film, which was just over 2 hours in length. As there are societies where rape, assault and death of girls is commonplace with very little justice brought on the perpetrators, this film serves as a timely reminder that even though it may be something that rarely occurs in our own society, it certainly doesn't mean it's not happening in the world. I admit, we have it comfy here and we're often oblivious to the atrocities that are happening across the globe and that, although we may have seen women gain rights and equality in the UK, there are other places on this planet that are still living in the dark ages when it comes to gender equality and rights.  It's quite shocking.
CHHORII wonderfully builds the tension and suspense to craft a supernatural thriller that not only serves as a slice of horror entertainment but one that deals a message to everyone out there that transcends the fiction on screen and hits home in reality. In terms of originality, it's nothing any horror fan won't have seen before and the way it which the story is drip-fed smacks you in the face of what's to come. Despite this, the film has a claustrophobic style to it that works extremely well, with a setting and vibe that sets it apart from other horror films out there. Nushrratt Bharuccha's performance as Sakshi, a modern mother-to-be trapped in a world alien to her own, is captivating as she struggles to comprehend the truth of what is going on and the visions that plague her. Mita Vashisht is equally terrific as the no-nonsense Bhanno Devi who runs a strict household and who's old fashioned views see her banging heads with Sakshi on numerous occasions.
Eerily creepy, CHORRII is a horror movie that gradually piles on the pressure, delivered through its intimate, isolated setting, before loading up the final punch with its shocking conclusion.
Rating: