Beyond the Infinite Two Minutes, Black Bear, Fear Street 1666, Halloween Kills, Hotel Poseidon, Last Night in Soho, Lucky, Malignant, Nocturna: Side A - The Great Old Man's Night, Old, Promising Young Woman, Spencer, Titane, We're All Going to the World's Fair, Woodlands Dark and Days Bewitched: A History of Folk Horror





It's that time of year again for reflection. For most of 2021, I thought it'd been a pretty lousy year for horror and cult films – the good ones seemed to trickle out, and there weren't many bigger hitters at the cinema. Still, considering it as a whole, there's been a hell of a lot of good stuff that's come out. And while this top 15 isn't as spectacular as last year's, which included I'm Thinking of Ending Things, His House, The Lighthouse, Clapboard Jungle and Relic, a look at my honourable mentions shows how consistent it's been. Inclusion this time around has been tricky. I've gone with films I saw at festivals or ones that had a general release this year. However, I saw films this year that I wanted to include but couldn't, such as The Vigil, which enjoyed an admittedly brief cinema release in 2020. Note this list is dedicated solely to films that are horror or culty (hence the sci-fi), plus those that are celebrations of films that meet this criterion (hence the documentary).
15. Old: In an unexpected twist, I open this list with the latest M Night Shyamalan flick. On paper, this doesn't sound especially interesting: a beach in which everyone on it starts rapidly ageing. Yet like his best work, Shyamalan can use genre elements as an arena to explore the big questions. There's a lot of existential dread here and moments of tenderness as the characters think about the lives they've lived. However, it's not all doom and gloom – there are also instances of absurdist comedy, such as the kids coming of age in the blink of an eye. The thriller and mystery aspects are well developed, with the ensemble's impending dementia and deaths adding a sense of urgency. Admittedly one of the main threats is more than a little forced, but I was having so much fun I ignored this. Some people disliked the ending – I can sort of see why, though Shyamalan is a guy who likes to give solutions, and I think this one is among his best.
14. Malignant: I didn't see what the fuss was about for around two-thirds of the film. It starts as an accomplished, if slightly workmanlike, supernatural horror – enjoyable, but nothing you haven't seen before. A woman is terrified by shocking visions of grisly murders, only to discover that they are actually realities – committed by a killer she seems to have a psychic connection with. Despite the Giallo edge, it seemed like something veteran writer/director James Wan could have knocked out a decade or so ago. Then the shit hits the fan, and, with a well-done twist, we go into an insane final act full of murderous mayhem. Trust me, if you don't know where this film is going, read as little as possible about it. Hell, stop reading now and watch it – it's already on streaming. It won't work at all for some people, though I think it's difficult not to admire the craft and the energy that goes into it. It's bold, it's bad taste, and it's also sort of brilliant.
13. Halloween Kills: This may piss people off. Look, Halloween Kills isn't without its faults – the star of the show being side-lined for large parts and an incompetent search party that spends almost all night at the same place. Still, the smartest thing this movie did was up the scale, reminding us that the original wasn't just Laurie's story but the whole of Haddonfield's. It was the tragedy of a small-town and, this time around, we see some of the others who were affected by the night he came home. It's a mixture of fan service and a whole new angle on the now-familiar material. Well-staged scares, excellently done flashbacks, and emotional character moments make this a memorable return for Michael Myers and a superior sequel to the 2018 outing. It also builds up the trilogy closer dead well, personalising the stakes where the last one just had a series of awkward coincidences.
12. We're All Going to the World's Fair: Like Megan Is Missing, Jane Schoenbrun's feature debut is a grim exploration of grooming, the quest for identity and teenage alienation that's often difficult to watch. Casey's addiction to the digital world is sad to see, but what gives this movie its power is the use of dramatic irony throughout. We, as an audience, understand what's going on better than she does, and seeing it from both sides even makes the audience uncomfortably complicit. The lore could have been developed, but the idea of a viral challenge changing the way a character experiences the world is an interesting premise, and I liked the uncertainty as the story goes on. The presentation is superb, with the whole thing happening over internet tabs – meaning we have online videos and blogs on top of the web calls. A huge congrats to the young Anna Cobb, who does a fearless performance.
11. Lucky: A clever little satire now streaming of Shudder. Writer/leading lady Brea Grant is fast becoming one to watch, with a glorious one-two punch of this and last year's 12 Hour Shift. Lucky may be largely based on a single joke: an author having her house broken into every night by a masked assailant and nobody caring. At times the script loses all semblance of subtext, with a memorable scene in a car park spelling it out for anyone watching while on their phone. Yet the power of its #MeToo message comes through its repetition: a problem that is only addressed nonchalantly on the rare occasions it even gets acknowledged. It's also rewarding to see a treatise on how the rampant individualism of the self-help industry can contend with a societal problem. The film is both a decent character study and a hilarious pitch-black comedy as the gory Groundhog Day goes on and on. Angry, timely and fresh.
10. Fear Street 1666: One of the biggest events of the year for horror fans was this neat trio of teen horrors showing up on Netflix. Based on the books of RL Stine, the Fear Street trilogy takes place in the small towns and Shadyside and Sunnyvale, exploring them across a period of centuries. I'm tempted to put them all down as a single entry since they can easily be watched as a single piece and were released within a week of each other. But this one, which rounds the series off in style, is the jewel in the crown: a period piece about witchcraft that deepens the franchise mythology no end and enriches both of the other entries. Dodgy accents aside, the period detail is decent, and it's enjoyable to see the same actors cast into different roles. The thematic parallels between the old and modern timelines are also tastefully handled and remain faithful to the series' broader preoccupations with outsiders, intolerance and misogyny. The closing section, which returns to the series' slasher roots, watches like a confident victory lap that ties up the many loose ends in a satisfying fashion. Here's hoping we get another visit in the near future.
9. Nocturna: Side A – The Great Old Man's Night: The second film on this list to explore the common fear of ageing was a surprise hit at FrightFest, and a total reach for the tissues tearjerker. The story unfolds over a single night, following the elderly Ulises and his bedridden wife Dalia, who worry that their son wants to put them into assisted living. It may be for the best – she leaves the gas on by mistake, and there's been a string of burglaries in their area. Things only get worse when the neighbour Elena comes to the door. The horror elements are largely superfluous to the main plot, and some may even find the ghosts a little forced. However, their impact comes from their appearances further disorientating our protagonist, who can't even trust himself as a narrator. There's a crucial detail most people will figure out within the first fifteen minutes. But then I expect you're supposed to – potentially, it even reflects the difficulty of watching an older person fail to make the connections we can. The way Ulises and Dalia's younger selves get worked in has a magical quality, wonderfully capturing the innocence he needs to reconnect with. A terrific score helps sell the sadness, and Pepe Soriano fully commits to the role with a sympathetic portrayal of a flawed character whose own decisions come back to haunt him. I look forward to seeing the second soon.
8. Black Bear: Is it horror? Sort of. At the risk of spoiling the fun, I can't say too much. Still, Black Bear is a chilling blend of dark comedy and thriller elements that takes a relatively simple set-up, a filmmaker staying in the house with a couple who are arguing, and mines it for its full dramatic potential. There's a lot of gaslighting, lying, mind games and casual cruelty. Aubrey Plaza's writer Allison is at the centre: a rounded role that's equally psychopathic and vulnerable depending on how we see her. A shift in the narrative gives us a new way of looking at the fucked-up dynamics and pushes Plaza to extraordinary places. As Allison gets increasingly self-destructive, we see a whole new side of her character as well as Plaza as a performer: the offhand, at ease persona she's played to before becomes a distant memory. A sustained reaction is a highlight, where she lets everything out in a whole-body cry – a guttural, gruelling exorcism of all that's gone before. I'm not sure it quite comes together by the end, with some creative choices seeming intentionally opaque. But then both halves complement each other so well I don't see this as a problem. A nuanced look at the creative process and a provocative mystery. Very heartily recommended.
7. Hotel Poseidon: As good an example as I've seen of the location becoming a character in its own right. Aside from a throughline of one of the guests planning a party that'll include music, drinks and an autopsy, this watches more like an episodic exploration of physical and spiritual decay than a concrete story. Typically, hotels are somewhere you visit as part of a journey – Dave's not going anywhere, though. Over the years, he's regressed into a state of learned helplessness, passively walking the many purgatorial corridors like a zombie as his home falls apart around him. There's phenomenal attention to detail, and every last surface, wall or item from the kitchen looks hideous to the extent it's almost overwhelmingly gross and grimey. In contrast to Dave the guests are obnoxious caricatures, with a Roald Dahl carnival of the grotesque quality – caked in makeup and muttering obscenities. The party sequence, which dominates the second half, is an immersive showcase of strangeness: Lynch without the fleeting beauty. At a short 90 minutes, you'll be keen to leave by the end. Not because it's ever bad, but because it's just hard to stay – there's only so much you can take. However, you'll remember your stay for a long time.
6. Spencer: It may seem odd to include it here, but with outstanding supernatural horror and dark fairy-tale elements, this is among the most haunting movies of the year. Spencer tells the story of an early 90s Christmas in which Princess Di went to stay with the in-laws. The result is a super immersive perspective piece about powerlessness, paranoia and bodily autonomy. I wasn't entirely convinced that Kristen Stewart captured the charisma of her real-life counterpart – a task made harder by her having to be passive for most of the running time. The parallel with Anne Boleyn also borders on being silly. Still, there is such fantastic detail in the script and the aesthetic. Moreover, the frankness with which it deals with the House of Windsor as an institution and Diana's eating disorder is commendable. Jonny Greenwood's soundtrack is a masterclass in melancholia, with free-form jazz capturing the character's inner turmoil and the baroque strings helping shape the suspense. There's also one of the most moving sequences of the year towards the end involving a car – not what you'd think from the premise. It's a moment of catharsis afforded to Diana but tainted by the viewers' knowledge of what tragedies will befall her next.
5. Last Night in Soho: After dabbling with the genre's conventions for his comedy, we finally get Edgar Wright's first pure horror. Sometimes his films fail to integrate his many influences and allusions into something that works on its own merits, though I would say he does so here – merging Giallo, haunted house and mind-bending elements into an impressive whole. What makes this movie so impressive is how well it sells its romantic portrayal of the swinging sixties, only to completely undermine it when we see behind the glitz and the glamour. It's like a love letter the writer immediately throws to the fire. Visually and audibly, this is Wright's most ambitious film to date and by far his most intense. A relaxed first half, in which we get time to meet and understand the characters, gives way to a relentless second when Eloise's life spirals out of control. Once it starts, the relentless pace doesn't stop until the thrilling finale: there are constant jolts, set pieces, and jump scares. Fashion student Thomasin McKenzie and would-be singer Anya Taylor-Joy excel in tremendous roles: two women who are separated by decades but united in their struggles. And while a particular plot point risks spoiling the movie's message, the mystery is always engaging. Dame Diana Rigg is also captivating in her final role – a high note for her career to sadly end on.
4. Titane: How the hell do you follow up a film like Raw? Julia Ducournau goes back to the fear of the monster. In this instance, it's Alexia: a serial killer with a fetish for modes of transport, who was reportedly designed to be completely unrelatable. She murders without mercy or reason, though when the police start pursuing her decides to disguise herself as the grown-up, disappeared son of a firefighter named Vincent. To make things more complicated, she finds herself pregnant after a one-night stand with a vintage Cadillac (yes, really). Much body horror follows, with more messed-up scenes than the rest of this list combined. I've never seen a film with so much nudity being so almost aggressively unsexy. Frankly, this one makes Cronenberg's Crash look tame. It looks and sounds ace – to be so ugly at points isn't easy, and some images have stuck with me after. Not that it's all unpleasantries though, there are moments of transcendence and oodles of dream logic. Where its predecessor used cannibalism as the unlikely vehicle for a poignant coming of age movie about two sisters, Titane uses its automobile-erotica for a surprisingly touching look at unconditional love and acceptance. The relationship between Alexia and Vincent is fascinating, and their touching surrogate parent and child dynamic can offer both something approaching redemption. As per Ducournau, both Agathe Rousselle and Vincent Lindon find the heart in something that could easily have just functioned as a WTF novelty. Ducournau shows, once again, why she's among the most exciting voices around.
3. Woodlands Dark and Days Bewitched: A History of Folk Horror: A three hour plus documentary about folk horror that's as authoritative as they come. Director Kier-La Janisse has dug up a treasure trove of clips and, with some excellent talking heads, gifts fans with an unbelievably thorough account of the subgenre. It offers a good glimpse into ritualistic traditions and superstitions. However, I also loved the segments showing how folk symbolism has often provided an avenue into contemporary issues: torture scenes echoing Vietnam, urban sprawl disrupting rural areas and austerity. Some of these films may look traditional or even twee, with their dark kids' songs and lights flickering in the night – but they're often profoundly radical, with layered social critiques. Along the way, we tour the world, with the second half taking us around the world in 80 minutes: Mexico, Brazil, Russia, Japan, Guatemala and Iceland feature among numerous other places. Perhaps most importantly, the documentary never gets boring either – there's always another thing you never knew you want to know more about. This may be best consumed like a mini-series, stopping every so often to savour the footage and thought-provoking discussions throughout. Among the best documentaries about horror films that I've ever seen, and the one from which I learned the most. I can't wait to see it again with a handy notepad – I'll likely get a lengthy to watch list from it.
2. Beyond The Infinite Two Minutes: The only non-horror or horror related movie on the list, but it's a culty as they come and too good not to include. If that's not ok for you then fine – chop it off, move everything forward one then add the columnist as the new 15. It's a silly sci-fi comedy that takes a deceptively basic premise; a young café owner can use two monitors to speak to himself a couple of minutes in the future. Then stretches it to its logical limit with savant-like attention to detail. There are elements of films such as Primer, Twelve Monkeys etc, so folks who like wibbly wobbly timey wimey stuff will love it. There are loops, paradoxes on top of paradoxes and other such contradictions and complications aplenty that are just about comprehensible since we're only following one set of cast members. What makes the story work so well is that Kato's friends, Komiya and Tanabe, are as keen as the viewers to test this thing – they don't want to switch it off either. He represents a part of us that knows it's a bad idea, but they represent the much louder part that wants to learn more. The single-shot style also left me wondering how the hell the makers did any of it for almost the whole running time. Yet beneath the trickery and technical marvel, there's a beating heart to it. Writer Makoto Ueda uses the metaphysical premise to explore inner space, leading to unexpectedly tender moments between cast members. A sombreness runs through it from the start too. The technology gives characters a logical reason to question their futures: their hopes, dreams, and even the very existence of free will vs determinism. I can't recommend this one enough. Cinematic magic that'll make you feel like a kid again.
1. Promising Young Woman: After being released elsewhere last year, and doing a long string of festivals, in 2021 the rest of us finally got to see Emerald Fennell's fantastic directorial debut. It doesn't really fit into any genre: where it should be horrific, it's surprisingly funny, and where it should be sweet, it gives you the middle finger for believing it. Still, it's a rape-revenge by proxy to the extent it can be categorised. Cassie was a top achiever at medic school until the rape, and what we can infer was the suicide of her then best friend Nina. Now she spends her nights pretending to be drunk, then educating the men who try and take advantage about consent: changing the world one scumbag at a time. Until she learns the man who raped Nina is getting married – time to up her game. Carey Mulligan is phenomenal, with an unapologetic, layered performance in a challenging role. She finds the pain, hurt and longing of the dramatic scenes while delivering 100% on the dark comedy front, carrying out some unquestionably cruel acts. Likewise, the soundtrack knowingly jumps between horny bubble-gum pop and ominous synth, further making the movie a masterclass in handling a serious subject with equal respect and irreverence. The supporting cast is stellar, with love interest Bo Burnham enjoying easy chemistry with Mulligan, while Laverne Cox, Alison Brie and Alfred Molina all bring richness to their roles. It all builds up to the best and most provocative final act of the year. A must-see movie, and easily among my favourite films of the last decade.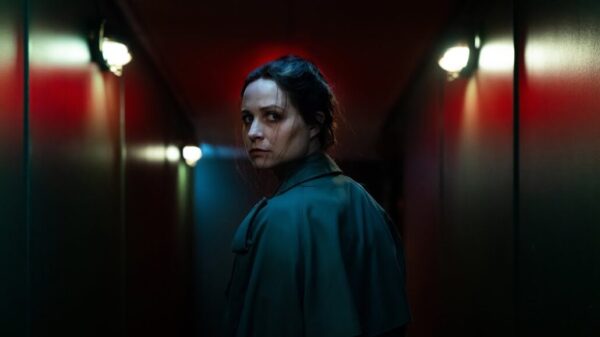 Honourable mentions:
The Columnist: A solid, funny satire on cancel culture.
In The Earth: Sterling performances and superb presentation.
A Quiet Place 2: A gripping sequel that does everything right.
Censor: Creepy and immersive with impressive period details.
The Maid: Some of the year's best jump scares, and gleeful black comedy.
Candyman: A worthy follow-up to the original, with strong social commentary.
The Empty Man: A really, really cool idea that gets a bit messy towards the end.
Dawn Breaks Behind the Eyes: An original and engaging psychedelic experience.
Broadcast Signal Intrusion: Compelling mystery about trauma with exciting turns.
My Heart Can't Beat Unless You Tell It To: Harrowing and brutal with beauty at its core
Best performance:
Aubrey Plaza: Black Bear
Guilty pleasure:
Run, Hide, Fight
Worst of the year:
Don't Breathe 2
Films I didn't see but wanted to:
Lamb
The Power
Psycho Goreman
Werewolves Within