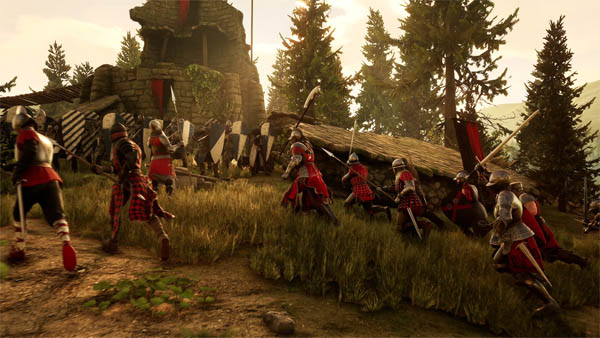 Expect blood and limbs to fly in a frenzied battlefield when medieval melee combat game MORDHAU launches on PlayStation and Xbox on July 12th 2023. With crossplay exclusively available among consoles, all players will have a level playing field to dominate in this 64-player action game.
Prepare for epic battles in the console edition of MORDHAU, where players must choose between hand-to-hand combat or ranged attacks to dominate the battlefield. Players can expect hardcore gore, with severed limbs littering the battlefield, arrows pelting down, and cavalry charging headfirst to break through the toughest defenses. Victory can be achieved in many ways, but players will have to think on their feet and fight on multiple fronts like scaling ladders or taking control of catapults to outsmart their foes.
Character customisation will give players the freedom to build their character how they want including how they sound. Players can also create customised weapons melding together different parts and equip their characters with the weapons and armour they choose, all with the intention of creating the perfect warrior who is ready to charge bravely into battle.
Console players can look forward to experiencing the same modes available in the PC version, including large-scale battles where they can attack and defend in 'Invasion,' fighting for territory in 'Frontline', or defending the noble against enemies in 'Horde'. Console players can also look forward to brawling on smaller maps such as 'Deathmatch', 'Team Deathmatch, and 'Skirmish'.
Features Include:
Massive battles: From small-scale engagements to 64-player all-out war in modes such as Frontline and Invasion.
Cooperative & offline play: Fight waves of enemies alongside your friends in the cooperative Horde mode, or practice your skills offline against AI.
Free-form melee and ranged combat: Take complete control over your character, timing attacks and develop your unique style.
In-depth character customization: Sculpt your character's look, create your weapon from various parts, and pick out individual armor pieces to create the perfect warrior.
Huge arsenal of weapons & equipment: Take on enemies in hand-to-hand combat with a greatsword, rain arrows from above, or even sit back and build fortifications.
Fight anywhere: Experience cavalry charges, fight on ladders, and operate siege engines such as catapults and ballistas.
Visceral and gory combat: Feel the impact of every blow, send limbs flying as you wreak havoc upon your foes (blood & gore are optional).
Believable fights: A game where fights look believable, balancing between gameplay and realism.
MORDHAU will be available on both generations of Xbox X/S and PlayStation 5 consoles on July 12th, 2023.