Red Dog (2011)
Directed by: Kriv Stenders
Written by: Daniel Taplitz, Louis de Bernières
Starring: Josh Lucas, Noah Taylor, Rachael Taylor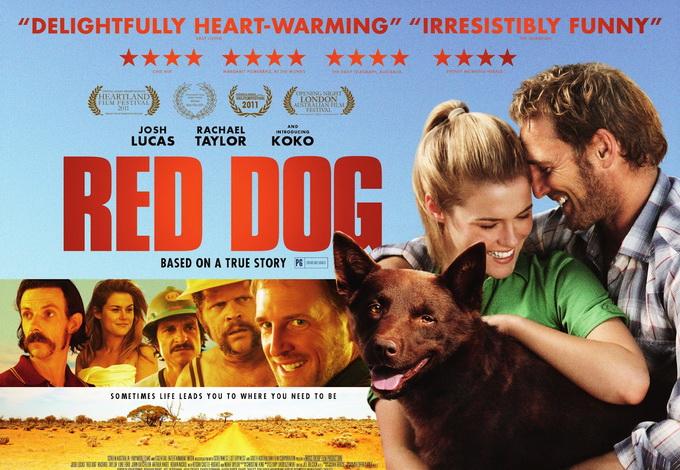 Truck driver Thomas arrives in the mining community of Dampier, Western Australia, where a major iron ore excavation by Hamersley Iron is in progress.  He interrupts what seems to be a murder and is actually an attempt to put down a sick dog, which the residents find themselves unable to do and retreat to the bar. There, publican Jack Collins tells him the dog's name is Red Dog and narrates his story, which is then continued by various other miners, Upon arriving in Dampier, the dog befriended many of the employees of Hamersley Iron, but was a dog for everyone with no real master, until an American called John Grant arrived in Dampier as a bus driver for the miners………….
I'm going to admit that I'm a bit of a sucker for movies about dogs [I pride myself on liking many different kinds of movies] so Red Dog, based on the true story of a Kelpie/Cattle Dog cross who in 1979 ventured all over Western Australia searching for his owner and had a statue erected in his honour, seemed like just the ticket for me.  Actually it is a little different from what one might expect; the scenes where the dog takes centre stage are few in number and if you're looking for Beethoven- style antics you'll be disappointed, while the reason the dog is so famous in Australia is only given about ten minutes of screen time, possibly a good thing if like me you're still recovering from the heartbreaking Hachi: A Dog's Tale!  Red Dog concentrates more on the dog's effect on the community in the film, and does it not just with great warmth but lots of that Australian quirkiness which most of the best movies from Down Under possess.  Though there's little pandering to kids, there are lots of laughs [some of the best coming from the Italian miner in the town who cannot stop going on about his home town], a bit of sadness plus some romance, but a general avoidance of sappiness.  Red Dog may not sound like anything spectacular, but, possibly because unlike The Artist and War Horse it has had little hype, at least outside Australia, it probably gave me more pleasure than any film so far this year.  I fell in love not just with the title pooch but the community which he graces, the often eccentric folk he gives some direction to, and you may too.  Give it a go; it mixes happiness and sadness, humour and seriousness, in a way just like life itself.
Rating: