Catch .44 (2011)
Directed by: Aaron Harvey
Written by: Aaron Harvey
Starring: Brad Dourif, Bruce Willis, Forest Whitaker, Malin Akerman, Michael Rosenbaum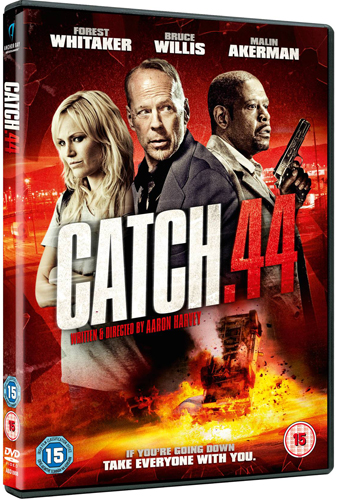 Catch .44 (2011)
Written and directed by Aaron Harvey
Half sisters Kara and Dawn, along with strip club waitress Tes, are sent on a mission by their crimelord boss, Mel (Bruce Willis) to intercept a drug exchange being made on Mel's patch. They plan to steal the drugs shipment at an empty roadside diner and then make the exchange themselves, stealing the competition's money. However, an unstoppable chain of events unfold involving a psychotic murderer (Forest Whitaker) who's roaming the highway and what starts off as a simple job for the girls quickly escalates into chaos.
Catch .44 is a stylish effort from writer and director Aaron Harvey who has clearly been inspired by the work of Quentin Tarantino, especially QT's Pulp Fiction and Deathproof. The film begins with the ending, not unlike Pulp Fiction, where Mel's female criminals are preparing to steal the dope shipment. Whilst eating and drinking, the girls discuss at great length about 'faking it' and comprimising. Dialogue heavy scenes, jokes between characters and parables being told are just a few of the Taratino-esque trademarks that are used in this film and I feel that this work is a loveletter or at least a nod to the director. As we start with the end, we are then treated to flashbacks of how the three girls got to this point in time. Each time we are treated to past scenes, the film zooms to present time reshowing us the same diner scene but from different angles and furthering the story a bit more. The film works well this way and is a more straightforward tale than Pulp Fiction in my opinion, with just one story focussed on rather than Pulp's many different characters and scenarios.
The three girls, Tes (Malin Akerman), Kara (Nikki Reed) and Dawn (Deborah Ann Woll) all have their individual personalities. Tes is a skilled pickpocket who's confident, streetwise and can hold her own. Kara is young and naive with a disinterest in the job, whereas her older half sister Dawn is quiet yet clever. Their mobster boss, Mel, is played by Bruce Willis who we first properly see shuffling around his luxurious house in underpants and a dressing gown, whilst swilling down alcohol and munching on Pecan nuts. He looks like a thin, dishevelled alcoholic but under the surface is a scheming madman who won't allow anyone to cross him. The real star of Catch .44 is Forest Whitaker as the murderous chameleon Ronny who travels along the highway picking off innocent victims along the way and stealing their identity to disguise himself. The way Ronny changes his accent and character whilst remaining utterly calm creates a frightening psychopath who's bubbling at the surface but can blow at any given moment without warning. The film also has appearances from Brad Dourif as the local Sheriff and Michael Rosenbaum as a punter at the strip club Tes works at.
The film feels very close knit and the story very rarely drifts off. It feels current and fresh despite borrowing techniques made famous by Tarantino eighteen years ago. The music used in the film like Fox On The Run by Sweet gets the juices flowing with the vibrant beats. Style wise you cannot knock this film. It delivers on every level and the angles and shots used capture the moments perfectly. The storyline, however, wasn't as strong as it could have been with an opportunity to expand and even develop the characters that bit more. Catch.44 is a solid crime thriller that has flare and enough action to keep you gripped to the end…or should that be beginning?
Rating: