Rock of Ages (2012)
Directed by: Adam Shankman
Written by: Justin Theroux
Starring: Alex Baldwin, Diego Boneta, Julianne Hough, Paul Giamatti, Russell Brand, Tom Cruise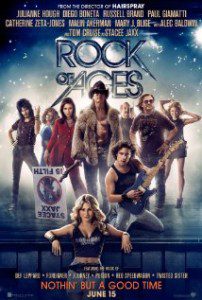 [youtube]https://www.youtube.com/watch?v=USxhXb5VC5E[/youtube]
Running Time: 123 mins
Rating: 12A
Reviewed by: David Gillespie – Official HCF Artist
The first album that I ever bought was The Heat is On compilation. It featured many of the American bands of the classic rock era dating from the late seventies into the early eighties. I must have played those tracks endless times on my clapped out Vinyl player.  It inspired me to buy further albums from the likes of Def Leppard, Motley Crew, Poison, Foreigner etc.  Rock of Ages uses a huge back catalogue of cheesy soft rock music to tell the tale of two, talented young hopefuls and their dreams of rockstar superstardom.
As per the Journey classic, a small town girl named Sherrie (Julianne Hough) meets a city boy called Drew (Diego Boneta) on Sunset Strip and pursue their dream to become rock stars like Stacee Jaxx (Tom Cruise). They grab jobs at a grubby nightclub called the Bourbon Room run by the kind hearted, Dennis Dupree (a fantastic Alex Baldwin) and his Brumee pal, Lonny (Russell Brand).  When Dennis contacts dodgy manager, Paul Gill (Paul Giamatti) to bring Stacey Jaxx and his band Arsenal for a return gig to save the debt ridden venue, Drew grabs his opportunity to stage his band as opener for his hero. 
Drew's band are a smash and are instantly scooped up by Gill and signed to his label. After the crooked manager leaves with all the gate money, Paul's woes continue to mount up when corrupt and pervy LA mayor (the excellent Bryan Cranston) and his bible bashing, sexually frustrated wife (Catherine Zeta Jones) do everything in their power to wipe out any trace of rock music from the strip. Can the Bourbon Room survive and will rock n roll triumph over evil?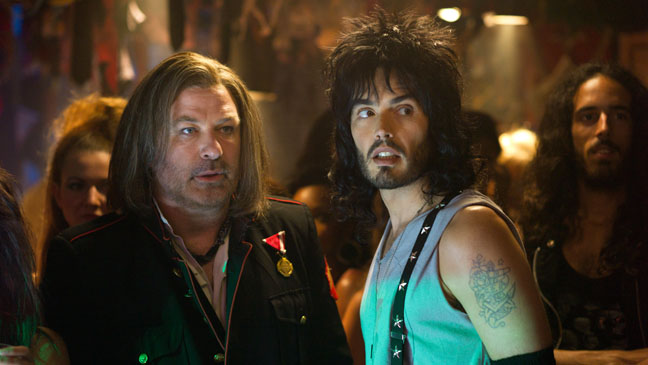 Rock of Ages is not a good film but to it's credit, it never pretends to be. It utilises the raw energy of the catchy rock tracks and enthusiasm of it's talented cast.  The biggest marketing draw is the appearance of Tom Cruise as the coked up (though you never witness him taking drugs) and sex addicted (though there is never any onscreen sex) rockstar, Stacee Jaxx. Cruise is rather funny in this egocentric role and seems to be enjoing himself to no end. Yet it is Alex Baldwin and Russell Brand that steal the funniest sequence when they both decide the time is right to express their true feelings to each other.  
All tracks and dance routine are chereographed superbly well and for the first half off the movie everything seems to work perfectly. The problem is that when the action moves away from The Bourbon Room, the movie starts to lose it's charm. This might be due to the overlong running time. Each soft rock track is a classic yet the by the time of the final duet of Don't Stop Believing (perhaps the most overplayed track in rock history), you have already scanned the cinema hall for your nearest way of exit.
Perhaps if they had trimmed the running time to 90 minutes and cut the encores then Rock of Ages would have been a gig worth talking about in years to come.
Rating: