Dead Man's Lake (2012)
Directed by: Ben Franklin, Bloody Cuts
Written by: Ben Franklin, Joel Morgan
Starring: Caroline Haines, James Powell, Jon Campling, Lewis Osbourne, Sarah Jane Honeywell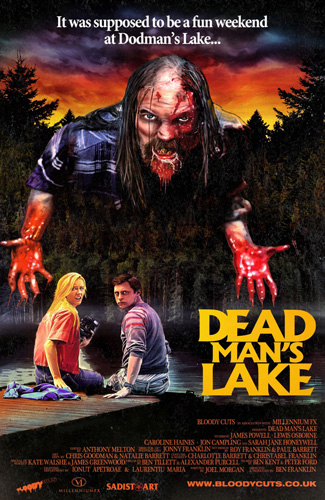 Bloody Cuts #6 – DEAD MAN'S LAKE
Taking the Bloody Cuts director's chair for the very first time is Ben Franklin as he directs DEAD MAN'S LAKE, a story of his brought to life by Joel Morgan.
The sixth short film from British 13 part horror anthology Bloody Cuts opens with three teenagers wandering through the woodland to their forbidden destination, a beautiful private lake. Anybody who's into horror films will appreciate this cliched horror intro and like myself, will probably try to second guess the plot as the film progresses. What follows is a piece of cinema that will have you grinning from ear to ear at its terror-tastic scenes of face-melting goodness which then suckerpunches you as it rips the rug from beneath your feet. Never EVER underestimate a Bloody Cuts film. Their power to shock, please, haunt and humanise you is a gift that is quite rare in film these days and yet this group of filmmakers have perfected the art not once, but on many occasions. Dead Man's Lake is a prime example of this.
The performances are top notch, with the loved up couple Grace and Pete played by Caroline Haines and James Powell respectively, and their annoyingly immature friend Nick (Lewis Osbourne), who has decided to tag along and insists on being a nuisance. Jon Campling is terrific as the bloodied stranger who stalks and chases Nick through the woods. The following scenes involve some superb yet disturbing prosthetics by reknowned FX studio, Millennium FX, who have assisted Bloody Cuts from almost the beginning of their anthology. The result is remarkable and wince-inducing to look at, as we, the viewer, are faced with Nick's head on collision with a BBQ! Nice!
Bloody Cuts are known for teasing us with a particular style of horror and then holding up a mirror, flipping our perceptions of the events that have unfolded. Dead Man's Lake starts off as one type of horror, the theatrical one we horror fans all adore, and finalises with a different horror, a sad realism filled with truth that depicts the actual horrors we have witnessed. I won't be shy in saying this ripped me in two when I watched it for the first time and left me lost for words. Dead Man's Lake deals with strong emotions and the true horror within this film will knock you for six.
Yet again a truly remarkable, poignant film from Bloody Cuts.