Earlier in the year, friend of HCF and fellow film critic Andy Stewart announced he had written and directed a short body horror flick. After releasing the trailer last month and having the exciting opportunity to view his work, we sat down with Andy to ask him about DYSMORPHIA ahead of its big screen debut on October 3rd at Grimmfest 2012.
We know you as the editor of film review website, AndyErupts, and writer for British horror mag, Scream Magazine.  What made you decide to venture into filmmaking?
It was a mixture of things really. I had grown up making zero-budget slasher "films" with my mates when we were drunk. A lot of fake blood, booze, improvised dialogue and no real script to speak of. Some of those tapes still exist by the way, though they will never see the light of day while there is breath in my lungs.
Aside from that, I had been writing a lot of scripts in my spare time. I have a lot of ideas for things that I personally, as a horror fan, would like to see more of.
So it was off the back of these formative tapes and scripts and having sat through an unholy amount of shit films over the years that I decided to try my hand at actually making a film. Maybe that's kind of arrogant but I wanted to give it a serious shot.
How did you come up with the idea for DYSMORPHIA?
I'm a massive anthology movie fan. I grew up loving stuff like the old Dead Of Night with Mervyn Johns, Creepshow, Black Sabbath, Cat's Eye and things like Tales From The Crypt and Freddy's Nightmares, so I wanted to write my own anthology film.
I thought that Body Horror seemed like an interesting thing to stage an anthology around and so I started writing. I was always aware that, as outlandish as the stories might be, I wanted them to have real people, with relatable, underlying issues at the core.
After a while, I felt that I had a few really good segments and some that seemed rushed and written just to fill pages, so I stepped back and decided to make the best ones as a series of shorts.
I picked Dysmorphia for my first one as it was something that I knew that I could pull off with a minimal budget. It's one guy in a room.
The short is very focused upon the character of The Man, in which Gordon Holliday portrays such emotion without even speaking. How did Gordon get involved with the project?
I have known Gordon for about 15 years. Maybe more. We actually worked on some stage stuff together. He was someone that I had in mind, visually anyway, while writing the script but I hadn't seen him in a while and had no idea if he would even be interested in the project, given the lack of pay and the content of the piece. Or if he even cared about acting anymore.
I called him up and said, "I have this film. I think you'd be perfect. You have a weird body and that's what I need." He just laughed and said he was interested. So, I sent him the script and he loved it and agreed to do it.
I am so glad that he did agree. He is excellent. He put himself through a lot for this little short film, endured a great deal of discomfort at times and he never complained once. His performance absolutely makes the film.
There are some very realistic self-mutilation shots in DYSMORPHIA. How did you go about filming these scenes?
HAHAHA. Give away the secrets behind the magic? OK. Some of it was quite difficult. I knew going in what my limitations were, budget-wise, and what I KNEW I could do myself with regards to gore effects, so I had a couple of meetings with Ruthy, who worked on the gory stuff with me, and we thrashed out what we should and shouldn't show, what we could and couldn't actually do, and took it from there.
Truth is, everything you see is edible, more or less. It's all syrup, confectionery items and, in the case of one shot, a nice big cut of pork belly.
I was always of the opinion that we should make the audience think that they have seen way more than they have and I think, for the most part, we accomplished that.
We believe that DYSMORPHIA is going to be one of a series of Body Horror shorts. Can you tell us a bit about your plans for the rest of the films?
Yeah, more body horror. More gore. More slime. I'm moving onto the second in the series, Love Hurts. It's actually a "body melt" movie like Street Trash or The Incredible Melting Man. Actually, it's nothing like those films, only insomuch as the lead character melts over the course of the film.
Melting aside, it's a story we can all relate to. We have all been in the position that "The Man" in Love Hurts finds himself. It's just an exaggerated vision. I don't name any of the characters in these shorts, by the way. I'm too lazy.
The third, as it stands, will be Spank, which tells the story of a man with particular sexual desires who approaches a woman who pushes him to the limits of his desire…and a little bit further. They're good, wholesome family fun.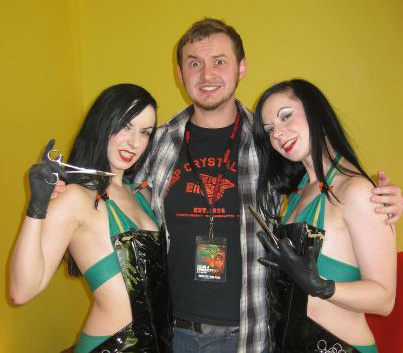 DYSMORPHIA is making its premiere before the screening of American Mary at the Stockport Plaza, Wednesday 3rd October on the preview night of Grimmfest 2012 film festival. After having such a favourable response from the Soska twins, directors of American Mary, this must be a dream come true to see your film on the big screen playing before their feature?
It's unbelievable. I saw American Mary at Frightfest and interviewed the Twins afterwards. They're really great girls and American Mary is brilliant. It really is. I don't know if their film resonated with me a little more because I have been so involved in this body horror stuff but I thought that Dysmorphia seemed like the kind of film they might like.
So I chanced my luck, sent it to Sylvia and they loved it. For them to publicly praise it like they did is just staggering. I made the film for £160. It's bizarre. Just after Frightfest, I posted on Twitter that if Dysmorphia could play just once, somewhere in the world, ahead of American Mary, then I would be totally thrilled. Now, it's happening and I am indeed thrilled.
I still can't quite get my head around the reaction the film has had, not just from Jen and Sylvia, but from everyone who has seen it. It's very humbling.
Have you any other festivals planned to showcase DYSMORPHIA?
It's gone out to a whole heap so hopefully. There's a few strong possibilities. I can't wait to see how it plays at Grimmfest first. Maybe I won't want it screened anywhere else.
Would you like to make a feature length film in the future?
I'm sure I will, at some point. I had planned to raise funds for a feature in 2013. It's a nasty little cannibal film that I wanted to shoot up around Glencoe in Scotland but I decided to finish the shorts trilogy and re-assess though I am currently working on a feature-length body horror script. It's pretty messed up.
Which directors inspire your work?
With regards to my directorial work, I don't think it will come as much of a surprise if I say David Cronenberg, will it? Also, guys like Shinya Tsukamoto, who directed Tetsuo: The Iron Man, David Lynch and Brian Yuzna too. John Carpenter, of course.
As a writer, I just write stories about real people in frequently unreal situations.
Which is your all-time favourite horror film?
Oh God. That's not a fair question. I get asked this a lot. I can never pick just one, so it's a toss-up between The Wicker Man, Hellraiser and Zombie Flesh Eaters.
Horror Cult Films team would like to thank Andy for taking the time out for the interview and we urge you to catch DYSMORPHIA on the big screen at Stockport Plaza on Wednesday 3rd October 2012!
Ticket info here
For more news on Andy's film, follow Dysmorphia on Facebook