Split (2014)
Directed by: Andy Stewart
Written by: Andy Stewart
Starring: Austin Hayden, Shian Denovan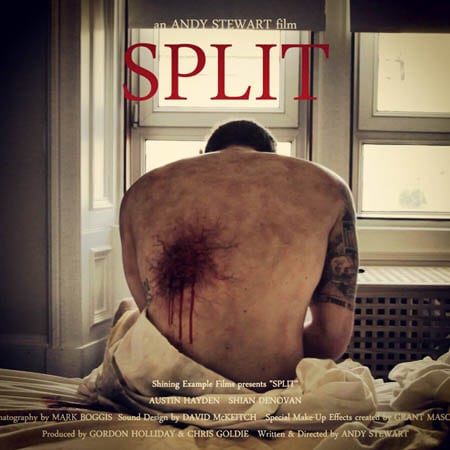 SPLIT (2014)
Written and directed by Andy Stewart
A young man suffers in a peculiar way after splitting up from his girlfriend.
Scottish film critic journalist-turned-filmmaker Andy Stewart is back after resounding success promoting his first short film DYSMORPHIA alongside screenings of the Soska sisters' American Mary last year, who heaped nothing but praise on his dark effort.
Split is Andy's second film in his 'body horror' short trilogy and after causing people to be physically ill from the content in the first short, I have no reservations that Split will go on and do the same!
Whilst the films are most definitely embedded within the 'body horror' genre, they also deal a lot with emotion, and Split is no different.
We follow an unnamed young man, played by Austin Hayden, who's missing his ex-partner (Shian Denovan). Flashbacks hint that she left after discovering evidence of him being unfaithful. The man must now wallow in his flat and come to terms with what he's done and the enormity of what he's lost, but nothing could prepare him when the guilt literally starts to eat him away as the pain manifests itself physically…
The film reminds me of Canadian flick Thanatomorphose but where that story struggled, Split excels in clarity and emotion, with both having tremendous practical make-up effects to boot. Considering Stewart's short was made on a budget of £2500, the make up FX and that of the smashed television screen, ingeniously created by the film's editor, Jim Lang, are that much more impressive. Grant Mason leads the way as special make-up effects designer and has created some memorable moments that will cause even the most hardened of horror fans to wince. I'm talking sore bursting a la Kevin and Perry Go Large, fingernail removal and the most stomach turning imagery involving a split wrist! The overall appearance of the man begins to degrade  – his body becomes red with rashes, sores and broken skin, his hair begins to thin and fall out and he becomes a shell of his former self. Shutting himself away from the world, he tries to make contact with the one person who made his life worth living. But will she return his call?
From what little screen time there is of actors Shian Denovan and Austin Hayden together, it's evident that when they were in love, it was everything to them. Lying in bed, the man cuddles her and even takes a snuggled up selfie of them both. When the woman discovers what her boyfriend has been up to, her life is effectively ruined as he tries to brush it off as nothing. Only afterwards does the full effect of his actions come back to haunt him with pain of a broken heart and guilt gnawing away at his very soul.
Andy Stewart and his team have shown they can deliver premium goods on such a low budget as Split continues the theme of stylish, stunning visuals, by cinematographer Mark Boggis, against the backdrop of body horror carnage and I can only wait with positive glee for their third and final film, INK.