Ghostquake, Haunted High (2012)
Directed by: Jeffery Scott Lando
Written by: Anthony C. Ferrante, Paul A. Birkett
Starring: Charisma Carpenter, Danny Trejo, Lauren Pennington, M.C. Gainey, Marc Donato, Shawn C. Phillips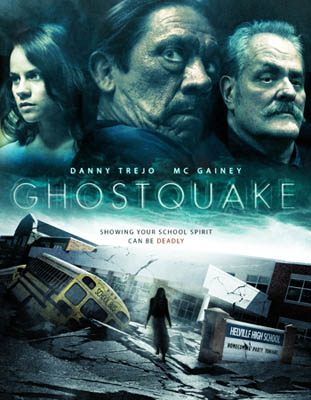 GHOSTQUAKE (AKA Haunted High)
Ghostquake is a SyFy straight-to-TV movie about a high school that becomes possessed by the spirits of the satanic cult killer headmaster, Danforth, and his demon lady friend, who once upon a time ran the school, slaughtering many of the school's pupils. It's down to a few of the high school pupils, teachers and Ortiz the janitor to fight off these torturous beings, survive and blast them back to hell where they came from!
First off, I must confess my love for all things Danny Trejo. I seriously adore that man, so imagine my delight when he stars as Ortiz the janitor in this film. However, only Trejo and a couple of the kids and teachers put in a good performance, with the rest of the cast extremely wooden to the point of cringeworthy. M.C. Gainey hams it up as the poisoned principal Danforth in such a pantomime villain way that it's hard to find it frightening, but it somehwhat feels like this was the type of character director Jeffrey Lando was going for. The typical audience this will entertain best are teens, but I wouldn't have classified this as 15, 12A maybe. 15 year olds might find this tedious and require something bloodthirsty and forbidden.
Ghostquake is very B-movie style, with a budget that does not allow them to show much of the painful deaths that the demon principal and his mistress ghoul subject the innocent teens to. Unfortunately, this style of movie only works well for creature features such as Megashark and Sharktopus, where the principal hybrid monster is so unbeliebably bad, it's good. Like the creature features, CGI is used aplenty here, with the evil spirits breaking into the reality via a pentagram portal, thus causing earthquakes in a region where earth shudders are unheard of – hence the title Ghostquake. The CGI isn't too bad and is used sparingly compared to other films, but it cannot save the film from the awkward, repetitive script.
If you switch your brain off for the duration of the movie, you may find it somewhat enjoyable. It certainly is not terrible, but does leave a lot to be desired. However, the school setting gives the filmmakers a fantastic, claustropobic environment for the teens to scream and run around in. I mean, who would want to be stuck in school forever?! The plot aims to bring depth by having Danforth's grandson, Quentin, possess some satanic coins which have been handed down to him by his psychotic grandfather. These coins are a key ingredient to the story and help to spice up the basic storyline but besides that, not much happens. This factor, coupled with the one dimensional characters, left me deeply dissatisfied.
If you are a fan of low budget, straight-to-TV 'horrors' then you may enjoy this, however it caters for a younger audience with it's lack of intelligence and depth, which may frustrate older audiences.
Rating: