Haunter (2013)
Directed by: Vincenzo Natali
Written by: Brian King, Matthew Brian King
Starring: Abigail Breslin, David Hewlett, Sarah Manninen, Stephen McHattie

Haunter (2013)
(TBC) Running time: 97 minutes
Director: Vincenzo Natali
Producers: Steven Hoban & Mark Smith
Writer: Brian King
Cast: Abigail Breslin, Stephen McHattie, Peter Outerbridge, Michelle Nolden and David Hewlett.
Reviewed by: Kirsty Wavish
Haunter centres around Lisa, played brilliantly by Abigail Breslin, and her realisation that everyday has exactly the same routine, the same conversations, the same meals, and particularly, always the day before her 16th birthday! She has "awoken" from the cycle, however, her family have not. She tries to make her frustrations known to her family in a true teenager style, but they fall on deaf ears, and then the day begins again. Lisa begins to probe and investigate, realising that they are in fact ghosts, but her prying results in certain "changes" to the daily routine, which has frightening consequences.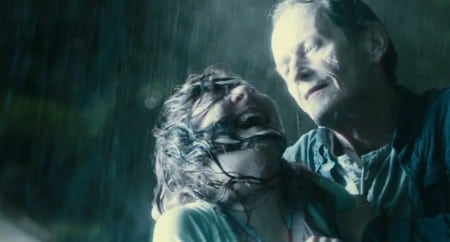 The story is complicated and has so many layers that I genuinely wonder how I managed to keep up and absorb the story line and resultant questions. But it's quite simple, both director Vincenzo Natali and writer Brian King delivered a story so perfectly and then some! The script is smooth and clear, despite the many twists and turns, and the audience gets sucked in, as we feel we are solving the mystery with Lisa as she attempts to break free from the recurring nightmare.
Having watched so many ghost stories that have concluded with weak endings, or endings that were silly or farfetched, again, Haunter delivers as it climaxes boldly to its finale.
Complementing the lush script is the wonderful cast! Breslin is outstanding and has gone from strength to strength since her film career launched when she played Bo in M. Night Shyamalan's Signs and Olive in Little Miss Sunshine. She plays the role to perfection and is utterly convincing with Lisa's gutsy decisions, striving to alter the fate of her family. Stephen McHattie is absolutely frightening in his role as The Pale Man, and his presence in the film is intimidating and downright creepy! His sinister threats to Lisa are meant, sometimes resulting in dire consequences, and the audience certainly feels a sense of dread when he's on screen.
Haunter is a refreshing addition to the ghost horror genre, delivered so brilliantly, with what could have been a disaster, had the story not been told so perfectly. It's not so much a film that makes you jump, but don't mistake this as an indication the film isn't scary. Some of the scenes and imagery are terrifying and downright uncomfortable at times, as the dread builds and builds.
Haunter is one of the best ghost stories I've seen this year and certainly holds its own in its respective genre, up there with the likes of The Conjuring. The imagery is outstanding, complimented with astounding camera effects, excellent script and gripping performances from the cast. I can't urge you enough to see this one when it's released later this year!
Simply put, Natali has nailed it!
Haunter opens in cinemas on 18th October 2013.
Rating: