Phantom (2013)
Directed by: Todd Robinson
Written by: Todd Robinson
Starring: David Duchovny, Ed Harris, Jason Beghe, Lance Henriksen, Sean Patrick Flannery, William Fichtner

Phantom (2013)
(15) Running time: 94 minutes
Director: Todd Robinson
Writer: Todd Robinson
Cast: Ed Harris, David Duchovny, William Fichtner, Lance Henriksen, Jason Beghe, Sean Patrick Flannery
Being compared to films like the classic The Hunt For Red October, and also the exceptional Crimson Tide, Phantom has a lot to live up to. Thankfully an extremely strong cast, and a director who clearly knows how to handle the tension, make Phantom an enjoyable submarine thriller with plenty of good stuff. Can it really be branded as being up there with the before mentioned two films though? Not really, but as a b-movie type version of October and Tide, Phantom definitely hits its target.
Boasting the always brilliant Ed Harris as Captain Demi, the experienced war captain is given one last mission on the submarine which started it all for him. Along for the ride are his trusty crew, which includes Alex (Fichtner), Pavlov (Jonathon Schaech) and Tyrtov (Flannery), and also joining them are cagey KGB agents Bruni (Duchovny) and Dr Semak (Jason Beghe).The KGB agents have their own agenda, which interferes with Demi's grounded, honest approach to commanding his ship. With full respect from his crew, Demi ends up in a dangerous situation as problems escalate onboard, and loyalties are tested as Demi and Bruni argue over their agendas. On the brink of causing a war between the Soviets and the US, will the problems onboard the sub be fixed in time?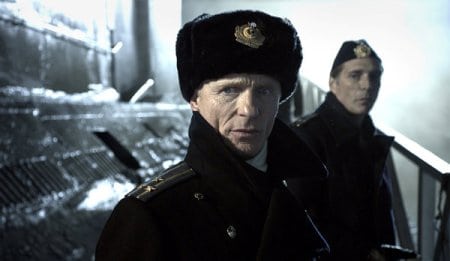 Phantom is said to be based on a true story, and is set during the height of the Cold War. The Phantom is a Russian sub which is being tested for a new device which will make it invisible to other ships, allowing it to sneak up on the enemy. Bruni wants desperately to test these powers, and is willing to do anything for it. Demi is not impressed when he finds out, and an all out war almost takes place onboard his sub as the clashing two sides battle out over their consciences. This very much feels like The Hunt For Red October in places, and the battle between Captain and KGB Agent will remind you of the war of words between Gene Hackman and Denzel Washington in Crimson Tide. The tight script, claustrophobic setting and pacing all work well as the Phantom gets into trickier and more dangerous situations. The action is handled well, and the cast all do a superb job at bringing these scared and desperate crew members to life.
Harris steals the show as the strong and respected captain, and even an epileptic episode (strange for a captain!!) doesn't stop him in ensuring the safety of his crew. Duchovny shines as the slippery agent, and even though you feel a sense of duty to side with Harris, there will be times when you see Duchovny side of things too. This film cleverly relies on your own thoughts and input as to which side you feel you should choose.
The film is not perfect though, and probably the main complaint is the fact we have mostly American actors playing Russian crew members, without even attempting Russian accents. There are also moments where this feels more like a TV movie than a big production, and at times the dialogue struggles, and some of the supporting cast show why they are just that. However, the film is impressively produced, well paced and the big name actors all do a fine job indeed (even without the accents). It is always great to see Lance Henriksen turn up in a film, and although brief, he contributes strongly here. The sub itself looks terrific, and the film spends almost the entire running time inside it. There are moments of emotion and some brief 'getting to know the crew' stuff thrown in the help the viewer get involved, and when the action does take place, it is exciting and thrilling.
Phantom is an above average submarine thriller that will easily please fans of this sort of thing, but will also find an audience with those who enjoy a good war flick, or have a general interest in war history. The ending is a little silly, and there are some flashbacks from Demi which come across like a horror film, but for the most part Phantom is very good. A  great cast, a frightening story and a director who handles the pressure and subject matter well. Recommended.
Rating: