Snowpiercer (2013)
Directed by: Bong Joon-ho
Written by: Bong Joon-ho, Kelly Masterson
Starring: Chris Evans, Ed Harris, Ewan Bremner, Jamie Bell, John Hurt, Octavia Spencer, Song Kang-ho, Tilda Swinton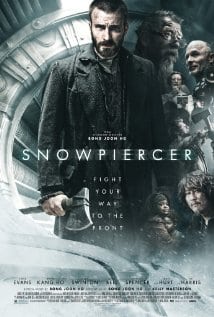 Snowpiercer (2013)
(TBC) Running time: 126 minutes
Director: Bong Joon-ho
Writers: Bong Joon-ho, Kelly Masterson
Cast: Chris Evans, Tilda Swinton, John Hurt, Jamie Bell, Song Kang-ho, Ed Harris, Octavia Spencer, Ewan Bremner
Reviewed by: Matt Wavish
I am sure you have read the many stories surrounding Bong Joon-ho's apocalyptic sci-fi Snowpiercer, and its difficult battle to get a proper release. Played around the world, and opening to rave reviews and record breaking box office figures in its native South Korea, it was The Weinstein's who caused all the uproar. Harvey Weinstein was reported to have wanted to cut some twenty minutes off the films running time, reducing character development (supposedly) and concentrating more on the action. A battle with studio and director followed, with the director eventually winning, but paying the price as his vision would now only be shown in less than half the proposed number of cinemas.
A tragic event for a film that can easily be referred to as one of the greatest genre films in decades, but thankfully the continuing praiseworthy reviews will no doubt secure the film as a must-own for those who can't find a cinema showing it. Here in the UK there has still be no confirmation of the film's release, a baffling amount of nonsense considering many in the cast are British actors, and this is the sort of intelligent sci-fi that would go down a storm with UK audiences. As I was just too desperate to see the film, I had to purchase an import copy on Amazon, but if and when the film does receive a cinema release in the UK (it would be a crime if it didn't) then I will be first in line to see it on the big screen!
After directing one of the great monster flicks of the past two decades (The Host), Korean director Bong Joon-ho makes the step to English language movies with impressive results. Recently Kim Jee-woon attempted the jump to English language with the great but un-loved The Last Stand, and Park Chan-wook gave it a shot with the excellent Stoker, but it is Joon-ho who reigns supreme with the jump, delivering an epic piece of sci-fi that never struggles to deliver anything but brilliance. In essence, Snowpiercer is as near perfect as steam punk, dystopian, apocalyptic sci-fi gets, and it has bags of ideas to offer.
The story is simple: seventeen years ago attempts to fix Global Warming backfire, sending Earth into a new Ice Age, and humanity comes crashing down. Thankfully wealthy inventor Wilford (Ed Harris) had designed a train that would keep humanity alive while the rest of world froze. Laughed at for his ambitious design, Wilford's Snowpiercer is now the last form of survival. Travelling around the world on a train system designed by Wilford, the yearly lap of Earth has a point it passes where the passengers all celebrate new year, a great idea by the writers it must be said. The trains engine cannot stop, for if it does then everything breaks down, and life as these passengers know it comes to an end. Those wealthy enough take pride of place at the front of the gargantuan train, while the poor live in slums at the tail. Hell, there is even a prison onboard for troublemakers. The poor are treated like animals, fed some horrible black protein jelly, and regularly beaten by law enforcers.
Children are snatched, and punishment carried out (a stunning moment where a man's arm is frozen and smashed off is jawdropping), all the while those in poverty dream of another revolt, another attack on the system that keep them caged. Say hello to Curtis (Chris Evans on career best form), a man who won't take anymore bullying and segregation, a man who wants to storm the train all the way to the engine and make things right. Advised by old timer Gilliam (John Hurt), Curtis plans a thorough attack, but first they must break security specialist Namgoong Minsoo (Song Kang-ho) out of prison. Within ten or so minutes, the assault on the train begins, and Snowpiercer takes off like a crazy rollercoaster, and NEVER lets up.
I was concerned that simply rushing a train carriage by carriage, the film would ruin out of ideas and become stagnant very quickly (at two hours, there seemed an awful lot of time to fill), but Jon-ho delivers one moment of pure genius after another, keeping Snowpiercer feeling fresh, interesting, exciting, thrilling and damn exhilarating for the entire running time. Never getting boring, never repeating itself, Snowpiercer moves along at breakneck speed, and is one of the most amazing and dazzling film experiences I have had in ages.
Each carriage offers up a brand new set of problems, and I cannot go into detail because it is better going into the film not knowing what comes next. However, I can confirm that there is some really cool and bloodthirsty violence, an incredible array of stunning camerawork, great special effects and characters you can actually are about. There are even comic book style villains, and Tilda Swinton's over the top and brilliant performance as Mason is up there with some of the greatest ever screen villains. She is so crazy, yet so oddly likeable it defies belief, and Swinton nails it. Each and every character have their own persona, and they all feel unhinged, slightly bonkers and totally unique in their own way.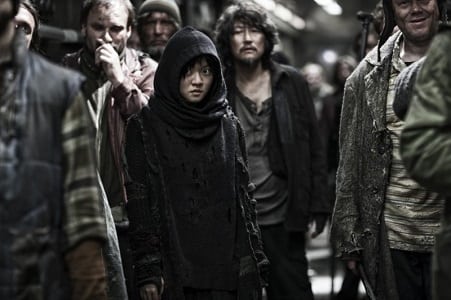 The action is wonderful, but so is the script, and moments of genuine laugh out loud comedy appear when least expected, proving Joon-ho has a keen eye not to take things too seriously. He wants to take you on a ride, and you are expected to have some fun with it, and I guarantee you will. Moments of comedy can easily be followed by moments of terror, and that can be followed with a moment of absolute genius (a massive brawl comes to a halt to celebrate New Year). Everything here just feels right, and Snowpiercer leaves nothing to chance, and even less to be questioned. Joon-ho makes a conscious effort to ensure all is explained (I noticed moments when I thought "how" or "why" and two minutes later comes the explanation), but not explained as if the audience are dumb, it is more for clarity so that you can truly believe in what you are watching on screen.
Violence, mayhem, comedy, action, drama, it is all here, and there is even time for a good ten minutes of dialogue free chases which will blow you away, it will all blow you away. I can't remember the last time I was genuinely excited by a film which manages to get EVERYTHING right, but Snowpiercer is that film, and it even has a gorgeous nod to Global Warming at the end that is touching and quite emotional (if you are that way inclined).
Snowpiercer is as perfect as they come, and one of the great sci-fi movies of our time. Believe the hype, this is a work of genius!
Rating: