Westworld (2016)
Directed by: Frederick E.O. Toye, Jonathan Nolan, Jonny Campbell, Michelle MacLaren, Neil Marshall, Richard J. Lewis, Stephen Williams, Vincenzo Natali
Written by: Charles Yu, Dan Dietz, Daniel T. Thomsen, Dominic Mitchell, Ed Brubaker, Halley Wegryn Gross, Jonathan Nolan, Kath Lingenfelter, Lisa Joy, Michael Crichton
Starring: Angela Sarafyan, Anthony Hopkins, Clifton Collins Jr., Ed Harris, Evan Rachel Wood, Ingrid Bolso Berdal, James Marsden, Jeffrey Wright, Jimmi Simpson, Luke Hemsworth, Rodrigo Santoro, Shannon Woodward, Sidse Babett Knudsen, Simon Quarterman, Tessa Thompson, Thandie Newton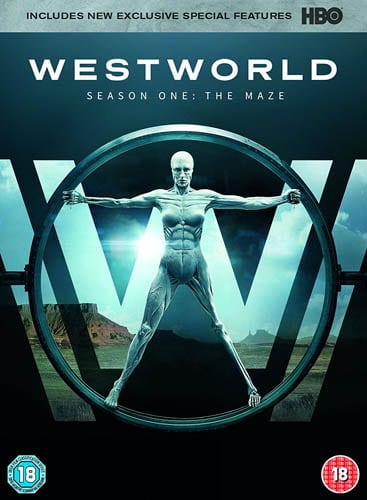 WESTWORLD (2016)
Season One
On DVD and Blu-Ray now
Welcome to Westworld – a Wild West themed landscape populated by android hosts to give visitors an authentic western experience. Become a gunslinger and have a shootout with many of the armed men in the desert; ride with the Sheriff of Sweetwater and hunt down bandits; drink as much as you can handle and enjoy the pleasures of the ladies at the brothel. However you decide to explore Westworld is entirely up to you. Live out your fantasies without the fear of getting hurt; whilst the hosts can spill each other's blood, a host cannot shoot or kill a visitor. So don your cowboy hat and grab your pistol, it's time to have some fun!
Dolores Abernathy is one of many hosts in Westworld, each with their own narrative and dialogue programmed by the park's creator Dr Robert Ford and, in more recent times, maintained by the tech team led by Bernard. Like all the hosts in the park, Dolores sticks to her narrative and is able to improvise should a visitor interrupt her loop. However, when her father discovers a photo of a modern woman and recognises the images as not being of their world, he sets off a chain of events, reigniting a desire that's been burning inside Dolores for a very long time. Surely her purpose is more than painting and running off for the afternoon with lover Teddy, only to see her parents murdered at the end of the night, over and over again? "These violent delights have violent ends" With those six words, Dolores sets about finding her own path, something more than what she lives for, day-in, day-out.
Based on the cult 70's film of the same name by Michael Crichton in which Yul Brynner played a gunslinger android that turned homicidal on the guests of Westworld park – one of three themed parks, all of which fell prey to killer robots – WESTWORLD has been fleshed out to deliver a touching, thought-provoking story about artificial intelligence, consciousness and our relationship with our mechanical creations.
Humans and their robot creations have long been the subject of movies and books with many exploring the intelligence of man versus the superior intelligence of our robot creations who are often mistreated and abused before becoming self-aware and taking revenge against their human masters. It's not an original tale but WESTWORLD has taken this premise, one that was utilised by its cinematic predecessor, and pulled away its skin to reveal a deeper understanding of man's position in the world and whether we have a right to control and limit consciousness and ultimately play God when it's evident we have a life in our hands.
Told from the point of view of many individuals within the park, the story of Westworld is a rollercoaster of emotions but ultimately one that leaves us very clearly on the side of the androids. We see them being created from nothing in the science and research facility before being popped into a room to learn how to deliver dialogue and act out specific scenes that are part of their narrative. Once they're trained in their role, they're dropped into the breathtaking, mountainous, desert landscape of Sweetwater to act out their narrative loop and entertain the guests in a sort-of Groundhog Day. Hosts like Teddy, Dolores, brothel madame Maeve and working girl Clementine go through the motions each and every day, uttering the same dialogue and, for the most part, following through with the same actions. Behind the scenes, we see QA and tech departments butt heads as QA tries to keep control over the other whilst young narrative writer, gobby Brit Lee Sizemore, is becoming frustrated with Dr Ford's narratives and aims to spice up the stories. However, when a few of the androids begin to malfunction, suspected to be due to Dr Ford's implementation of reveries,  the QA department are quick to spy it as a chance to flex their authority and push forward with their own agenda. Little do they realise though the consequences these little reveries have on their hosts…
Having enjoyed the movie and premise of Westworld originally, I was absolutely blown away by the effort and plot development of the TV series. Taking a little acorn and growing it into a tree with many branches, the TV series grips from the word go, thrusting the viewer into its manufactured landscape and posing all kinds of moral dilemmas about life, creation and so forth. Blending the artificial world with contemporary life, through the use of the pianola playing such hits as A Forest, Black Hole Sun and Back to Black in the Mariposa saloon, really smashes home the fact that Westworld might be a place stuck in time but outside of it is a modern world passing these hosts by. Unfortunately, the hosts don't know any better but it's never been a problem because they're just robots programmed to do a job. However, when they start to remember things and begin to get a sense that their lives are stuck on repeat, you really feel for them and hope that they can somehow become aware of the situation they're in and find a way out. On the flip side, if that does happen, what does it mean for humankind? A robotic species that we've kept under our thumb, with more intelligence than we could ever hope to achieve, fully understanding the abuse they've been subjected to as prisoners within a park having their choices taken away from them – doesn't sound like it'd bode too well for humanity s a whole!
With many major league actors having jumped across to TV format in recent years, I was thrilled with the stellar cast they managed to entice to be part of Westworld. Leading the way is Evan Rachel Wood (Thirteen) who captivates as the sweet, homely farm girl Dolores who always manages to see the beauty in the world and spends her time painting the rolling hillside and riding the ranch's horses. When Dolores seems to recognise Sweetwater isn't the be-all and end-all that she has been led to believe, we see a different Dolores, one that is hungry for change and will fight for freedom. As the story develops, Wood manages to flit between the two personas in an instant, a testiment to her incredible acting ability.
On the opposite side of the park, the ever-outstanding Anthony Hopkins puts in a jaw-dropping performance as Dr Robert Ford, one of the geniuses behind the creation of the hosts and the park. His agenda isn't clear and his character is rather mysterious in that we don't know what direction he's heading in. Every single piece of dialogue hits home with every syllable though with Hopkins' precise delivery and facial expressions adding multiple layers to a character that we never really get close to. His personality remains an enigma with only limited interactions giving any clue as to his true nature as well as the odd flashback to the past in which we see some frighteningly superb CGI work to re-enact a younger Hopkins as Ford in the early days of the park.
Playing a very interesting part is Thandie Newton as brothel madame Maeve and her interactions inside and outside of Sweetwater will have you on the edge of your seat. In fact, there's no weak links in the series at all with additional cast members Rodrigo Santoro (bandit Hector), Angela Sarafyan (prostitute Clementine), James Marsden (Teddy), Jeffrey Wright (Bernard), Jimmi Simpson (William) and Ed Harris as the chilling Man in Black, all ramping up their characters to be striking individual personalities that you'll remember in some way or another.
With twists and turns embedded within tightly scripted scenes, paced just perfectly to create tension, fear and excitement exactly when needed, Westworld is probably the leading sci-fi series to watch at the moment. With Jonathan Nolan, Lisa Joy and J.J. Abrams involved, as well as the outstanding aforementioned cast, they've really manage to capture a world that is both thrilling to watch as it is frightening. You'll appreciate the beauty of Westworld with its costumed characters, action-packed adventures and committment to authenticity, but the ugly side just bubbles under the surface as you realise the events that these poor androids have had to endure in what is essentially a prison. Thankfully they can't remember any of it… until now.
I've no doubt that the brilliance of the first season will continue long into the second. In a nutshell, Westworld is simply unmissable.
Rating:
*Easter Egg goodie – see if you can spot the nod to Yul Brynner's gunslinger!
Save