I Spit On Your Grave (2013)
Directed by: Steven R. Monroe
Written by: Neil Elman, Thomas H. Fenton
Starring: Aleksandar Aleksiev, George Zlatarev, Jemma Dallender, Joe Absolom, Kacey Barnfield., Mary Stockley, Michael Dixon, Peter Silverleaf, Valentine Pelka, Yavor Baharoff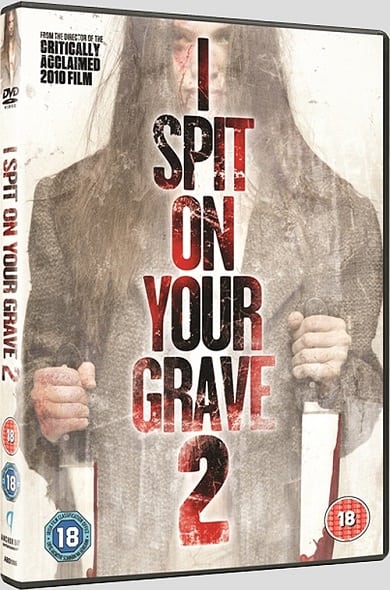 What is it all about?
Naturally beautiful, Jessica (Dallender) has just settled into New York where she, like many other young women, is trying to make it as a model. But what starts out as an innocent and simple photo shoot soon turns into something disturbingly unthinkable! Raped, tortured and kidnapped to a foreign country, Jessica is buried alive and left to die. Against all odds, she manages to escape. Severely injured, she will have to tap into the darkest places of the human psyche to not only survive, but to exact her revenge…
The Film Trailer!
[youtube]https://www.youtube.com/watch?v=E_McVHY-o2A[/youtube]
 The Hughes Verdict
More of the same……
To jump straight on the defensive here, for those who want to moan about the sequel to the remake of the 1970's classic banned shocker, then why are you watching it?
With the same director in the shape of Steven R Monroe behind the camera, ISOYG 2 was going to be nothing more than a basic rehash than what we have seen before.  But like all sequels of this nature, what we should expect is a bigger elaborate plot, more higher grisly death counts and basically more shit hitting the fan.  In many ways we do get that to the joys of the fans of the franchise,  but for some who never tires of "revenge flicks", you may end up having the same confused feelings I had, in which an uneven balance brings this sequel to a sort of missed opportunity,
You see I honestly thought ISOYG 2 for the majority of the running time was surpassing its original remake.  By placing Katie (Jemma Dallender) in a more dangerous situation, the sequel ups the ante more ways than one and to be fair, the slow build up to the horror that awaits her is a great tease but its just a shame that what follows becomes a lame conclusion that will frustrate those expecting a bloodbath of the highest proportion.
We start well though.   Instead of dreaming of being a writer like the last film, this lead girl want's to be a model and phone's a number to get some high profile modeling shots done.  On arrival she is greeted from an EastEnders old guard in the shape of Joe Absalom who with a dodgy Bulgarian accent plays a character Ivan, not a very likeable guy but then what men are in any ISOYG films.   Here we see Katie in a room full of dodgy foreigners and you may think that the danger starts to unfold there but surprisingly it doesn't despite the best intentions of Ivan in wanting Katie to remove all her clothes.
The outcome happens in her own flat, when one the guys follows her home, brutally rapes her and then murders a neighbour who was only trying to do the right thing.  Left with a dead body and a naked woman,  Georgy (Yavor Baharov) phones the rest of his brothers and they do what many sick bastards would do and take poor Katie to their home country and repeatly rape her and then put her in a box and bury her deep into the ground.   Of course being this franchise, Katie escapes and while at first she does the right thing and cries for help, she is soon into full vengeance mood and those who put her through misery are surely going to pay…..
This is where the film loses the sparkle for me personally.  With found footage boring the crap out of me with endless films hitting the market, before that gimmick was in front of  the whole horror genre, we had torture porn and sadly on witnessing this sequel, the whole trend still feels tired and bland.   Yes the rape scene may be uncomfortable for some, but having seen A Serbian Film in all its uncut glory, the entire sequence just went straight over my head.
Its a good set up, a tease of a plot before the carnage but films of this genre live or die by the horror scenes and there is nothing on show here that feels fresh and exciting, there is not one highlight that rival's the bird and eye set piece that made the remake stand out.  Also despite the early promise shown by Dallender, by the time she loses the plot and is bloodthirsty, her high pitched scream and vengeance voice really irritated me, "Stop screaming and just kill the bastards!….please!!!!"
Die Hard fans may get a huge kick out of yet another woman raped and fights back storyline but even when this was announced there were horror fans wondering why are they trying to make a franchise out of such a film like ISOYG…..and sadly that is what this sequel feels like.  A total unnecessary addition, in fact a wasted opportunity more like.
If Monroe or whoever is in charge of this franchise really wanted to cause some ripples then maybe they should have really shook up the formula and have a guy in the lead role, being raped and tortured by a group of women.   It would have been fresh and something new, but I suppose we can't have that can we.  A guy being the innocent victim?
Rating: