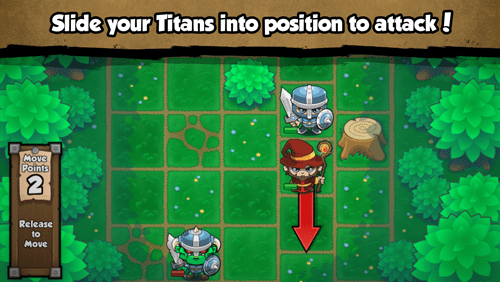 Noisy Orc Games is pleased to announce the release of its first title, Pocket Titans on iOS devices, available now on the App Store.
Developed by two veteran developers in their weekends and evenings to 'flex their creative muscles,' Pocket Titans is an enchanting casual RPG adventure that blends the tactical brain bending decision making of games like XCOM with the casual puzzling fun of Candy Crush Saga.
Pocket Titans is set in a beautiful light hearted fantasy world, where you follow a band of adventurers, gaining special powers, weapons and abilities as they head to do battle with the invading Orc Horde.
Game features include:
8 Playable characters – Each with their own special abilities, picking the right heroes throughout the course of the campaign is vital to overcoming impending doom thrust upon the player at each turn.
30 Enemy classes – Battle against a vast selection of enemy classes and five evil bosses across an expansive selection of levels.
Upgradable weapons & armour – Level up your characters' weapons throughout the course of the campaign.
Multiplayer matches – Challenge your friends to two player head-to-head online battles.
"With Pocket Titans we've constructed a non-threatening iOS puzzle game that hides a more serious and dense strategy RPG underneath," says Ian Pestridge, Art Lead. "Gamers who like an RPG but no longer have 100 hours to spare will love it."
"The whole idea came from me being a hardcore gamer but having far less time to spend on console titles due to my young kids," added John Payne, Technical Lead. I wanted a short session game that retains the spirit of the games I love."
Pocket Titans is now available to purchase on the App Store