Zombie Hunter (2013)
Directed by: K. King
Written by: K. King, Kurt Knight
Starring: Clare Niederpruem, Danny Trejo, Jade Regier, Jake Suazo, Jason K. Wixom, Martin Copping, Terry Guthrie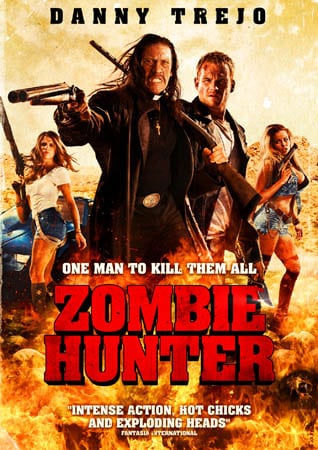 ZOMBIE HUNTER (2013)
Directed by K. King
A year after party drug Natas appears on the street and causes a widespread virus, turning people into flesh-eating monsters, Hunter (Martin Copping) drives through the post-apocalyptic wasteland looking for survivors and slaughtering Flesh Eaters along the way. After six months on the road, he finally crashes into the lives of a group of survivors, headed up by Father Jesús (Danny Trejo). The group are running low on resources and plan to reach an airfield, where survivor Jerry will fly them to safety to an isolated island, just off Hawaii, to start afresh. Unfortunately for them, the time to move comes earlier than expected and Hunter must work with the survivors if they are to escape with their lives.
Driving down the dusty highway in a sprayed matt-black muscle car, wearing a leather jacket, gloves and sunglasses, Hunter looks like he's walked off the set of Mad Max. With his own troubles haunting him, Hunter is compelled to fight the hoardes of undead to right the wrongs in his past. We follow him on his journey, with Hunter voiceover narrating during the character's silent moments.
The survivors he stumbles upon are a colourful bunch. Alison (Clare Niederpruem) is an intelligent young woman, looking to hopefully have a future for herslf. Her younger brother Ricky (Jason K. Wixom) is a typical teenager who's far too busy occupying himself with porn magazines than to be overly concerned about the flesh eaters that may or may not be lurking nearby. Fast-Lane Debbie (Jade Regier) is one woman who takes every opportunity to try it on with our mysterious hero, even attempting to entice him by seductively pursing her lips over a beer bottle in one of her many obvious come-ons, besides the pole dancing. Lyle (Jake Suazo) is slobbish and stubborn, who only appears to be pro-active when Debbie gets her jugs out. Pilot Jerry (Terry Guthrie) is the sensible, quieter character who acts like an uncle to the rest of the group, in much the way that Dale does in The Walking Dead. Finally, Father Jesús (Danny Trejo) is the badass Mexican priest with a past that we only get glimpses of in mini flashbacks. Actually, one of the finest scenes in the film involves a shirtless Danny Trejo slaying zombies with an axe in slow-motion to dubstep beats. If that's not worth a watch, I dunno what is!
Much like Arrowstorm Entertainment's other release, Osombie (who's posters can be seen in the survivors hide-out), ZOMBIE HUNTER is an enjoyable, funny zombie action movie which doesn't take itself too seriously yet delivers highly inventive death scenarios that entertained this viewer completely. I genuinely laughed out loud at some of the parts, particularly one where Hunter suddenly appears out of nowehere and drives over a zombie, splattering the carcass everwhere and then goes on to say "found the truck". The humour is deadpan, tongue-in-cheek and subtle in parts and maybe not to everybodies taste, but I found ZOMBIE HUNTER an eergetic, wild ride of a zombie caper and beats the likes of The Walking Dead for entertainment value. As anyone who knows me will tell you, I'm not a fan of zombie movies and they have to bring something to the table if I am to enjoy them and K. King's effort certainly does.
With pink/purple blood splattering the camera, Resident Evil Tyrant-like creatures on the warpath and a truck-load of whoopass, ZOMBIE HUNTER is definitely one zombie flick to watch!
Rating: