Frozen (2013)
Directed by: Chris Buck, Jennifer Lee
Written by: Chris Buck, Hans Christian Anderse, Hans Christian Andersen, Jennifer Lee, Shane Morris
Starring: Idina Menzel, Jonathan Groff, Josh Gad, Kristen Bell

USA 2013
IN CINEMAS NOW
RUNNING TIME: 108 min
REVIEWED BY: Dr Lenera, Official HCF Critic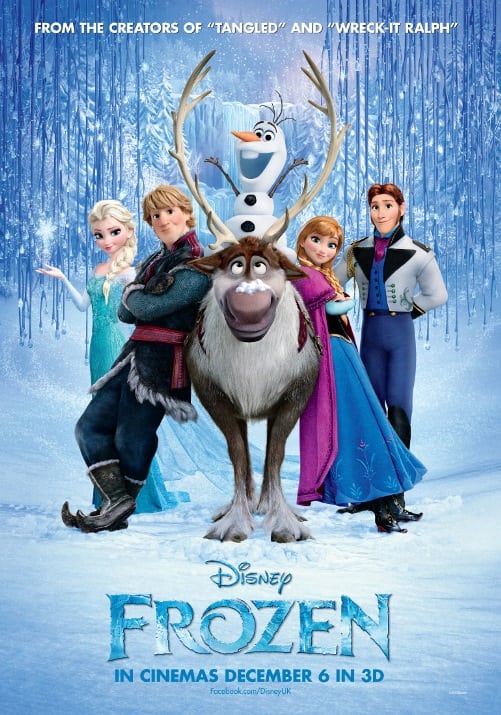 Eight-year old Elsa, princess of Arendelle, can create and control ice, frost and snow, but accidentally hits her five-year old younger sister Anna with her freezing magic, causing her to grow colder and colder and a small part of her hair to turn white. The king and queen seek help from trolls, who heal Anna's cold and remove her memories of her sister's magic, but their leader informs them that if Elsa had struck Anna's heart it would have been fatal. In order to protect Elsa and avoid her powers from endangering anyone else, the royal family locks themselves away in their castle, but Elsa can't seem to control her powers and spends most of her time hiding in her room, creating a rift between the two sisters as they grow up. Ten years later, their parents are killed at sea during a storm. Three years after that, dignitaries from all over the world flock to Arendelle to see twenty-one-year old Elsa's coronation…..
Hans Christian Andersen's The Snow Queen has obviously been a difficult tale for Disney to get their head round. They've been trying to adapt this story for decades, even back as far as 1943 when a planned biography of Andersen which would incorporate animated sequences of his stories was nixed because The Snow Queen proved problematic, even though there have been loads of versions of it made by other studios. Well, Disney have supposedly finally done it, though to be honest the terribly titled Frozen bares very little resemblance to the original story. It has been re-fashioned into a typical Disney offering with most of the tried and tested elements that you find in their more Princess-centred flicks…and a few steps into different pastures. The plot, for a start, revolves around the relationship of two sisters, and there's one surprise in the story that seems to have upset some but which I thought was rather refreshing. Though I could have done with seeing a bit more of Elsa, it's also nice to have such a tragic [destructive yet sympathetic] character in a Disney film. There's a bit more darkness than you've seen of late, and around halfway through you get the most awe-inspiring, magical Disney sequence in ages, where Elsa turns everything in sight to snow and ice, a truly imaginative and beautiful scene with a real sense of wonder.
Sadly the two princesses look too much like dolls, but the pace is fast without feeling rushed, there are some good action scenes, the storytelling is strong enough to make it all get rather emotional towards the end, and the obligatory humour, involving here a snowman and a moose, generally hits the spot. The songs by Robert and Kristen Anderson-Lopez are a bit generic but do the job and are actually better than Alan Menken's recent offerings. Far superior to the passable but dull Tangled and the grating, charmless Wreck-It Ralph, this is a strong return to form and has more than a bit of the old magic.
Rating: